6 Unique Fly-fishing Gifts for Christmas 2021
In this guide, we try to find great gift ideas for the trout angler in your life. Us passionate fishermen ourselves, we know we can be tricky to buy for. We already own so many accessories, rods, reels and clothing. So buying something unique, a bit special can be a challenge.
In this guide, we suggest quality products which a fly fisherman is unlikely to already own. Instead we look for products which are memorable and long lasting, or light hearted and fun. Keep on reading, there should be something for any budget.
Fly fishermen can not have enough fly boxes, and there are plenty of them on the market. Most of us buy cheap, mass produced plastic fly boxes. They are alright, but there is nothing special or memorable about them. They are just a plastic box to store our flies.
My most treasured fly box, is a little antique metal box. The looks, feel and appearance of an Aluminium is simply much nice than even sturdy plastic.
The Aventik Aluminium fly boxes are made from high quality marine grade aluminium, and are anodized with a colorful finish. The internal hatches are spring loaded, securely holding them shut.
If you really want to impress, and buy a truly memorable fly box then consider one from Richard Wheatley. Money can not better but they carry a premium price tag.
There is no better way to enjoy a productive day of fly fishing than with an ice cold beer. Enjoying one from the Orvis Anglers Pint glasses is hard to beat.
These pint glasses feature various freshwater game fish such as Brown, Rainbow and Cutthroat trout. These glasses. The illustrations were by Maine artist Karen Talbot who is also a keen angler. These American made glasses hold 21.5 ounces of liquid making them more generous than both US and British pints.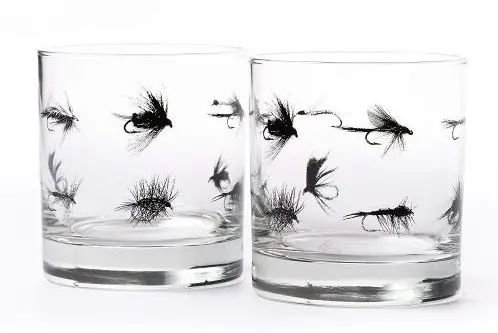 These very well American made whisky glasses might just be the perfect gift for the whisky drinking angler in your life.
These glasses are handprinted with outdoor inspired themes, including fly fishing. Each glass has 11oz capacity.
These are the best nippers on the market. They slice through all monofilament, fluorocarbon, braid/spectra which is generally used for trout fishing. They are even sharp enough to cut through 100lb monofilament.
These are not your typical finger nail clippers. They are heavily engineered. Yes they are excessive, yes they are overbuilt. But they are the best line nippers on the market.
Able makes them entirely in the United States out of Anodized 6061 aluminium and Featuring two Crucible CPM S35VN stainless steel jaws with knife grade steel cutting blades.
They are finished in a vast range of different colors and styles. A perfect gift for a fisherman who has it all.
It is rare to see a diary of this quality nowadays. It has a timeless quality to it.
Handmade in America from US source cowhides this pocket leather covered diary is perfect for recording your special trips on the water.
It contains over 70 pages of archival quality sundance paper.
This traditional style streamer wallet is hand sewn in Vermont, USA. Made from high quality, water resistant canvas it contains two inner patches of thick natural sheep shearing which is an ideal material for holding flies.
This wallet floats when dropped, and is more compact than plastic fly boxes.
Keep your feet warm with these fly fishing novelty socks. These fun socks feature various flies. They are one size fits most, suitable for US 6-13, but probably most comfortable somewhere in the middle of that range.
The sock are mostly cotton, but includes some elastic and spandex for extra support.
Best Gifts For New Fly Fisherman.
Know someone who is keen to take up fly fishing?, then this combo from Maxcatch is not only cheap but will provide all the necessitates to start fishing.
It features a graphite fly rod with a rather fast action. A basic, but functional aluminium reel which comes with backing and surprisingly good fly line. There is also a fly box which comes with 12 size 10 flies. Although the included flies are not great, they are fine to practice with.
Among budget rods, Maxcatch comes with some of the best warranties and support.
This little combo comes with everything needed to catch fish, although a pair of sunglasses for eye protection is not a bad idea.
If the fisherman in your life is complaining that it is too cold to go fishing, these gloves might just make the perfect Christmas gift.
These gloves are warm enough to fish right through winter These insulated convertible mitts can keep even the coldest of fingers warm. Could even sneak out for a flick Christmas day. Cold hands will no longer be a reason not to go fishing.
These gloves contain 80g of Pirmaloft gold insulation. Which provides an excellent warmth to weight ratio. The outer mitts, fold back to reveal fingerless gloves which make tying knots easy.
When its cold and snowing outside, it is a great time to take up fly tying. Which makes a fly tying gift set an excellent Christmas gift.
If the fly fisherman is thinking of starting fly tying the Dr Slick Fly Tying Gift Set is a great place to start. It comes with seven of the most essential tools for fly tying, and they are all high quality. So many fly tying sets come with cheap, low quality tools which can make tying a chore. It is also a great value for money upgrade for anyone tying with budget tools.
My first fly tying set was a budget set, and it gave me no ends of headache. So many broken threads and other gear failure likely contributed to me quickly losing interest in fly tying. That was until I replaced my cheap tying tools with better quality ones from Dr Slick and Loons which made fly tying fun again.
I favor this gift set over the similar priced one from Loons, simply because it comes with an extra tool, plus the storage case doubles as a fly box. It is two gifts in one. If you can not find this Dr Slick gift set then the Loons Core Fly Tying Kit also comes highly regarded.
Maybe the most important piece of equipment when fly tying is the vise. It is what holds the fly securely in place allowing the tryer to work on it.
Out of all the vises on the market, we decided to recommend the Griffin Odyssey. It is not the cheapest, nor the most expensive but it represents excellent value for money for its price bracket.
Griffin is a USA based Manufacturer of fly tying equipment. This vise comes with a lifetime warranty from a company dedicated to fly tying.
The Odyssey Spider Fly Tying Vise is entirely made in the USA. This vise is good enough to last a lifetime of fly tying, so there is no need to spend more money a few years from now.
It is a true rotary vise, allowing it to rotate and comes with a bobbin holder.
Disclaimer:  Some of our pages contain affiliate links. At no cost to you, Troutresource may receive commission from purchases made through such links.  Here at Troutresource we try are hardest to give unbias advice and gear recommendations independent on whether we earn a commission or not.