The 6 Best Wading Boots (Updated November 2022)
Welcome to our guide, to help you find the best wading boot for your needs. Over the last few seasons, I have been in the fortunate position to wear and test many wading boots. I have also been in contact with several full-time fishing guides who basically live in their wading boots for much of the year.
With this knowledge, I will share what I believe are the best wading boots currently available. I will also compare them against some of the most worthy competitors.
---
Which sole is best (Felt, Rubber, Studded, Bars, etc)
| | | | | | | | |
| --- | --- | --- | --- | --- | --- | --- | --- |
| | River gravel | Slimy rocks | Smooth rock | Snow | Wet Grass | Slippery Clay | Boat |
| Sticky Rubber | Good | Decent | Excellent | Decent | Good | Decent | Good |
| Felt | Excellent | Very Good | Decent | Horrible | Poor | Poor | Good |
| Studded Rubber | Good | Very Good | Dangerous | Good | Good | Decent | Not recommended |
| Studded Felt | Good | Excellent | Dangerous | Poor | Decent | Still Poor | Not recommended |
| Aluminium Bar | Good | Excellent | Decent | Good | Good | Decent | Not recommended |
Here are my experiences with different soles on different surfaces. No one type of sole is best in all situations, and all areas seem to offer up their own challenges to traction.
Rubber vs felt: Which is the best for wading?
Sticky rubber and felts dominate wading boots.
Traditional felt soles offer excellent grip on wet and slime covered rocks. While rubber soles are improving, they still lag behind somewhat when in the water.
Advantages of rubber soles
Rubber soles are generally more durable and longer-lasting than felt soles.
Rubber soles offer better grip on wet grass, slick clay and most dry surfaces.
They are easily superior for hiking, and long walks to fishing spots.
Rubber soles are superior in the winter when felt can freeze.
Faster drying, and less likely to transfer invasive organisms between waterways.
Advantages of felt soles
Offer better grip in most wading situtations.
Felt offers excellent grip and traction on wet slimly surfaces.
Advantages and disadvantages of studded soles
Studs can greatly improve the amount of grip boots offer.
They are excellent on slick surfaces such as wet clay, and slimly rocks
They can be outright dangerous on smooth hard rocks such as granite or graywacke boulders. They act like skates.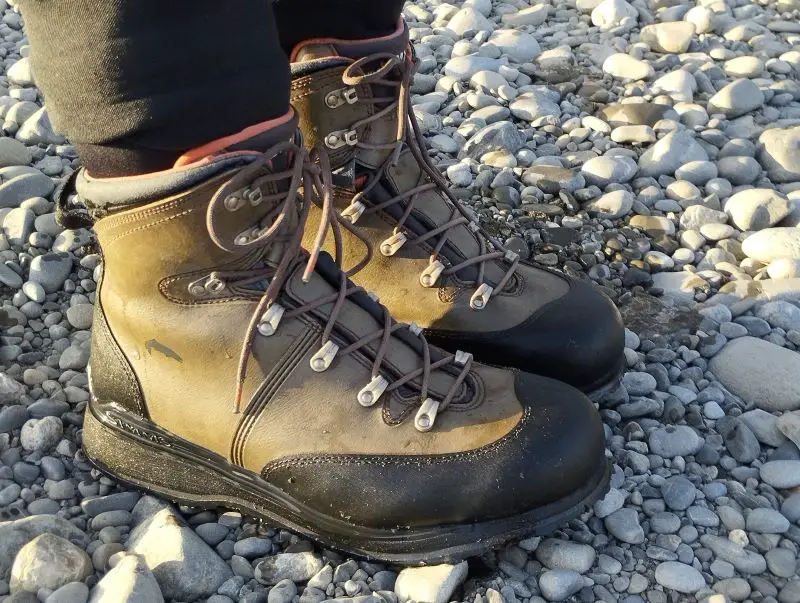 Which wading boot brand is the most durable?
I personally find Simms boots to be extremely well made and durable, this view is also backed up by several guides I consulted with while researching this article.
The longevity of boots does come down to a lot of variables, the most common of which is the amount of use. Someone who fishes only a few weekends per season puts a lot less pressure on their wading boots than someone who fishes every day.
Also, how the boots are treated is important. Allowing boots to dry properly between use greatly increases their life expectancy.
Finally, material plays a important role, with leather typically outlasting Synthethic materials.
I wanted to try and get a better answer to the question of which brand typically makes the most durable boots. So I decided to cast the net wider and consult many more anglers. Here is a summary of my findings.
Simms boots are by far the most popular and they have an excellent reputation for durability. Anglers who wear them recreationally often report 5 years or more of use. Even with heavy use by guides they still last a couple of seasons.
Orvis boots also have a solid reputation, with many anglers getting 5 years or more use out of their more durable models.
Patagonia I have only received praise regarding the durability of the Patagonia Danner boots. They are still too young to know long term durability.
Korker boots have a more mixed reputation. Many people love them, and like the other top brands, some anglers have worn them for multiple seasons. But, quite a few anglers report their boots failing in only a couple of seasons.
Chota I did not have a lot of feedback towards Chota, one owner rated theirs highly and they have had a lot of use. While another angler reported theirs failed within the first season.
Frogg Togg again had mixed feedback, some got several seasons of use out of theirs, but on the other extreme, I have heard of one pair falling to bits within a week. Maybe a manufacturing defect?
Best mainstream trout fishing boot
Simms Freestone Wading Boots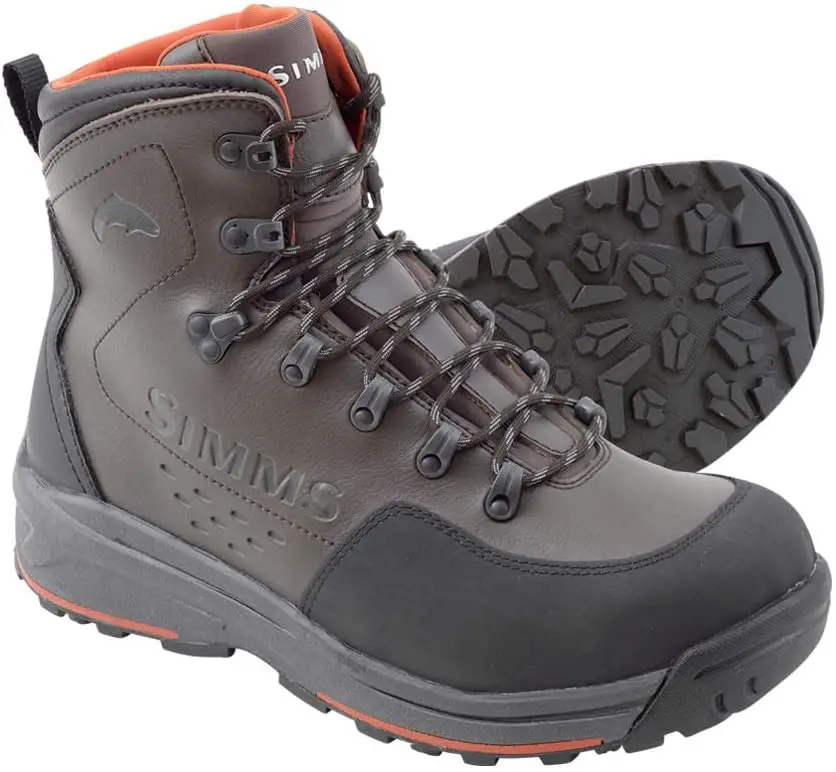 I rate the Simms Freestone boots highly. They are simply a well made, relatively lightweight wading boot that has more than stood the test of time. Best of all for their proven durability they do not break the bank.
Simms is among the most famous names for waders and wading boots. Their Freestone model might just be the best compromise between price, quality and comfort currently available.
The new version of Freestone boots on my feet are even more comfortable than my older pair. I have hiked and fished hundreds of miles in freestone boots and do not have a bad word to say about them. . I wish all boots were so kind right out of the box.
I find them comfy to wear all day, and I never had hot spots or blisters while wearing them.
The Simms freestones are not the lightest wading boot due to their sturdy construction and efficient use of internal padding.
I really like how quickly my Simms Freestones dry; they have minimum spongy material which will otherwise trap moisture. The first day I wore mine, I decided to sleep in my truck overnight to fish the dawn. I left the wet boots outside, just behind the back tires. In the morning I woke to a heavy dew, I was expecting to put on soggy boots. I was shocked to find them bone dry. My merino socks next to them were still soaked.
It is not uncommon for my Freestones to dry completely overnight, even left outside beside my tent. I wish the same holds true for all boot brands. Although, I will add, with age I find they are staying wet for longer. Maybe the water-repellent coatings have worn off.
The rubber soles grip most rock types solidly. While the cleats, add confidence walking over slippery algae-covered stones. I lost my footing once, navigating my way down a steep grass-covered bank. The tall grass was still wet from the morning dew and was extremely slippery. Such difficult terrain would prove challenging to any sole.
The cleats are a bit of a double edged sword. They greatly improve the grip on algae covered rocks, but can be outright dangerous on hard smooth rock. The cleats are also easy to lose. I lost one after only the second trip.
The replacement Simm cleats are on the expensive side. Luckily third party replacement cleats are much more affordable.
I applaud Simm for making their boots available in a large range of sizes. Starting at size 5 all the way to the massive 16. As someone who wears a size 15, I wish other manufacturers will take note.
Simms Freestone vs Orvis Clearwater
The main competitor to the Freestone has to be the Orvis Clearwater wading boot. They usually cost within $10 of each other.
So how do these two boots compare with each other? If I have to summarize my thoughts in just a few sentences is that the Simms are better made and are more durable. If you want a boot that is going to last, then the Freestones are the better purchase.
Now, to be fair to the Clearwaters, Orvis does have the best 'warranty' in the business, and they will normally replace their boots no questions if they do start to fall to bits.
---
Best Ultralight Wading Boot
Simm Flyweight wading boots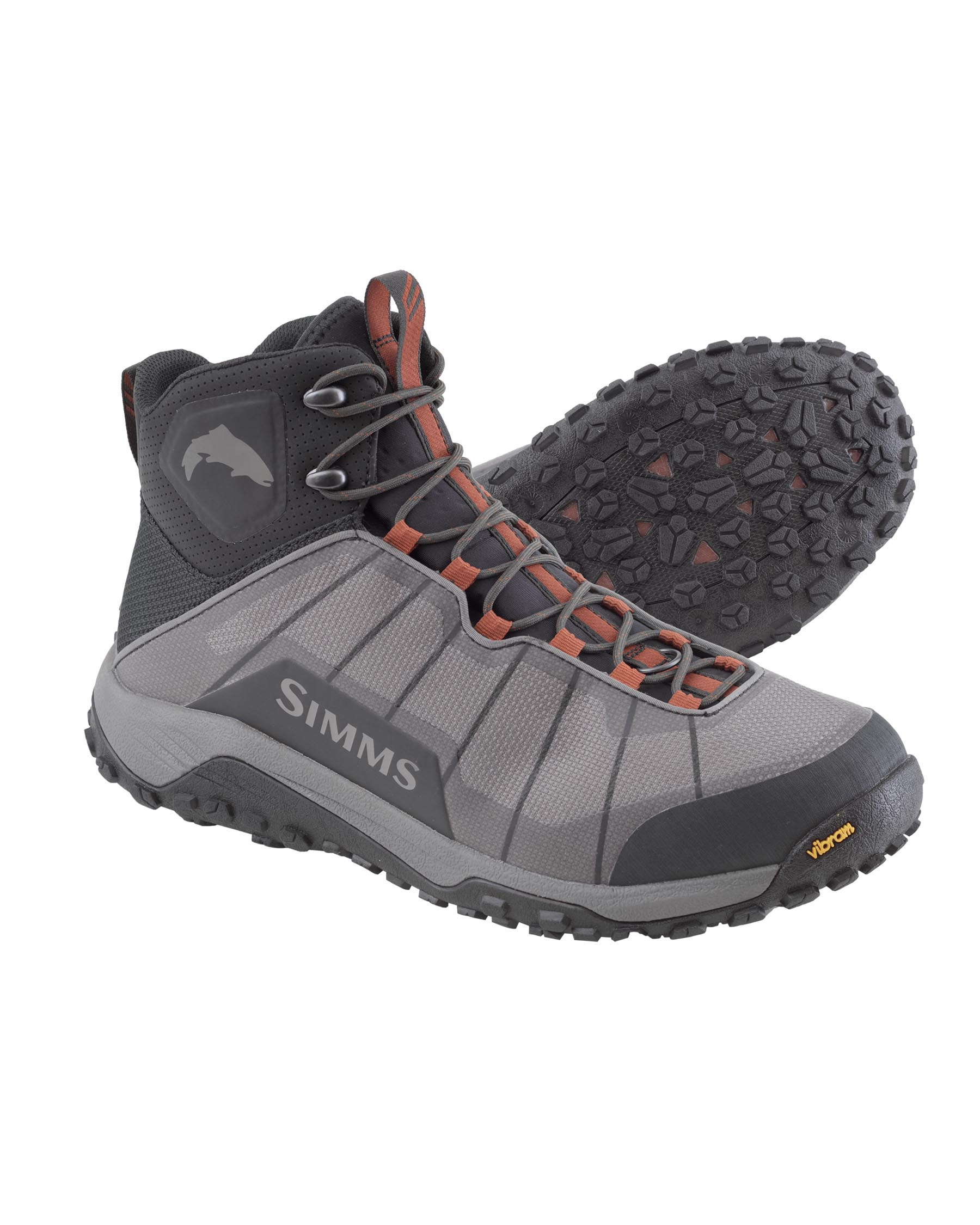 Do you want to combine hiking and fishing? the Simm Flyweight wading boots are light on weight but not on performance. Simm Flyweight might be the best lightweight wading boots currently available. In this short review, we will take a deeper look to see if they deserve their reputation.
Wading boots are traditionally heavy, a design decision to prioritize stability and durability. However, there is a price to pay. Such heavy boots can be tiring to walk in, lightweight wading boots such as the Flyweight are becoming increasingly popular.
I have owned my Simm Flyweights for nearly a year now. I have no complaints regarding the durability or longevity. Depending on use, most footwear I own does not survive more than a couple of years and by the looks of things I should get another season out of my flyweights.
I will not claim the lightweight construction is as durable as traditional leather wading boots but it is certainly good enough.
They are comfy to wear. Although the double tongue overlaps does rub slightly against the top of my foot. If I were to wear them for a several day fishing expedition or hike, it could result in a blister or hotspot if I were to wear thin socks.
Overall I find they feel more like a shoe to wear than a boot. They are not stiff. Even with cold stiff fingers, they are easy to put on and take off. Ankle support is decent, especially if I tie the laces up tight.
After a day on the river, my feet feel less tired in my Flyweights compared with my Freestones. The weight saving does makes a real difference. I have happily replaced my hiking boots with my Flyweights on backpacking trout fishing trips.
Why not wear hiking boots instead?
Simms Flyweight wading boots actually feel like hiking boots, not cumbersome wading boots. Unlike hiking boots, they come with specialty soles that offer a reassuring amount of grip on wet surfaces when wading. I know which ones I prefer when crossing a fast flowing river.
They also dry much faster than typical hiking boots. The cushioning in particular does not hold an excessive amount of moisture.
So unlike most hiking boots, the weight does not increase significantly once saturated.
Simm Flyweights vs Orvis Ultralight?
Who makes the best ultralight wading boots? The Simms Flyweight and the Orvis Ultralight are two of the top contenders. I do not own the Orvis Ultralight, but I have borrowed a pair for a couple of trips to gain an opinion.
My initial impression. The Simms feels like a shoe while the Orvis feels more like a lightweight boot.
How heavy are Simm Flyweight and Orvis Ultralights?
let's compare the weight (Size 10) of both boots. Keep in mind this weight will change based on sole type and size. I also included the weight of a lightweight hiking boot for comparison.
| | | |
| --- | --- | --- |
| Orvis Ultralight | 1300g | 46oz |
| Simms Flyweight | 1100g | 39oz |
| Lightweight hiking boot | 900g | 32oz |
Comparing the weight of Orvis Ultralight and Simms Flyweight wading boots
This shows that the Simms Flyweight are significantly lighter than the Orvis Ultralights. This difference in weight only becomes greater once wet. The material used in the Orvis boots is a bit more absorbent, once wet they are quite a bit heavier.
In saying that, the Orvis Ultralights still dry very quickly, faster than most hiking boots but not as quickly as the Simms.
Why are hiking boots much lighter than wading boots?
I also wondered why the lightweight hiking boots weighed so much less than the so called ultralight wading boots.
Well, this was by design. Wading boots are made more rigid to maintain their structure once wet. While hiking shoes can get away with being less structurally rigid when wet because they rarely spend all of the time in the water.
Ways the Orvis Ultralights are better
If the extra weight does not concern you, The Orvis Ultralight wading boots are better in several ways.
Firstly, I find the Ultralights are more comfortable, probably due to the extra padding. Plus the tongue of the Simms Flyweight forms a sort of an overlap inside the boot which presses down and rubbed on the top of my foot. Not enough to cause a blister, or even a hot spot but is noticeable when I wear thin socks.
Another advantage of the Orvis Ultralight is that they come with a much more defined heel. This makes foot placement feel more secure.
If you are planning on doing more hiking than wading. The Orvis Ultralight might actually be the better choice. They do weigh more, but they are more supportive.
Finally, the shoe laces supplied with the boots are rather short. Many fishermen replace them with a longer pair. If you are looking for durable laces for your wading boots then I highly recommend Obenauf's Boot Laces Industrial Strength.
Which is the best? They are both good boots. I personally like the Simms, but if you are after a more supportive boot, which is still combatively light the Orvis Ulralights are certainly worth considering.
---
Best Affordable Wading Boot
Korkers Greenback
It took me a while to decide on the best budget wading boot.
There is no shortage of decent quality affordable boots out there, most of which are quite similar. Without physically owning and wearing them all for several years personally I will not be able to separate them.
But, there is one boot, more precisely a brand that offers value above and beyond any of the competition. That brand is Korkers, and the real value they bring to the table is their interchangeable sole system.
Being able to change soles, is a real cost saver. With other brands, I find myself needing to own and use multiple boots because no one sole type suits all fishing situations. With Korkers, it is possible to buy a single boot and then purchase separate soles that are interchangeable. It takes less than a minute to change from felt, to rubber or to studds. Very convenient.
It is even possible to change the soles next to the river. Hike in with rubber soles, then on the river bank change to felt or stud. You can get the best all types of soles in a single boot.
This is the reason why I rate the Korker Greenback as the best value wading boot on the market. It is a single boot that does the job of several.
The boots themselves
Comfort
These boots are lightweight, not a true ultralight boot but they certainly have been on a diet. I find they are comfortable to wear and quick to dry. Everything I want in a pair of wading boots.
They are not the most rigid, or supportive boot but if you do the laces up tightly they are decent at stabilizing the ankle.
I find it hard to describe fit because it is such a personal factor. I find them ever so slightly tighter fitting than my Simms Freestone
Durability
Korkers went through quite a rough patch with regard to durability, but with this latest generation of boots, they seem to have fixed any problems.
I will be upfront, Greenbacks are not the most durable boot on the market, or even the most durable boot made my Korkers, but they are durable enough and most anglers should still expect to get several seasons of use out of them.
If you would rather have a more durable boot, then Korkers does make the more durable Devil Canyon or River Op's boots which I have only received positive feedback about. Both of these models do come with more rubber reinforcement but at a higher price.
---
Best Premium Wading Boot
Patagonia Foot Tractor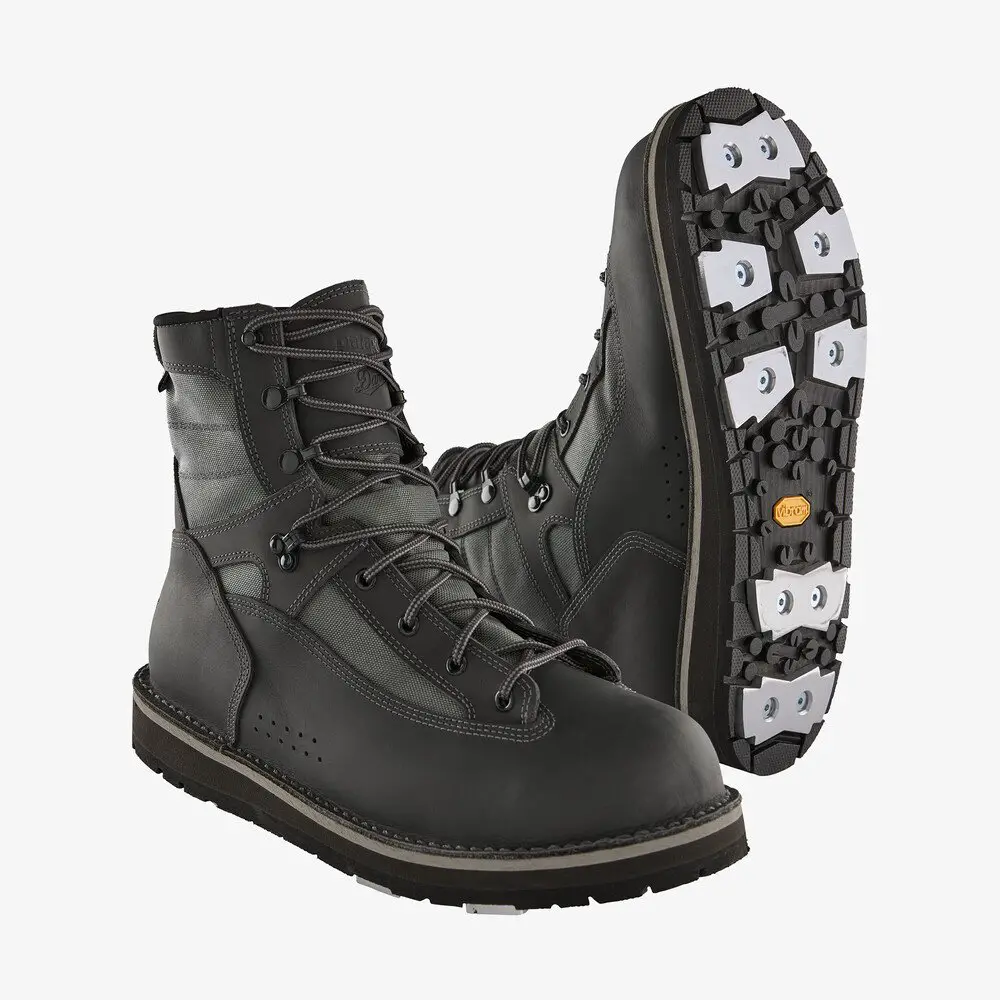 Patagonia's previous wading boot suffered from poorer than expected durability. The current version of their foot tractor was a turning point.
Patagonia collaborated with Portland based boot manufacturer Danner. The goal was to design the most durable, supportive wading boot available on the market today.
The collaboration was a success, today's Patagonia foot tractor wading boots are excellent boots. Manufactured by Danner in the United States, the Foot Tractors are very durable and supportive boot.
Weight. The Patagonia foot tractors are heavy, maybe even the heaviest I have worn. Certainly not designed for extended back country trips, but I am a convert to ultralight wading boots for backcountry adventures. For shorter, less mobile fishing trips on big and swift rivers, they are hard to beat.
Fit & Comfort. I find they were quite a wide fitting boot and have been comfortable to wear. No blisters or hotspots.
Ankle Support: The upper portions of the boots are quite soft and flexible, but down around the ankle is actually quite stiff and supports my ankle well enough. I personally do not like a completely rigid ankle because I find that simply transfer any twisting pressure towards my knee instead.
Warranty and repairs: Patagonia has an excellent warranty and support, it's warranty is right up there with the likes of Orvis. When designing the Foot Tractors Patagonia made design decisions to make the boots repairable. That in theory should prolong longevity. It is currently the only wading boots that has such repairability built in.
Patagonia foot tractor with rubber soles
I decided to go for the rubber sole version, simply because I do quite a bit of walking.
Patagonia went with Vibram Idrogrip soles which are designed to grip securely to wet surfaces. They work and the traction is as good as any rubber sole wading boot I have tried. Not as good as felt, but no rubber soles are.
I have worn them down mossy slippery banks, through muddy marshes, over boulders, and up freestone creeks and have never been close to slipping. They do struggle a bit in very slippery mud or slick clay, but such surfaces test all soles without studs.
Patagonia foot tractor with aluminium bar
I have only worn the Aluminium bar version a handful of times but they impressed me. I initially expected the bars to be quite rigged, but the material is actually softs and somewhat bends and distorts to the surface of the rocks. This distortion is what gives the bars such an impressive grip on otherwise challenging surfaces like slimy rocks.
. Based on my own experience, and feedback the bar grips offer excellent grip and in most conditions might just be the best rubber sole option on the market. I might even go as far as to claim they are as good as felt in usual wading conditions. On some very slippery surfaces, like hard compact clay studs do work better but that is not a common occurrence where I fish.
Yes they are a bit heavy but are worth the weight when worn in fast flowing rivers where a solid grip is paramount.
How does the Patagonia Foot Tractor compare against the Simms G3?
As a traditional wading boot, the Simms G3 is very hard to beat. It offers excellent durability at a very reasonable weight. I have seen Simms G series boots on more trout fishing guides than any other. They are an excellent product and well deserving of their reputation as one of the best wading boots on the market.
So why, do I rate the Patagonia Foot Tractor above them. Well, the Aluminum Bar version offers a degree of grip unmatched by any other rubber soled boots. On many rivers, it is nearly as good as felt. This technology is a game changer.
This combined with the improved durability thanks to the collaboration between Patagonia and Danner has resulted in an industry leading product.
I still like the Simms G3 and might even recommend it with a felt sole. But for rubber sole boots, at this point in time I feel the Patagonia Foot Tractors are the best.