Best telescopic rod for trout fishing
It is a struggle to find a telescopic rod that I will recommend for trout fishing. While researching for this guide, I researched and tested over twenty models and to be upfront. Most of them were disappointing.
The problem most telescopic rods suffer is poor guide placement. The distance between the guides are far from optimal which simply makes them less efficient to use. Most are also quite poorly constructed and to be frank, cheaply made.
But, the news is not all dire. The technology used in the construction of telescopic rods is improving, and some models are even half-decent. Keep reading to find out more.
There is only one ultralight telescopic trout rod readily available in North America that I will recommend. I do struggle to recommend it because I do not particularly like the brand. The telescopic rod I recommend is the KastKing Blackhawk II, it is readily available on Amazon.
It has one feature that sets it apart from all other mainstream telescopic rods. That is floating guides, by using floating guides this rod offers 9 guides along its 7ft length. All the other telescopic rods offer 4 or 5. Having 9 guides helps spread the load and reduces uneven pressure.
There are better ultralight telescopic rods than the Blackhawk II, but they cost north of $200, and are usually only sold in Japan. If budget is not a concern, and you are prepared to use an imported rod, with no local warranty then the Daiwa B.B.B or the even pricier Abu Garcia Trout Marquis represents the pinnacle of telescopic rod technology.
In the article below, I will go into more detail on what to look for when buying a telescopic rod.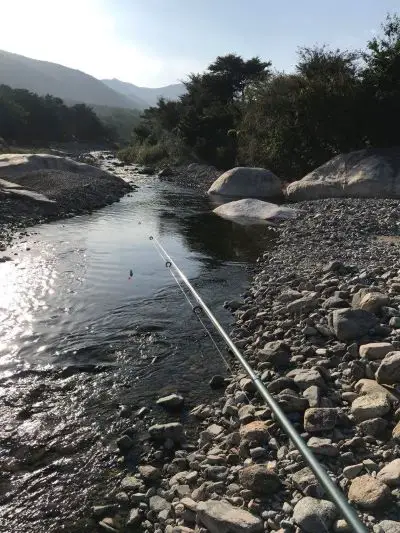 Are telescopic rods any good for trout fishing
At all price points, telescopic rods are inferior to other rod designs. The vast majority of telescopic rods I consider to be junk. Such rods are not worth considering. It is a shame because the compactness of telescopic rods will be ideal for backcountry fishing.
In general, I suggest saving your money and buying a multi-section travel rod instead. They take more time to assemble but are much better quality for less money. There are a few diamonds among telescopic trout rods, and I will discuss them at the end of this article.
What makes a good telescopic rod
1. Floating guides
Most telescopic rods on the market today are not worth considering. The introduction of floating or sliding guide technology sometime in the last decade fixed one of the biggest downsides of telescopic rods. Floating guides allow manufacturers to increase the number of guides on the rod. Previously with fixed guides, the number of guides is limited to the number of sections. But, now with floating guides, the guide can float freely along the blank so compress tightly together when the rod is telescoped in. When extended, the guides get secured in place, resulting in a more efficient guide distribution.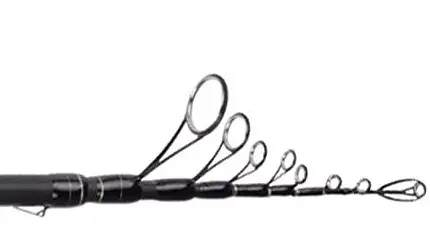 2. High-quality components
The next key feature to look for is high-quality components.
Guides
The cheapest guides are stainless steel inserts, these are plenty durable enough to survive being fished with monofilament or fluorocarbon lines. In most cases, they also handle braid just fine, but I have read a few reports of stainless tip guides developing groves but never on ultralight rods.
The biggest brand name in guides is Fuji and they are always a safe option. Their inserts are hard enough not to be damaged by fishing line. Fuji is not the only high-quality guides available, but they are by far the most well known and are found on the majority of high-end rods.
Reel seats
I do not have much to add regarding reel seats. All the ones I have tried have been up to the task but more premium ones do look nicer.
Handles
Typically two types of material are used for rod handles. These are cork of EVA foam. They both work and it really comes down to personal preference.
3. High modular graphite blanks
Most telescopic rods use low modular graphite blanks or even fiberglass blends. This makes for a more durable, but extremely soft rod.
Some manufacturers are now using much better quality blanks in their telescopic rods which gives them much improved rigidity and sensitivity.
Advantages of telescopic rod

There are a few advantages to telescopic rods, the biggest is convenience and ease of use. Telescopic rods retract down to extremely small sizes, even a 4-piece travel rod can not really compete. This makes them perfect to carry in a small backpack or kept in the back of the car.
Telescopic rods are also very fast to set up and fish. To assemble a four piece travel rod can be quite time-consuming, and this eats away at potential fishing time. If you only want to have half a dozen quick casts it might not be worth spending five or ten minutes to assemble a four piece rod.
On the other hand, telescopic rods can stay rigged even when assembled. There is no need to remove the reel, unthread the line and remove the lure. Just retract the rod while winding in any excess line and everything is in a tight and compact package. Properly designed carry cases, usually ones with two zips can be secured around telescopic rods with the reel still attached.
What makes a bad telescopic rods
Too few and poor spacing of guides
Most telescopic rods have too few guides for proper load distribution.
Their telescopic design means the guide placement is far from optimal, usually awkwardly spaced and not enough for smooth line distribution. This results in a poor distribution of load both when casting or fighting a fish.
This makes accurate, and precise casts difficult. Sometimes the line even rubs against the blank, although that is more an issue for overhead rather than spinning reels.
Very soft often parabolic action
Telescopic rods, even most high modular graphite ones have very soft actions.
I like soft rods, they can be extremely sensitive and allow for delicate presentations. But telescopic rods take this action to an extreme. Many are truly parabolic. They have backbones resembling soggy noodles. Precise casts are difficult, and really only suitable for flicking heavy lures.
Most Telescopic rods are not durable
With time, the sections on a telescopic rod tend to seize together, usually due to sand or other containments getting caught in the mechanisms.
The rod blank itself also seems to be less durable. I have had telescopic rods break when fighting large fish, despite the drag being set well within the weight class of the rod.
I suspect because the blank needs to be hollow enough to allow each section to telescopic inside they simply lack the thickness of material shared by traditional rods.
My recommendation's for best Telescopic Rods for trout and other panfish.
At any price point, traditional rods still outperform even the best telescopic rods, but for anglers who need the compact nature and quick assembly time telescopic rods are worth considering. The following rods really stand out from the crowd.
Best Premium Telescopic Rod for Ultralight Fishing
The DAIWA B.B.B 6106TMLFS is one of the best regarded telescopic rods. It is excellent for targeting trout and other panfish. The Daiwa B.B.B does not come cheap costing around $200.
For the money, you get a rod that actually fishes and performs well. The guides are well positioned, and the backbone contains nice rigidity. It is rated to cast lures between 1/14 oz to 1/2 oz. It comes with a cushioned carry casts and it is small enough to carry in most packs.
The B.B.B can be difficult to find in North America because it is primarily sold in Japan . Many of the best telescopic rods are exclusive to the Japanese market which makes them difficult to find elsewhere. Luckily, due to its popularity, the B.B.B can usually be found on eBay and occasionally on amazon
Best Affordable Telescopic Rod for Ultralight Fishing
If the B.B.B is out of your price bracket, the KastKing Blackhawk II is the best affordable telescopic rod I know about. You can buy the Blackhawk II on amazon here.
The Blackhawk II is a step down in quality compared with the Japanese rods above. But it is significantly better than all the rods in it's price bracket.
Most importantly it comes with sliding/floating guides which allows more guides to be fitted per section of rod improving casting performance..
It comes with stainless steel guides. They are cheap, but fine and should not given any trouble. The blank is slightly on the soft side, and has a glass tip.
For the money, it is by far the best telescopic rod and it is the only one with floating guide currently available for a budget price.
I will keep monitoring the market, and hopefully, other manufacturers will bring some much needed competition and innovation to the market.