Protecting electronics when fishing
Keeping phones and keys safe when fishing
We all now take expensive electronic devices with us while fishing, from phones, cameras, or even key lobes they have increasingly become an essential part of our lives. Many of us head to our local fishing hole to escape the demands of modern life, even then with the best intentions we still have reason to bring relatively fragile phones and key lobes with us. Even deep in the beauty of nature well out of reception phones still prove useful for navigation and taking photos.
In this guide, I will share my experiences and tips on ways to keep phones, data, and other electronic devices safe. It is all too easy to get our electronics wet.

Importance of backing up your photos
Over the years I have taken thousands of photos on my phone, all stored on a MicroSD card that I purchased with a Motorola Defy back in 2010. That MicroSD card went from phone to phone and my photo library kept growing. So many good memories from my first trophy trout to competition winners. But most important of all is the nostalgia scrolling through them.
While I backed up and shared the most interesting photos, I kept the vast majority on my phone. They were just snapshots after all; I own a proper camera for my photography, which I do backup. No way I will ever lose my phone, my phone had good internal tracking, and I am not clumsy enough to drop it in a location I could not retrieve.
Nevertheless, I am more clumsy than I thought. One hot humid day while traveling around Korea I got out of a taxi, my phone slipt from my pocket, and I did not realize it until it was too late. Despite a lot of effort, I never got my phone back, and I lost over a decade of my fishing snapshots and countless other memories. The normal "find my phone feature" did not work, I had mobile data disconnected. Do not repeat my mistake. Back up the photos and videos from your phone.
How to back up photos online
The easiest and most convenient option is to store the photos online in the cloud. Once set up the whole process is automatic. Over the last few years, it has become increasingly affordable thanks to intense competition between the providers. Cloud (online) storage offers the benefit that you are not storing everything in one basket. If your house was to burn down, your photos are safe in the cloud.
Previously, I had been hesitant to use cloud storage, the data allowance was minuscule and I have never been a fan of monthly subscriptions. The costs from many subscriptions quickly add up. I rather spend that money on fishing. The storage provider also has a habit of increasing the prices once they have a captive audience. Luckily, if that occurs, it is possible to jump-ship to a more affordable competitor.
Things have changed. Storing photos in the cloud is fast and easy and data allowance has ballooned in size. My iPhone even automatically backs up to iCloud. At least it attempts to, I maxed out my 5GB of free storage and I have been reluctant to pay for more. There are many providers of Cloud Storage services for both iPhone and Android phones. While iCloud is easy for Apple users, it is not the best value. There are actually a couple of free options.
If you are a member of Amazon Prime you get free unlimited photo backup included. No need to pay for cloud storage separately if you are already getting it included with your Amazon Prime subscription. Google, via with Google Drive service offers 15GB of free storage and unlimited photo storage if you agreed to have the backups compressed.

Cloud Storage really is quick and easy
While researching and writing this post, I decided to back up my iPhone with Google drive. It was quick and painless. All I had to do was install the google drive application from the Play-store. Then log in with my google account. In the top left triple dot menu, select settings. Then tap 'start backup'. Then it was a matter of waiting a few minutes for my files to transfer over.
If you want an unlimited free backup, then dig a little deeper into the settings before starting the backup. So the next time I leave my phone in a dodgy taxi or drop it over the side of a boat, I can have comfort knowing that I will not lose my valuable memories.
---
Waterproof Cases and bags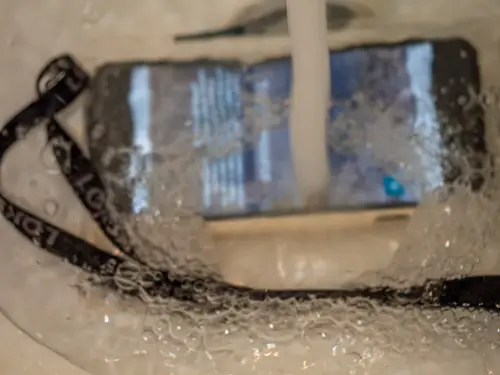 Waterproof phones are great, but too many phones still lack that functionality. In between owning several waterproof smartphones I got a Nokia 8, it was only weather resistant. Hence the need for a case to keep it dry while fishing. There are a lot of waterproof phone cases on the market. Some are solidly made, heavily engineered, and backed with a solid warranty. While others are comparable to a heavy duty ziplock bag. One well-known brand is Aquapac, alongside many imitations such as the Chinese made Yosh. The cheapest waterproof case is a Ziploc style bag. Even two plastic bags can be used for extra protection. They provide okay protection against accidental swims. The phone is still usable through the layers of plastic.
I favor the more simplistic approach and went with a waterproof bag made by LOKSAK. It is best described as a very heavy duty ziplock bag with extra reinforcement and a nice wide double layer seal. The bag is compact, with no unnecessary bulk or complications. It is small enough to fit inside a large vest pocket and easily fits inside wader pockets.
Unlike Ziploc bags, they come complete with mounting points for a lanyard. When fly-fishing, I hang mine around my neck while tucking it into my top vest pocket. It is nearly impossible to drop or lose. The bag also does a great job at protecting car keys during unplanned swims.
The reason I went with the LokSak bag, rather than one of the numerous cheaper options is because I find it hard to trust products from generic manufacturers in China. Keeping my keys and phone dry is worth spending a few extra dollars. I trust Loksak, they manufacture their bags in the united states, and are an official supper of waterproof bags to the US and several other militaries, and seem to be well regarded.
So far the longevity and durability have impressed me. I have used my current bag on over 200 fishing and kayaking trips and it is still watertight. They are tough, durable, and dependable and I have complete confidence in mine. When dropped into the water, the bag does sink, even with my comparatively lightweight Iphone7 inside. Sinking can be a desirable trait when fishing moving water, I have watched several foam filled fly boxes drift away downstream. Less desirable if dropped overboard into a deep lake. When lake fishing, padding the bag with some closed cell foam does help it stay afloat.
The bag I used is 3.9 x 7″ , so can easily fit a phone which is 6″ wide and about 3″ wide. So something like a Iphone 8 plus fits neatly.