Best value waterproof phone for fishing
Every since damaging my last feature phone on a canoe trip, I have been a big advocate for waterproof phones. The peace of mind, and increased ease of use while fishing them a worthwhile investment.
When buying a waterproof smartphone I advise getting one with IPx6 or better rating. These phones are certified to survive submersion for extended periods of time. That is important for a fishing phone, it is all to easy to drop one out of your pocket.
I have a high degree of confidence in the capabilities of waterproof phones, even then I do not like to take unnecessary risks. For that reason when not in use I always keep my phone in a waterproof bag.
My first smartphone was a Motorola Defy. From memory, it was only rated as water resistant but in reality, it was fully sealed. I dropped it no fewer than a dozen times into river water without any problems.
Since then all of my Smartphones, except one, were waterproof or at a minimum water resistant. If budget allows, a fully waterproof phone is the way to go. Over the last decade, I have owned waterproof phones made by Motorola, Sony, and Apple. Over the years I dropped them all into the river, they survived. Even prolonged dampness and salt exposure during long sea kayaking trips was not enough to damage them.
Once a feature commonly found on low end or mid-range phones such as the Sony Aqua or Motorola Defy ranges waterproofing has increasingly become a feature only found on high end devices. The majority of flagship models now offer waterproofing. Although Motorola waterproofing has actually gone backward, their Defy a decade ago had better waterproofing than their flagship today.
For value oriented waterproof phones I can make the following suggestions although I have not used those particular models myself I can provide a summary of my research. For comprehensive phone reviews I recommend gsmarena and phonearena.
Features to look for in a good fishing phone.
In this market overview, I have decided to rate each phone on four criteria, which I feel makes a good fishing phone.
Ruggedness: The most important differentiating factor is the overall toughness and water fastness of the phone. As fishermen love to use our phones near the water and often take them out to photograph our successes. A phone which can survive the weather, and water is great for peace of mind.
Camera: One of the main reasons we take our phones onto the river is to take photos, and a good camera simply makes things easier.
Performance: While not completely related to a fishing phone, having good all round performance makes a phone easier and nicer to use.
Battery: A phone with a flat battery is pretty useless, so a phone with enough battery to last a day or even weekend out fishing is a nice bonus. No one wants to carry around additional power packs or cables in their vest pocket.
Other: One other useful feature is dual sim slots, that allows you to access two mobile networks at a time, assuming you have a superscription with both. Having two sims simply makes it easier to find a working connection in areas with patchy coverage. It is also great to have when traveling. Luckily all the phones in this list come with the option of dual sim slots.
Best value waterproof phones for fishing
Samsung Galaxy A52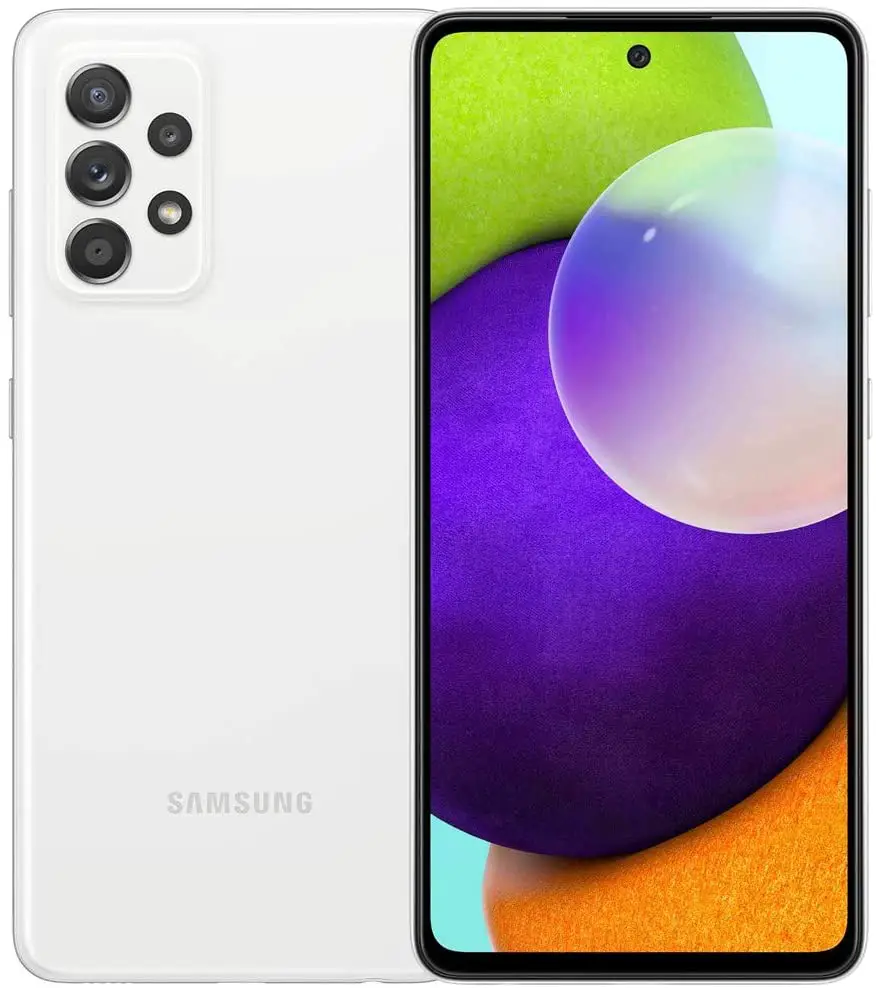 (Price at time of writing $380)
The Samsung A52 is simply an excellent midrange smartphone. With the bonus of an IP67 rating, no need to worry if the phone drops out of your waders while netting that trophy brown. The IP67 rating means it can survive a 1 meter deep swim for 30 minutes. While it is less waterproof than the Xcover or Sony but still perfectly adequate for the occasional dunking.
For a midrange phone, the camera has good dynamic range. Minimizing blown highlights and detail lose in the blacks. In low lights, the camera still manages to capture a good amount of detail despite high image noise. Overall the photo quality is good. Photos taken at night with the included night mode are impressive, with a lot of detail maintained. Most fishermen will be very satisfied with the photo quality.
The hardware again is decent. At 6.5" the phone is getting up there in size, but should still fit in most vest pockets. Overall hardware performance is good, there should not be a noticeable lag for general use. The A series easily has the best performing hardware in its class.
Samsung included a 4,500 mAh battery that should be large enough to last a couple of days with light use. It actually has the best battery performance of all phones in this list.
Overall, the A52 is a very impressive midrange phone. With midrange phones this good, I see little need to pay over a $1000 for a flagship. There are two models, the standard A52 and the more expensive A52 5G which features 5G connectivity along with a slightly faster hardware and screen refresh rate. At current retail pricing, the A52 offers better value than the more rugged styled Xcover line up.
Ruggedness: Acceptable
Camera: Very good
Performance: Very good
Battery: Excellent
Sony Xperia 10 II
(price at time of writing $346)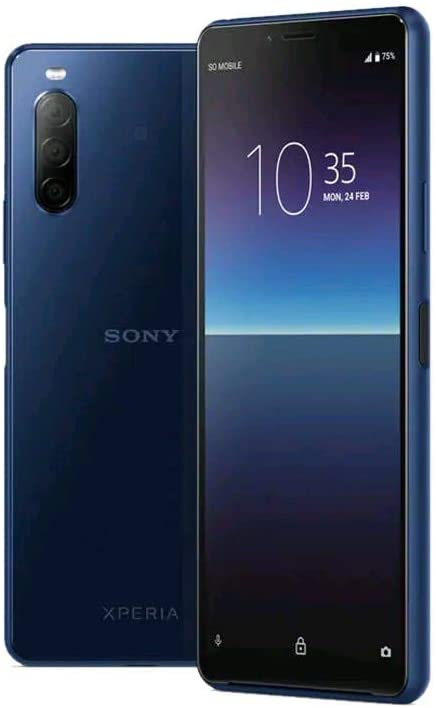 Sony has been making waterproof cell phones longer than most, so they have a proven track record in that area. More popular in Japan than the west Sony still makes some compelling phones. I have used several Sony phones while trout fishing so know they are up to the task.
The Xperia 10 II at the time of writing is one of the most affordable IP68 water resistant smartphone from a major manufacturer. I will even trust it for the occasional underwater photo. Announced over a year ago, the Xperia 10 II is approaching the end of its expected product cycle, so the price has dropped somewhat since release. It will not surprise me if Sony announces a replacement version in the coming months.
The Xperia 10 II is tall and thin phone(21:9 aspect ratio). The long 6" display offers a good ratio for watching media, but the long length makes it somewhat awkward to carry in shallow pockets but going to easy fit into large vest or wader pockets. That ratio makes single hand operating slightly easier.
Photo quality is a mixed bag. In good light the photos look nice, the blacks are black and the processing keeps noise levels under control even at higher ISO. There is actually less noise at high ISO than low, they must run some aggressive noise reduction. Screen details are good but are definitely softer than the A52. The colors are bright and quite saturated.
Night mode is disappointing, the photos are very soft and blurred. They are not really usable. If photo quality is paramount, then Samsung A52 does a better job overall. For daytime photography both phones are competitive.
The included battery is only 3600mAh, while the battery is a bit on the small side Sony phones are typically energy efficient. With light use, the phone has around 90 hours of battery life, which is respectable. In real-life conditions, it should survive a day or two on the river between charges.
Regarding performance, the Snapdragon 665 chipset is around 37% faster than the Exynos 850 found in the Samsung Xcover 5 and on par with the Xcover pro. Overall performance is comparable to the Xcover Pro. It lags behind the A52 by quite a margin.
Ruggedness: Very good
Camera: Good
Performance: Good
Battery: Very Good
Best rugged smartphones for fishing
A market overview of the best phones for fishing would not be complete without taking the rugged phone niche into consideration. Rugged phones are predominantly manufactured by little known companies based in china. The Japanese made Kyocera Dura phones are the main exception. Texas headquartered Sonim also designs rugged Smartphones, manufacturing is outsourced to OEM in China and Vietnam.
Rugged Smartphones specifications allow them to survive in a range of hostile and challenging environments which would otherwise severely impact the performance of a normal smartphone. They all feature high degrees of waterproofing and also meet various military standards for durability.
Cat S42
(Price at time of writing $250)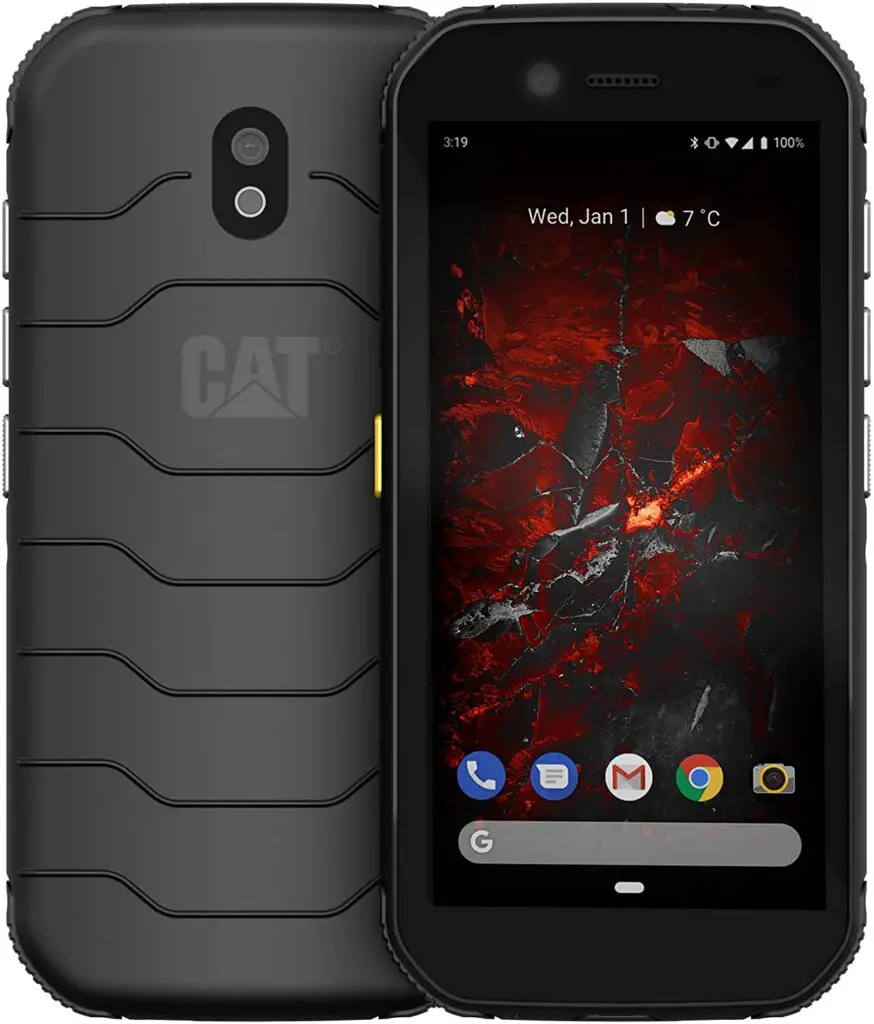 Two of the biggest names in this industry are Cat and Blackview. Cat phones typically have the best network compatibility in North America. Rugged phones, at a glance, have impressive looking hardware.
But when compared against similarly priced mainstream phones, it becomes apparent they are using slow and outdated components. This is most apparent with regard to the cameras which despite offering high megapixels and multiple lenses can only produce acceptable photos in good lighting conditions.
Nevertheless, I decided to look at the Cat S42 which is sold in the United States. The S42 features tough rubberized construction and is extremely impact resistant. The IP68 waterproof rating allows it to easily handle anything a freshwater fisherman can throw at it.
The S42 uses an entry level Mediatek Helio A20 MT Quad core processor. While the name might sound impressive, overall performance is very slow, the Exynos 850 chipsit powered Samsung Xcover 5 outperforms almost two fold in some benchmarks. It struggles to play multimedia and more challenging games at high resolution. There is a silver lining, due to the low performance hardware. The battery-life is actually quite good.
The Camera is basic and offers a single focal length. In good lights the photos are passable with accurate colours. When zoomed in there is an obvious lack of detail.
If you are just after a phone to make a few calls or to check on the river or sports results the Cat S42 should be up to the task. In case you are wondering, the Cat branding is a licensing deal with the Caterpillar Portfolio which manufactures heavy earthmovers among other things.
Ruggedness: Excellent
Camera: Poor
Performance: Poor
Battery: Very Good
Kyocera DuraForce PRO 2
(price at time of writing $444)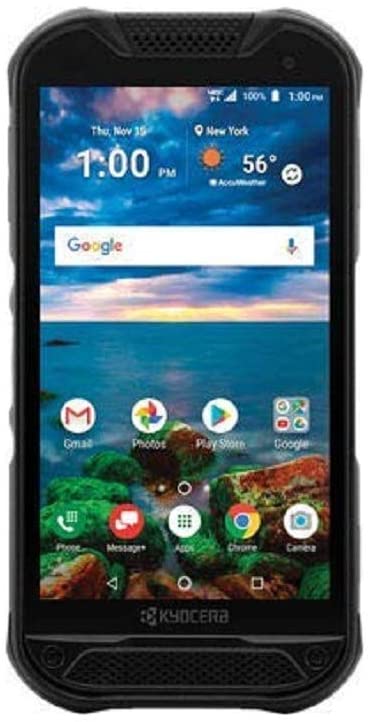 Few consumers probably even know that Kyocera even makes smartphones. Most will know the Japanese electronic manufacturer from their printers or their long discontinued digital cameras. Kyocera has been a pioneer in the design and marketing of rugged Smartphones. So, how does the Japanese designed DuraForce Pro 2 compare against the numerous Chinese competitors.
The Pro 2 is built tough, encased with shock resistant heavy duty plastic. Certified IP68 waterproofing, allowing it to survive at depths down to 2m for 30 minutes. The hatch covers, a common vulnerability on weather sealed phones, are easy to open yet close securely. All ports feature internal seals this provides extra protection against dust and water. So even if the hatches fail the phone should remain watertight. Unlike many rugged phones, Kyocera backs the Pro2 with a two-year warranty. Much more impressive than the six-month warranty of the Cat S42.
The phone is chunky, but due to its relatively small 5" screen remains pocketable. The small screen allows for decent Battery life, easily lasting a day on the river but its 3260mAh is no long life champion. There is two screen versions. The standard version features a toughen Dragontrail Glass pro screen. The version of the phone exclusive to Verizon in the US comes with an extremely scratch resistant sapphire screen.
The dual rear cameras are impressive in good light. Photo colors are vivid with well preserved details. Noise is kept under control and only really noticeable in underexposed areas. Dynamic range is good. It appears Kyocera has gotten the best out of their sensor. One feature, which I love, is a dedicated shutter button. Makes photographing fish with wet hands much easier.
Performance is okay from its Snapdragon 630 processor. Overall performance is comparable to the Samsung Xcover 5. Despite being released over two years ago. The Kyocera Duraforce Pro 2 still holds its own against the current generation of rugged phones. One concern will be the potential lack of software support and updates going forward.
Ruggedness: Excellent
Camera: Good
Performance: Acceptable
Battery: Acceptable
Samsung Galaxy Xcover 5.
(Price at time of writing ≈ $341)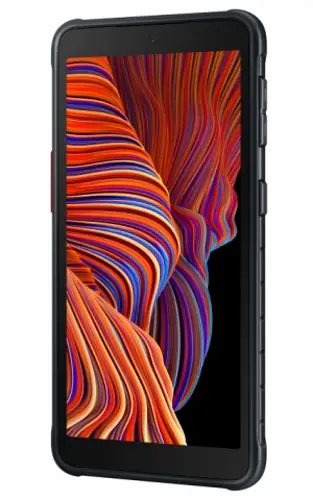 The Xcover 5, Samsungs newest rugged phone is due to be released around March 2021.
Several features make the Samsung Xcover 5 a good fishing phone. The IP68 rating means it will survive a dunking. Its rubbery design assists with impact protection, no glass back to worry about shattering. The Xcover 5 is one of the cheapest current generation water-resistant phones from a major manufacturer. It is also one of the most rugged.
The Xcover 5 is a compact phone by today's standard, the 5.3" screen means it should not be too large to fit comfortably into most vest pockets. Compared with more midrange phones the screen quality is lacking and the camera does not appear to be anything special. I cannot judge the photo quality until I actually get to see photos.
There are some downsides. The 3000mAh battery is quite disappointing, a larger battery would have been better on an outdoor oriented phone. At this time, Samsung has not announced a release date for the North American market.
Other phones in the Xcover line up include the Xcover Pro which is larger but has slightly higher spec. Also, the much older Xcover 4 which has even weaker hardware.