Where and how to catch trout in Georgia (Includes 17 excellent fishing locations)

Georgian trout streams are flued by streams that flow from the high slopes of the Appalachian mountains. Georgia offers trout fishermen approximately 5,400 miles of streams, 2800 miles of which support self-reproducing populations of wild trout. There is also a multitude of ponds and lakes that see frequent stockings, perfect for anyone who is new to the sport or just wants a relaxing way to catch a few fish.
The Appalachian headwaters are home to native brook trout, while further down the valley sees populations of wild and stock brown and rainbow trout. Trout stocking generally takes place from late march through to mid-September.
Trout fishing in Georgia is some of the most accessible in North America. The Chattahoochee River, one of the country's top trout rivers flows through the state capital of Atlanta.
Georgia offers more than just the Chattahoochee. In the foothills of the Appalachians, there are countless trout streams. Some streams get frequent releases of stock trout, and with over 100,000 registered trout anglers in Georgia, some of them can get very crowded on the weekends. Others streams flow deep within the National Forests, home to wary wild trout waiting to be discovered.
Before wrapping up the introduction, I will leave this piece of advice. Generally speaking the worst, the access tracks the better the fishing. Popular and well publicized wild trout streams tend to be fished rather heavily and the quality starts to suffer.
In this guide on trout fishing in Georgia. We give an overall of the best trout rivers, streams, and lakes. This is far from an exhausted list of trout waters but hopefully, gives a good starting point.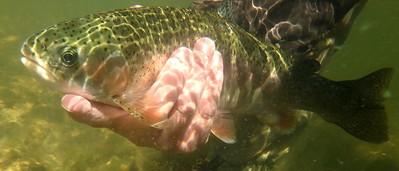 8 Must Fish Trout Creeks and Rivers in Georgia
Trout Fishing in the Chattahoochee National Forest
The Chattahoochee National Forest offers some of the best trout fishing in Georgia. Within the park, there are countless miles of picturesque trout streams. The scenery is spectacular, and anglers looking to venture off the beaten path will get to enjoy many miles of backcountry fishing for brown and rainbow trout.
The streams at higher elevations, above 3000 feet also provide fishing for native brook trout.
Toccoa River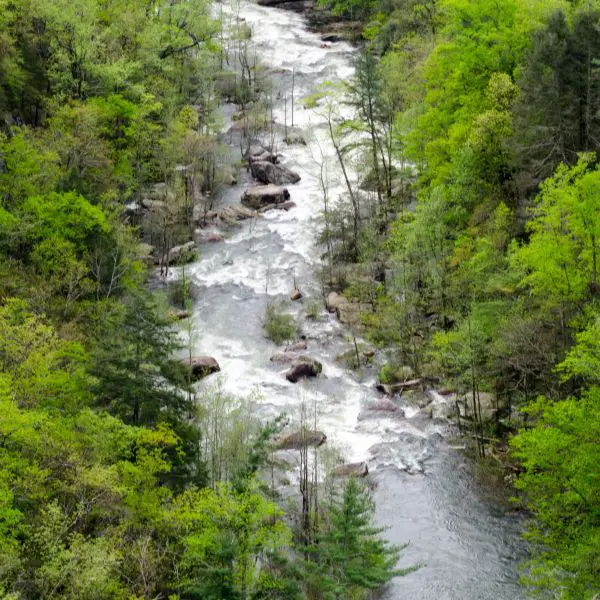 The Toccoa River is one of Georgia's premium trout rivers. The Toccoa flows from its origins in the Southern Appalachian for 56 Miles through Georgia before entering Tennessee where it is known as the Ocoee.
The Toccoa Rivers holds healthy populations of Rainbow and Brown trout with the occasional Brook. The Toccoa has a well-deserved reputation as a top quality dry-fly fishery from the months of March to November, but the fishing can be worthwhile throughout the year.
The river is split into two sections by Blue Bridge Lake. Upstream of the Lake the Toccoa is a gorgeous trout stream. Although many of the best beats are in private ownership making angler access difficult without hiring the services of a guide.
Downstream from Blue Bridge Dam in the tailwaters offers good public access. Many consider the tailwater section to offer the best trout fishing in Georgia.
This tailwaters spans only 35- 50 yards in width but still supports a good number of mature brown and rainbow trout. Spend enough time on the river, you might even catch a 10lb brown trout.
Popular public access points are at Blue Ridge Dam, Curtis Switch, and McCaysville.
Best Trout Fishing Tributaries of the Toccoa River
The tributaries of the Toccoa rivers in themselves are excellent fisheries.
With many offering productive smaller stream trout fishing. Of particular note are Rock Creek and Cooper Creek, these two creeks offer consistent quality fishing due to the large number of stock trout they receive.
The nearby Fightingtown Creek, Hothouse Creek, and Noontootla are worth a visit for the challenge of more technical fishing. We discuss the Noontootla in more detail further below.
Noontoola Creek
Noontoola Creek is a picturesque freestone tributary in the Chattahoochee National Forest. The stream offers excellent fishing for wild brown and rainbow trout in its many pools and riffles.
There is also a few native Brook trout in the smaller side tributaries such as Stover Creek, Long Creek, and Chester Creek. Brook trout survive above 3000 feet (900m) where the cool clean water allows them to out compete the introduced species.
Both fly fishing and spin fishing is allowed, but live bait is prohibited.
The best access is from Forest Road 58 which follows the creek through much of its length within the National Forest
Chattahoochee River – Georgia's premier trout fishery.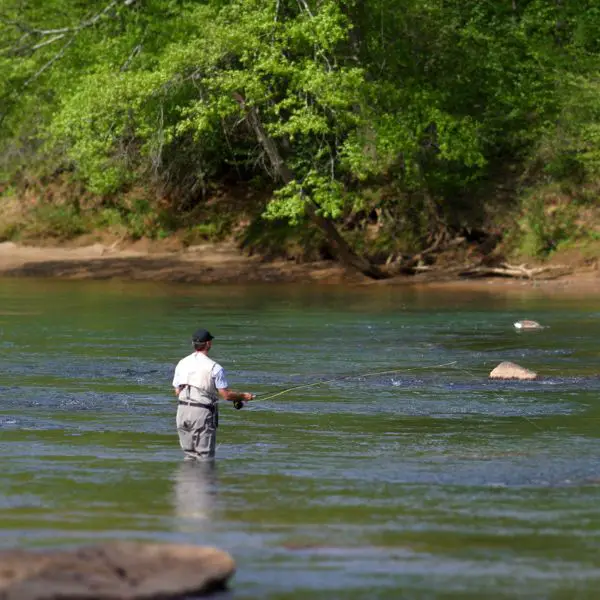 The Chattahoochee River might just be the most famous trout river in Georgia. The river as a trout fishery is quite remarkable. It is one, of only three trout rivers that flow through a city area of more than a million people.
The Chattahoochee is not only frequently stocked, but is also home to an established population of wild brown trout, some of which can grow large.
The Chattahoochee holds the state record for the largest Brown Trout. A 31.5 inch, 20lb 14oz monster that was caught in July 2014
The Chattahoochee begins its life in the cool waters of Buford Dam, from there the river meanders for over 38 miles of designated trout water.
The trout hatchery near Buford releases close to 50,000 rainbow trout into the river from early November through late April. Some of the easiest trout fishing on the Chattahoochee is in the tailwater close to the hatchery.
More top quality fishing can be had In the lure only water between Highway 20 to Abbott's Bridge. This area is rich in aquatic life and sustains a healthy population of brown trout.
When fishing the Chattahoochee just be aware of rapid changes in river levels when the dam releases water.
Soque River – Home to the State Record Rainbow Trout
If you want to catch big trout in a small river, look no further than the Soque. Best of all, it is only an hour's drive from downtown Atlanta.
This medium size river is one of the main tributaries of the Chattahoochee. The Soque flows some 28.5 miles and in the upper reaches has some quality trout fishing. The main claim to fame is the Georgia state record for rainbow trout caught in the Soque.
Much of the riverbank is in private ownership, making it a difficult river to fish for the public to fish without the assistance of a guide but the quality of the trout makes that extra difficulty worthwhile.
Dukes Creek and Waters Creek
Georgia's state-managed trophy streams
These are the two premier trophy trout creeks in Georgia. While they have their differences which we will discuss below, they share much in common.
Both creeks are typically low and clear. The trout which inhabit them are large, but also extremely cunning and will take flight at the first sign of danger. A stealthy approach, and precise presentation, with no drag or line flash, is required for success.
Both Creeks can be accessed in under two hours of driving from Atlanta city.
In clear conditions, most successful fly anglers fish 10 to 12ft leaders, sometimes down to 6X or 7X when presenting tiny dry flies. Sometimes tiny flies, down to size 22 are essential. While most anglers choose to fly fishing, the regulations do not directly ban spinning.
The overgrown nature of the creeks makes casting difficult, plus the pools and runs are full of submerged trees, logs, and roots. Snags, and break offs are common. Scouting and knowing the water is essential for success. It is suggested on your first visit to scout and learn the pools and runs before fishing.
When it rains, the creeks can flow a brownish red. Many fishermen choose to stay at home but this is one of the best times to target the trophy trout which are much more confident during the swollen conditions. When the water is dirty, fish big and bold. A wooly bugger or muddler minnow works well. The trout need to be able to see the flies through the gloom so this is not the time for finesse flies.
Check the regulations
Like with all trout waters, it is important to check the regulations before fishing. Both creeks can only be fished with barbless hooks and artificial lures. For current regulations check with Georgia's Department of Natural Resources.
Water Creek
Waters Creek is a seasonal stream located in the Chestatee WMA. The trophy waters are slightly over four miles in length and never spans more than 30 feet. It use to have a legendary reputation as some of the best fishing for large brown and rainbow trout in Georgia. The river holds the state record for Brook Trout, but large brooks are now rare.
Because of a series of adverse events, from poaching to wild weather, the stock of trophy fish took a hammering. Water creek is largely made up of a series of ripples and shallow runs. There is few deep, dark pools for trophy trout to shelter in. Most large trout hide beneath undercut banks or among the branches of fallen trees.
While the quality of the fishing is slowly improving, and it is a better than average trout stream it is still far from the trophy water of old.

Dukes Creek
Dukes Creek is the second trophy trout water in the state of Georgia. It is located within the Smithgall woods conservation area. Dukes creek only offers two miles of trophy water, and the number of anglers per day is tightly controlled. Like Water Creek it is only open for angling Saturday, Sunday, and Wednesday.
Duke Creek meanders through the mature woodlands in a series of deep pools, separated by faster shallow runs. The uppermost portion of trophy water is a series of deep pools before it opens up slightly.
Dukes Creeks contains a healthy population of trout, with many fish in the 20 to 30 inch range. The lowermost section of Dukes Creek is reputed to hold the biggest fish. It is also by far the most inaccessible and rarely fished by visiting anglers.
9 best lakes to catch stock trout in Georgia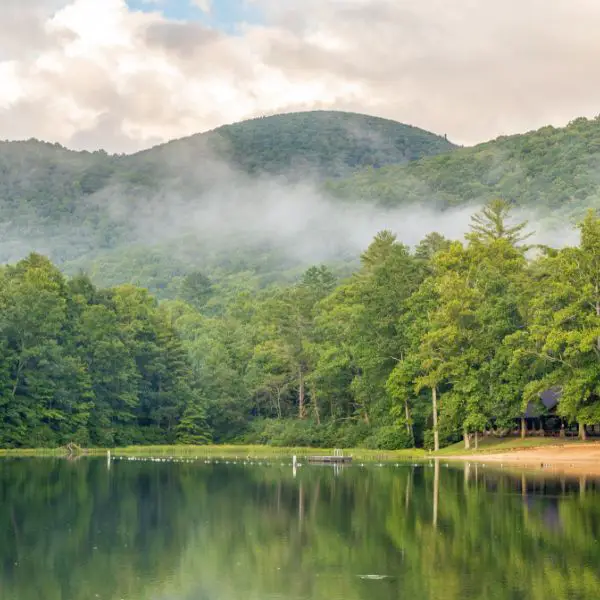 Lakes in Georgia are an excellent place for new anglers to learn how to fish. They are also a perfect place to catch a feed for the table. Several lakes in the North Georgia Mountains get stocked with thousands of rainbow trout multiple times a year.
Trails circle many of the lakes, which allow for easy shoreline access. Some have fishing pairs and conveniently located campsites. Bait fishing is not only allowed but is very common.
The lakes are a great place to take children to teach them to fish. Popular baits include night crawlers, red worms, crickets, and artificial baits such as Berkley Powerbait.
Rock Creek Lake, (Fannin county) 9 acre lake in Fannin county. This lake receives regular stockings over the fishing season.
Dockery Lake (Lumpkin County). The picturesque lake is regularly stocked over the fishing seasons. This lake is the head of one of the tributaries of Water Creek which is managed as a trophy fishery.
Lake Conasauga (Murray County). A cold mountain lake with a scenic campground. The lake is stocked with trout. Good fishing for children. Access roads can be rough.
Vogel Lake (Union County). A small lake that often brims with stock and holdover trout. Some of the most popular fishing is off the dam. A great spot for children to fish.
Lake Winfield Scott (Union County). This shallow lake fishes best early in the season when it receives regular stocking. The water gets warm by late summer and the trout suffer.
Nancytown Lake (Habersham County). This small lake receives regular stocking. The trout get fished out quite quickly so best to fish close to the time of release.
Lake Russell (Elbert County). This lake receives a lot of stock rainbow trout, the resident bass relentlessly predates upon them. Still a worthwhile lake around the time of release.
Lake Burton (Rabun County) This large lake contains over 35 species of fish. It is perhaps the only lake that is managed primarily as a trout fishery. Lake Burton fishes best over the cooler months when the Brown trout move closer to the surface. Trout of up to 8lbs are caught every year.
Blue Ridge Lake offers 3,300 acres of water to explore, and 65 miles of shoreline to walk. This lake contains a wide variety of freshwater with most anglers targeting bass, walleye and bream. Despite the competition, there is still trout fishing to be had. Most notably near the mouth of the Toccoa River.
Best Trout Lures to use in Georgia
For a more comprehensive look at the best spinning lures to use in Georgia, I have an article here.
The best Inline Spinners for Trout Fishing in Georgia
Trout in Georgia respond to a wide range and selection of lures. For stream fishing, the Mepps Agilia is a popular choice. Its lightweight making it ideal for shallows streams and creeks that dominate the north of the state.
When fishing bigger waters such as the Chattahoochee the Blue Fox Vibrax is a great choice. It casts well, sinks fast, complemented with a strong rattle that can really grab a trout's attention. Both brands are very durable so unlikely to be damaged when bouncing over rocky bottoms.
There are many other great Inline spinners that are excellent trout catchers. It is hard to go wrong with any of the established brands. For more information, check out our guide on what we consider to be the best inline spinners.
Best Jerkbaits for Catching Trout in Georgia
If after a trophy trout, try skilfully working a jerkbait across the head of deep pools, or dart them past overhangs. Big trouts love them.
Popular Jerkbaits in Georgia include the classic Rapala and the Smithwick Rattlin' Rogue. In both floating and suspending versions. Try them in brown trout, rainbow, and herring (Chrome Blue Back) patterns. For more information on trout fishing with Jerkbait check out our guide.
Best Flies to use in Georgia
Dry Flies
Quill Gordons (#10-18)
Hendricksons (#10-18)
Blue-winged Olives (#12-20)
Yellow Sally (#12 – 16)
Yellow Humpy (#10 – 18)
Parachute Sulphur (#14 – 18)
Parachute Adams (#12 – 22)
Light Cahill (#10 – 18)
Black Gnat (#16 – 24)
Elk Hair Caddis (#8 – 16)
Stimulator (#8 – 14)
Nymphs
Pheasant Tail (#12 – 20)
Copper John (#12-20)
Hare's Ear (#12 – 20)
Rainbow Warrior (#14 – 22)
Stonefly (#6 – 10)
Tellico Nymph (#12 – 18)
Zebra Midge (#16 – 22)
Egg (#12 – 16)
For a more comprehensive chart of flies and when to use them in the Southern Appalachian, we suggest visiting this comprehensive page by soaring eagle outfitters. It is the best resource I have seen.
Conclusion
In this guide we discuss the best trout catching lures in and flies to use in Georgia. Plus gave an outline discussing some of the most famous trout lakes, rivers, and streams.
Hopefully, this will help you catch more and better trout. Georgia is blessed with a wealth of trout streams and fishing suitable for any age and skill level. What is your favorite experience trout fishing in Georgia, let us know in the comments below.