Top 10 trout lures for Colorado
Welcome to our guide for the top 10 trout lures for fishing in Colorado. This ranking is based on surveying anglers who fish predominantly in Colorado.
1) Panther Martin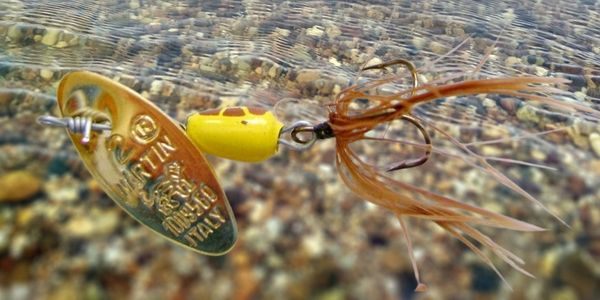 The Panther Martin inline spinner got by far the most support in our recent survey. It was very popular for catching both wild and stock trout.
The most important feature which sets the Panther Martin apart from most other inline spinners is the larger than average blade.
That large blade gives the Panther Martin spinner several important characteristics.
The large blade generates a lot of fish attracting vibration, including a distinctive thump as it swims through the water.
The blade creates a tantalizing fluttery drop. It can generate strikes even on the drop.
The blade rapidly accelerates even on a slow retrieve. No need to retrieve fast to generate the ever so important flash.
There are many excellent colors to choose from, and the best on the day varies based on many external factors such as water clarity, weather, trout feed preferences, and how wary the trout are.
One of the most popular color combinations is the Salamander. That is gold with red dots. Black with gold is also popular.
If one color got mentioned more than any other, it is red. Whether it is blade, body, or dots, red was a top choice when fishing in Colorado. The second most popular color was yellow. Some anglers even combine the two.
The traditional favorite, pure silver or gold blades is also extremely popular.
There is much debate between a dress or naked hook. To be honest, both works and it might depend on the day. Some people believe, that due to the larger profile dressed hooks catch fewer but larger fish.
If you want the blade to catch even more light, then consider a holographic pattern.
For more information on how best to fish Panther Martins and other inline spinners check my comprehensive guide here.
2) ACME Kastmaster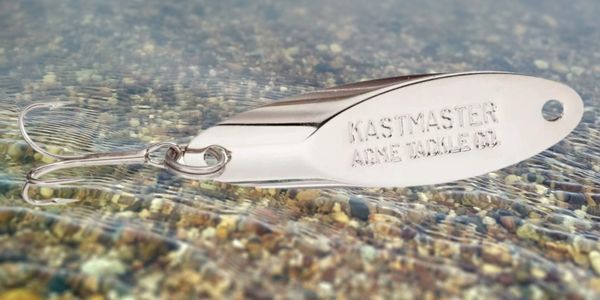 I knew the Kastmaster was a popular lure, but I was a bit surprised to see it take second place in our survey. The reason why is its versatility, it is a good lure in almost any fishing situation.
I reach for a kastmaster when I need to to cast long distances. It is excellent at punching into a headwind.
Several respondents rate the kastmaster highly as a trolling lure, "it darts around like a little bait fish". A great option for larger lakes, both trolling and casting.
The most popular casting weight is 1/4oz. This is enough weight for very long casts. I like waiting between 5-10 seconds after casting, that allows the Kastmaster to sink towards the bottom, and hopefully catch the attention of any nearby trout. \
The kastmaster can be fished at nearly any retrieve rate. But, I find a slow retrieve to be best on trout. It can also be fished with a jig action through the water.
The two most popular color combinations for river fishing is gold, brown and rainbow. While blue/chrome is a great choice for trolling in larger lakes.
3) Rooster Tail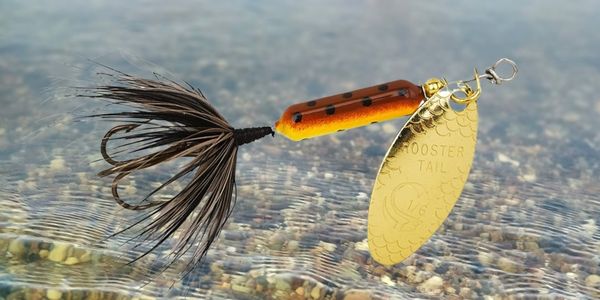 The rooster tail was the second most popular inline spinner for Colorado trout fishing. Its claim to frame is the pulsating rooster hackle tied to every hook.
The rooster tail has a long cylinder shape body, and the blade resembles a willow leaf. This gives the spinner a long slender profile, more representative of an escaping minnow.
Many anglers choose to fish 1/4 – 1/8oz lures throughout the rivers and streams in Colorado. Do not be afraid to go large, trout still happily strike them.
Popular colors are red, orange gold and black. Do not be afraid to experiment.
If I have to be completely honest, I am not the biggest fan of the rooster tail spinner and it will probably not make this list if it was based on my opinion. They are cheaper than most, but the blade can be reluctant to start spinning and I find the wire bends rather easily.
4) Rapala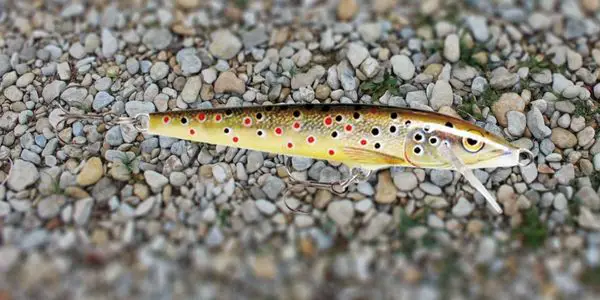 The first and only Jerkbait on this list is Rapala. Both the original floating and the countdown versions were equally popular. Some anglers, favor the 'broken back' jointed Rapalas.
Rapalas are excellent lures for shallow to medium depth fishing making them well suited for rivers and streams and lake margins.
I could never pinpoint the reasons, but larger wild brown trout seem to have a clear preference for this style of lure.
The most popular sizes are 5 and 7. Although, trout can be caught on either extreme.
Popular colors in Colorado include Gold, Rainbow, Perch, and fire tiger when visibility is limited.
For more information on how best to fish Rapalass and other Jerkbaits check my comprehensive guide here.
5) Eppinger Original Dardevle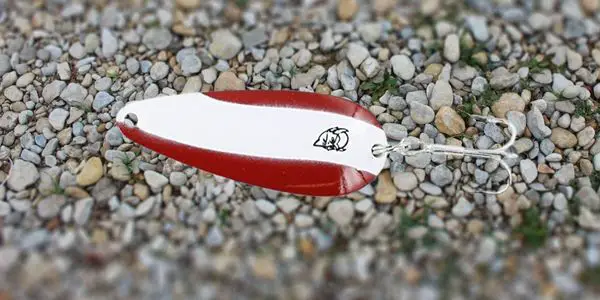 The Dardevle has been catching fish for over a century and has a reputation as a proven trout catcher. The Dardevle is one versatile lure, it can be cast, trolled, jigged fast, or slow. It is equally effective in lakes, and rivers and its solid metal construction makes it an excellent caster.
Most colorado fishermen prefer to use the Dardeleve when lake fishing for trout, but it is equally at home in bigger rivers and deeper pools. Simply cast out, and across and little flutter down to the bottom. When the trout are holding deep, the Dardevle is a great option.
1/4 oz is a popular weight for both river and lake fishing, although trout still willingly take much larger sizes.
While most colors catch trout, the most popular by a good margin is the classic red and white stripes. The Rainbow and yellow with orange diamonds are also popular variations.

6) Mepps Aglia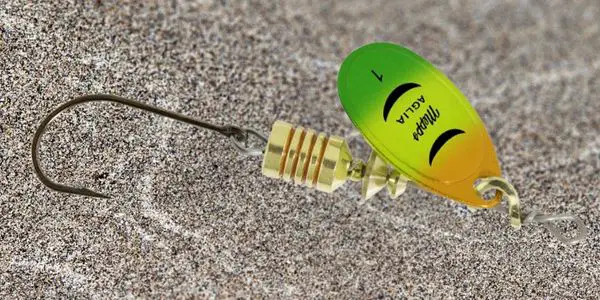 Another classic inline spinner. In my experience, Mepps are the most durable of any major inline spinner brand and are the lighter, more finesse construction make them an excellent option when fishing shallow streams and smaller lakes.
The popularity of big water fishing in colorado is largely the reason it ranked relatively low in the survey.
The most popular weights when targeting trout range between 1/4 and 1/8 oz. With the heavier lures generally fishing better in bigger waters.
The most popular colors include gold, silver, and red white. I personally have a soft spot for the black fury pattern.


7) Thomas Buoyant
Thomas Buoyant spoons are more buoyant than most, which increases the drift time. They are a popular option for fishing deep river pools with a lot of currents.
Like all spoons of similar design, they are also a very effective trolling lure.
Popular weights are 1/4oz – 1/16oz
Popular colors are copper, silver, and gold.
8) Luhr-Jensen Krocodile
The Krocodile is one of the best casting spoons on the market. Its long slim profile does an excellent job representing a small baitfish. Cast, jig or troll, the Krocodile is very versatile.
Popular colors: Brown trout, hammered chrome and fire tiger
9) Blue Fox Classic Vibrax
The Blue Fox Vibrax is another excellent inline spinner. Its dense construction means it sinks quicker than most and it gives off a lot of vibration. The Vibrax is a great choice for fast moving water with a lot of turbulence.
Popular weights are 1/4-1/8 oz
Popular colors: Gold, Silver, and bleeding gold (Red gold)
10) Super Duper
The Super duper has an unorthodox U sharp design, which traps the water to give it a darting wobble. Can cast, troll or even jig.

Popular in gold red and gold.
Honorable mentions
These lures were well represented, but just missed out on a spot in the top 10.
Tube Jig in natural colors
Little Cleo in yellow red or gold red
Tasmanian Devil in black orange or gold black.