Seven best fly fishing reels for trout
It took me a while to prepare and write this list of best fly fishing reels for trout fishing. Mostly because there is not really any bad reels and it is difficult to really separate them and claim this reel is better than another.
All reels now are pretty good and there is not much which separates the best from the rest. It often comes down to cosmetic appearance more so than on the water performance. Even the cheapest fly reels are good enough to catch trout.
Key features to consider
How important is drag on a fly reel?
Drags have to be one of the most overrated parts of a fly reel. I make this claim for several reasons. Firstly, most of the trout I catch, they never pull enough line to actually engage the drag. I fight and control the fish with my hands and by palming the reel.
Of course, there are fish which pull line. Even then, to slow such a fish which does not require much drag. Just a lb or two of pressure is more than enough to tire most trout.
When a trout is hooked, they generally try to escape in the direction of less resistance. If you are fishing a river, with a strong drag then the trout are just going to try escaping downstream. With the force of the water behind them trout become much harder to catch.
While fishing a light drag, the current against the flyline will start to pull the trout downstream. So they typically try to escape upstream, to avoid that pressure. This makes trout much easier to control. The end result, fighting a trout with light drag pressure is often easier than with heavy. This is the reason why, many steelhead fishermen still use traditional click and pawl style rivers while fishing.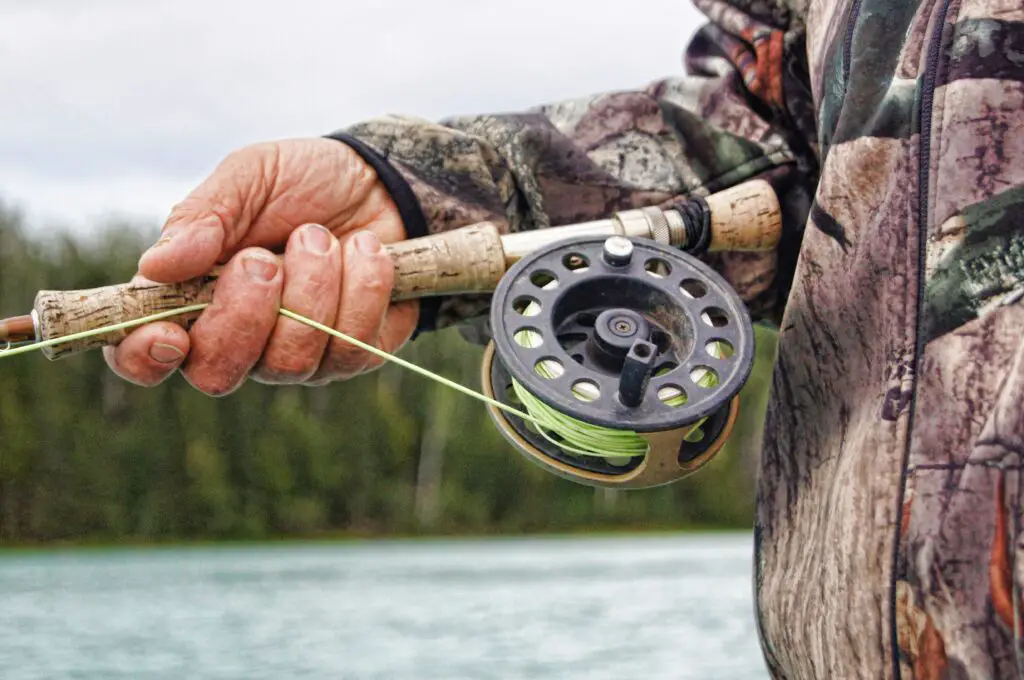 What is arbor when it comes to fly reels?
A large arbor reel simply has a much wider centre spool than a traditional or standard arbor reel. A large arbor has several advantages, the main one being that it gathers in line faster.
The large arbor also somewhat reduces the amount of time the line wraps around the reel, which can reduce the amount of memory and twist in the line.
With the exception of some purists, most fly fishermen now prefer to fish with large arbor reels.
Arguments in favor of standard arbor reels are less common. Some anglers prefer them because they typically have a larger line capacity. More line might seem useful when fighting big fish, but to be brutally honest. I can not remember the last time a fish took me to the backing. Most trout simply do not pull enough line to even reach the backing. I even do some saltwater fly, and even there it is uncommon to see the backing. So for trout size reels, I personally do not agree with that argument.
Others seem to think that a standard size arbor is more sporting. It puts them more in connection to the fish, making the fight harder, and hence the capture more rewarding. Will, I simply want to line the trout as quickly as possible so I can release it. Prolonging a fight, does not seem much of a priority to me.
Best Trout Fly Fishing Reels.
Lamson Liquid
I fish lamson reels. I like the build quality, refinement and overall dependability. The entry level Liquid is no exception. It is a well made reel.
To save costs, the Liquid is a die cast reel that is then machined to improve tolerances. So not quite the quality of a fully machined Lamson, it is still an excellent reel with very good performance.
One aspect which sets Lamson reels apart from others in their price bracket is that they still rely quite heavily on US manufacturing. While they are not fully assembled in the US, some of the components and assembling certainly is. Unlike the others, the Liquid is not a fully imported reel
The star of the Lamson Liquid ist he drag. It is basically the same drag that Lamson uses on all their reels. It is robust, powerful, and smooth. This is a high end drag system on a entry-level reel. Really hard value to beat.
The Lamson liquid is usually one of the most widely recommended reels in many online fishing communities.
Echo Base Reel
Echo might be best known for their great value entry level fly rods and combo. They also happen to produce a range of nice entry level reels. To summarise the Base, it is light, and smooth with a solid drag.
The Echo is made out of a light, let strong composite material which is similar to the graphite which many spinning reels are assembled from. This also makes the Echo one of the lightest reels on this list weighing in at only 5.1oz for the 5/6 weight version.
Another advantage of a composite frame is that it feels much warmer to touch when the weather is cold. Something to keep in mind if you are planning to trout fish over winter.
The Echo base features a pretty decent disc drag system. It offers more than enough stopping power for any trout.

Echo Ion
The Ion is Echos entry level aluminum, die cast fly reel. It features a very good, maintenance free drag system. Easily exceeding the requirements of trout fishing. The drag knob in particular makes a very reassuring click, making it easier to dial in the desired drag pressure.
The Ion has a large abour, which is now a very common feature on fly reels. Large abours are popular for two reasons. They retrieve line faster, which speeds up fishing. The larger diameter also means the line is less tightly wrapped, resulting in less memory.
The Ion has die cast construction, which is then machined for further refinement and tolerances. This construction method is popular for entry level fly reels. It results in nearly the same performance levels as fully machined reels but at a much reduced price.
Orvis Clearwater Large Arbor
The Orvis Clearwater is a very smooth, high quality die cast large arbor fly reel.
The clearwater is somewhat of a classic with a well deserved reputation. It also has the backing and support of one of the biggest names in fly fishing. Orvis guarantees their reels for r life against defects in materials and workmanship. They also offer comprehensive repair for any damage caused by the angler.
The drag is a carbon to stainless, stacked disc drag. This means very little to me but I know that the drag is smooth and decently powerful. Certainly strong enough to handle trout.
Compare with some of the reels on this list, the clearwater is a bit on the pricey side. But it does come with a much better warranty.
The best click and pawl trout fly reels
Click and pawl fly reels lack a sophisticated drag, instead, they use a clicker that clicks against the teeth of an internal gear which creates some drag. They are very simple, somewhat elegant, and most certainly reliable.
I will say, click and pawl reels are favored by traditionalists and sports anglers. They are less forgiving then a modern drag, but at the same time they give the angler more control over the fight. All that is slowing a running fish is the tiny clicker and your palm. It is a more direct way of fishing.
It is easy to tell someone is fishing a click and pawl reel. They make a constant clicking sound. When the line is being pulled they click, when the fishing is running they click. They are constantly clicking. Some anglers really like the clicking sounds, many for nostalgia reasons. I on the other hand, find the clicking a bit irritating. I prefer the silence of a modern drag.
I will also add, that the drag which the clicker offers is only light. Unless you really know what you are doing, click and pawl reels are best when fighting smaller, more controllable fish.
Redington Zero
The Redington zero is a modern take on a classic design. The reel, esepically in avocado green almost looks futuristic. The body is die cast, and then machined for better tolerances. This construction method is often down because it is cheaper than a fully machined reel.
The Redington Zero is also very lightweight, making it a great choice to balance lighter weight rods. They are a great choice for 2, 3 or 4 weights.
The Redington zero also comes with a lifetime warranty against manufacturing defects.
Pflueger Medalist
The Pflueger medalist might just be the most expensive reel on this list. But the price is somewhat justifiable. It is a fully machined reel with good tolerances. To get a name brand, fully machined reel at this price point is usually unheard of.
The medalist is a relaunch of one of the most popular fly reels ever sold in North America. Many anglers have fond memories fishing Pflueger medalists in their youth.
The relaunch stays very true to the classic. It features classic styling, a standard size abor and a multi-position click and pawl system.
Available in sizes suitable 3/4, 5/6, and 7/8