Are there trout in Hawaii? (and where to find them)
When most of us think of Hawaii, we think of tropical beaches, palm trees, lush jungles, and surfing, but Hawaii is more than just a beach Paradise. There are volcanoes raising over 13000 feet, where it gets cold enough on the summits to snow most years.
The largest of the volcanoes is on Big Island, and Maui is famous for its crystal clear cool waterfalls. But, the trout are not found on these bigger islands, but further south on Kauai.
Kauai is the only Hawaiian Island where trout fishing is possible. On Kauai it is possible to fish for both wild or stock rainbow trout.
Every year, thousands of Rainbow trout are released in Pu'u Lua Reservoir located within the Kōke'e State Park. The reservoir has an elevation of over 4000ft and receives frequent rainfall making conditions suitable for trout.
Where to catch trout on Kauai ?
The easiest place to trout fish is at the Pu'u Lua Reservoir located within the Kōke'e State Park.
I know, fishing for stock trout is boring. Many of us prefer to catch wild trout.
Wild Hawaiian trout can be challenging not only to catch but also to access. They live in small, overgrown streams and can be reluctant to raise even to well presented flies.
I am not going to give exact locations because some spots need to be protected. Plus it is more rewarding to put in the leg work and find them for yourself.
But I will share, that quite a few mountain streams on Kauai do hold wild populations of Rainbow trout. A couple of examples to point you in the right direction include the headwater tributaries of the Waimea River and the upper reaches of the Wainiha.
What to wear when trout fishing in Hawaii?
Hawaii might be a tropical island, but where the trout live the weather is much more temperate. Four seasons are possible at any time of the year so it is important to dress appropriately.
Kauai is a pacific island, the weather can change suddenly Within an hour the weather can range from sticky, hot, and humid to cold and wet. So I advise anyone heading to explore the trout streams to bring some warm clothing and even a lightweight jacket.
The water in the streams is also cool even in the middle of summer. It needs to be for the trout to survive.
I also suggest wearing long pants, and a long sleeve shirt. This provides protection against the wild ginger and other thorny plants, plus provides a barrier against the local mosquitoes.
I advise against waders, the streams are too small, the air too humid and chances are they will leak thanks to all the prickly plants.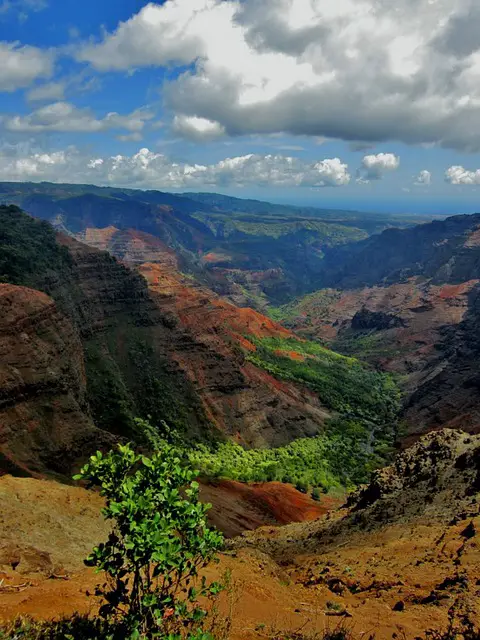 How can trout survive in tropical Hawaii?
Trout can survive on Hawaii for several reasons. The main reason being the trout streams are located at over 4000 feet where the average temperature is cooler.
Kauai also receives a lot of rainfall which feeds the streams allowing them to flow cool and clean.
Are there wild trout on Hawaii?
Yes, there are wild rainbow trout. But, they are not easy to catch. They often live in small mountain streams, surrounded by rough often overgrown terrain. Rock-climbing and abseiling skills are required to access some of the better pools.
Due to the ease of access. most anglers, prefer to target the stock rainbow trout in the Reservoir.
Are Rainbow Trout native to Hawaii?
There are no native trout in Hawaii. The current populations are descendants from releases over a century ago.
Are there brown trout in Hawaii?
Brown trout were released into the Wainiha River and other Kauai streams during the 1930's but they never got established. Rainbow trout are the only Salmonids that can be caught in Hawaii.
What are the regulations?
For current regulations, I advise checking with State of Hawaii Division of Aquatic Resources, but I will provide a summary below
– Must have a valid freshwater game fishing license
-Fish with only one pole, or line at a time (No spears, Nets chemicals, trotlines etc)
(a dip net, up to 2 feet is permitted to land hooked trout)
-Only use single hooks (No double, or trebles)
– Fish during the hours of 6am to 6pm
From June 19-July 12, 2020 anglers may only fish during the times assigned by lottery. From July 13-September 30 anglers may fish from 6 am to 6 pm daily.
– Any sort of corn bait is prohibited.