World's Largest Trout (Bigger than the IGFA Record)
The largest trout in the world, are rarely caught by rod and line, most met their fate in commercial nets or been found floating dead on the surface. Some example is a net caught 102lb Lake trout caught in Lake Athabasca, Canada, and a 75lb brown trout netted from Lake Attersee, Austria in 1938.
So what is the world's largest trout, and how big can they grow? This might seem like a simple question, just check the IGFA records. Well, it is not quite that simple, because the largest trout are rarely caught on rod and reel.
The largest line caught brown, rainbow and brook trout are well documented (Check the chart below). But these are far from the only trout.
In this article, I decided to try and answer the question once and for all. What is the world's largest trout?
What counts as a trout?
Before the question of what is the world's largest trout can be answered, it is best to define what a trout actually is.
I suspect some people will want to know are steelhead trout. Yes, they are just the sea-living form of rainbow trout. And, things are made a bit simple because the record rainbow trout is heavier than the record steelhead.
Are lake trout, trout?
I know many people claim they are technically a char and not a trout. But if we were to use that augment rainbow trout are pacific salmon, and we should only count the original trout in the Salmo genus.
Trout and char are basically the same group of fish anyway.
So I am going to include rainbow, lakers, and even other trout like fish.
My position: If a fish of the Salmonidae family has trout in its common name it should count.
Also from a genetic perspective, a lake trout has about as much in common with a brown trout as a rainbow trout does. They are all distantly related. Char is just a name after all.
Worlds largest trout


World Record (IGFA)
Other Method
Lake trout
72 lb 0 oz
83 lb (net)
102 lb 4 oz (net)
Rainbow trout
48 lb 0 oz


Brown trout
44 lb 5 oz
74lb (net)
66lb*
Brook trout
14 lb 8oz


Marble trout
49.6lb
54 lb 13 oz**
70lb
** The current IGFA record for marble trout is for a 22.5kg (49.6lb) fish caught in Slovenia. Although a couple of larger fish have been reported from Montenegro, they are difficult to verify.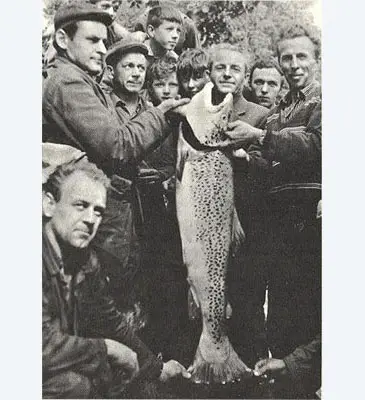 Marble trout (Runner up for world's largest trout)
The current IGFA world record marble trout was caught in Slovenia and weighed in at an impressive 49.6lb (22.5kg). There are unverifiable reports of fish up to 70lb being landed using other methods.
Marble trout (Salmo marmoratus) are closely related to brown trout but they are geographically isolated to Northern Italy and the Balkans. They are known for living in crystal clear rivers and hiding beneath boulders.
The world record marble trout was caught on a white rabbit fur streamer, from a pool in the Soca river near the town of Tolmino, Slovenia. It was only 10 years old, so had the potential to grow even larger.
There are a few reported larger fish from Montenegro, but they are difficult to verify. A reader, also commented that marble trout up to 24.5kg (54lb) have been caught in the Neretva river in Bosnia and Herzegovina.
Brown trout (Giant of Austrian lakes)
There are multiple reports of giant lake resident brown trout (Seeforelle in german) caught from Austrian and German alpine lakes prior to the 1950s. The largest with photographic evidence was caught by net in Lake Attersee, Austria in 1938. It reportedly weighed 34kg or just under 75lb.
The fate of these large german brown lake trout (Salmo trutta lacustris) is quite tragic. The fish masters of the era who looked after the lakes, considered large trout to be a pest, not a trophy. They feared they were preying upon the more desirable smaller trout.
So they started to net them during the spawning runs. Which was the only time of year they left the relative protection of the deep lakes. Large trout are still caught in these alpine lakes, but none are even close to the monsters of old.
Large brown trout elsewhere.
There are also difficult-to-verify reports of a 66lb brown trout from Albania(*), now if true I suspect this fish might not be a typical brown trout (Salmo trutta) but the geographically isolated Salmo letnica (Ohrid trout) which is an ancient trout lineage surviving in Lake Ohrid. The largest confirmed Ohrid trout was 17kg (37lb).
Another large brown trout with photographic evidence was a 56lb brown trout (photo above) that was recovered from lake Lokvarsko (Croatia) after it was drained for maintenance. During the construction of the Lokve Dam, small resident brown trout were trapped in the newly built reservoir. Conditions must have been ideal because those river trout grew extremely large. They also stocked thousands of small rainbow trout every year into the lake which likely proved easy prey for the monstrous browns.
I also read about a 60lb brown trout caught from Lake Hayes, NZ in 1883(*). This claim is very questionable, although brown trout are known to grow to enormous sizes when released into virgin habitats with abundant prey. New Zealand, is the current home of the IGFA world record brown trout a 44 lb 5 oz fish caught from the Tekapo canals.
Check this article for information on the largest brown trout in America.
Lake trout (World's largest trout)
I have found a couple of claims for the largest lake trout, one was an 83lb fish caught in a net in Great Bear Lake, Canada. In 1961 there are also reports of a 102lb lake trout caught in Lake Athabasca
Great Bear lake is also the site of the current IGFA world record a 72lb fish caught in 1995.
The Great Bear Lake is the fourth largest lake in North America and is located in the arctic circle. Conditions there are ideal for large lake trout.
What is the largest rainbow trout ever caught?
The largest rainbow trout I have been able to source information on was found dead floating in a lake somewhere in the western United States. I foolishly misplaced my notes, and have been unable to dig them up again. Although, I do plan on updating this section with more details when I stumble across them again.
The current IGFA world record Rainbow trout was a 48 lb 0 oz trout caught from Lake Diefenbaker, Saskatchewan. The trout measured 42-inch-long and has a girth of 32-inches. These large rainbows from Diefenbaker are infertile triploid meaning spend no energy spawning allowing them to grow large, fast.
The largest fertile rainbow trout, are typically caught from the Tekapo canals in New Zealand. For more information on large rainbow trout check here.
Other Fish which might be considered trout
Are Taimen (Hucho taimen) trout, salmon, or neither?
Taimen certainly belong to the Salmonidae family, so that puts them in the same family as trout and salmon. Taimen certainly look like trout and plenty of people call them trout.
Taimen predominately live in freshwater like trout, and they do not die after spawning like trout. All of these suggest that Taimen certainly share more in common with trout than they do Salmon.
The heaviest authenticated Taimen weighed in at an impressive 123 lb (55.8 kg). That record fish was caught in a commercial net. The current all tackle Taimen, was caught in the Tugur River, Russia had an official weight of 107lbs ( 48.62kg) but was likely heavier because it maxed out the scales.
Unofficial, and unverifiable reports have taimen weighing up to 231lb but such fish are likely to be tribal legends.
While the Taimen might be the most famous of the Asian trout, they are not the only one. There is also the humble Lenok, some people call them the most ancient trout. Although, they rarely reach even 10lb in weight so are certainly not in the running for the world's largest trout title.
Caspian salmon (The salmon which was once a trout)
This fish was once considered a brown trout but is now a salmon.
The largest recorded Caspian salmon weighed in at a hefty 112lb (51kg) and was caught in the Kura River, Azerbaijan.
Years ago I remember reading about large brown trout that live somewhere in Russia, I had to do a lot of research but it turns out it was the Caspian brown trout. This Caspian trout grew to some impressive sizes which shattered all other brown trout records. That was until 1967 when it was reclassified as a salmon.
Prior to 1967 this Salmonidae was considered to be a subspecies of the brown trout Salmo trutta ciscaucasicus, but since then it has been reclassified as being more closely related to the Atlantic salmon and was given the species name Salmo ciscaucasicus.