Six hobbies and interests that complement trout fishing
Fishing is a great hobby in its own right. I can spend hours, even days doing it, but sometimes it is great to kill two birds with one stone.
If the plan is to spend two hours driving to a river to fish the evening hatch, sometimes it is good to have other things to do on either side. In this article, I want to discuss some of the other hobbies and interests I like to combine with my fishing trips.
Interests that either complement fishing or take place in some areas.
1) Hiking
There is a common belief in trout fishing, that if an alpine lake has no trail leading to it the fishing is either going to be amazing or dead, and the best way to find out is to throw on a pack, and head into the hills.
Hiking is great because it can bring you into watersheds or headwaters rarely visited by anglers. Some keen trout fishermen will walk an hour or two before starting fishing for the day, but there is nearly endless wilderness to explore and the best way to access it is by foot.
Many of my most memorable trout have been caught as parts of much longer hikes, and I have gotten to fish high mountain tarns which probably have never seen a rod before. Yeah, most are barren but no rejects.
What are the downsides of combining fishing and hiking? Will, probably the extra weight and the difference in movement speed.
Firstly, let's discuss weight. My fishing kit is not made out of helium, it adds a few ounces and it comes with me on most backcountry trips. For this reason, my six-weight has claimed the summit of more than a few mountains, and I have carried it on multiple day back-country hikes when I never made a cast. I brought it just in case but found nothing even remotely fishable. Still, no rejects, I will rather carry a rod and not use it, than not have while trout after trout cruise by.
Staying with weight, but fishing when carrying a sleeping bag and tent on your back is also more of a chore. I will leave my pack behind while fishing upstream but that can result in backtracking, and plus there is a lot of useful stuff in there.
I often hike with family and friends, and even the slowest hiker generally walks much faster than the quickest fisherman. So if I want to fish, it either means convincing the group to continue on without me (which I prefer), or having them wait somewhere nearby that can make me feel pressure.
There are compromises, one is to only go fishing after setting up camp for the night, while campsites are often near water. They are not always next to the most productive or fishable stretches. I suppose, the best option is solo hikes, that way I can walk and fish at my own pace.
2) Photography
Trout fishing and photography seem to go hand in hand, and I know quite a few fly fishermen who have taken up photography or vice versa. Both hobbies certainly present a lot of opportunities to spend a lot of money, but the price of lens photography even makes fly fishing seem cheap.
About a decade ago, I brought myself an Olympus OM-D EM5, at the time this was an extremely compact, capable interchangeable lens camera that was also highly water resistant.
It went on all of my fly fishing trips, and at times I found myself concentrating more on photographing the scenery, and wildlife than the fishing. There are many waterfalls and insects to photograph while trout fishing.
The reason why is that trout typically live in some of the most visually stunning locations on earth.
While my EM-5 was an excellent camera, it was not a good camera for photographing fish. It was slightly too big and cumbersome to keep in my vest, so unless I was taking photos it stayed in my pack, and it took too long to take out when photographing fish.
So I will bring my camera for photography, and a waterproof phone to photograph the fish.
3) Fossil hunting
I have been fossil hunting for longer than I've been fishing, my dad got me into it when I was only little.
Trout fishing usually takes place in rivers or lakes, that are covered in all sorts of stones, rocks and boulders.
Some trout rivers also happen to flow through areas rich in fossils, and other mineral deposits. So when in a geologically interesting location, when walking between runs or pools, I always keep one eye on the rocks.
You will never know when a fossilized shell, leaf or shark tooth will show up. There are also some rather interesting minerals that can be found. When I was 8 or 9 years old, I found the most beautiful limestone geode, filled with white quartz crystal and I have been hooked ever since.
In some areas, you can even combine trout fishing with some causal gold panning, or searching for semi-precious stones.
If you think you might be interested in looking for fossils, I suggest checking the local library for books that might document where fossils have been found in your local area. My town also had a rock and mineral club that was a great help in identifying areas with known fossils.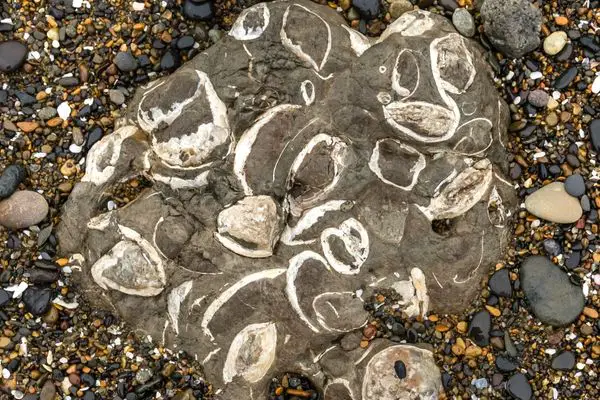 4) Pack rafting
Pack rafting like the name suggests is an inflatable raft that can fit inside a hiking pack, they are certainly the most weight-efficient way to float down rivers that lack road access. I use to combine pack rafting with hiking and fishing trips. While not without risk, it was a lot of adventurous fun, and many memories were made.
The use of a pack raft can open up countless fishing opportunities in the backcountry, admittedly they are very slow to paddle on flat water, but I know a few people who have used them to navigate around remote lakes.
They are also a fun way to float back downstream after a day on the river. Paddling back is certainly easier on the knees than walking, this aspect is the thing I miss most about my pack raft.
There are a few downsides.
A bit like with hiking, pack rafting does increase the amount of gear that needs to be carried. While all the accessories are designed to be lightweight and space efficient, combined they do add a significant amount of bulk, and certainly weigh more than just a fishing vest.
They also turn on a dime and are extremely lightweight. This causes them to spin around while casting or fighting fish. So they are not the best watercraft to fish from, I use to use mine just for transport and play.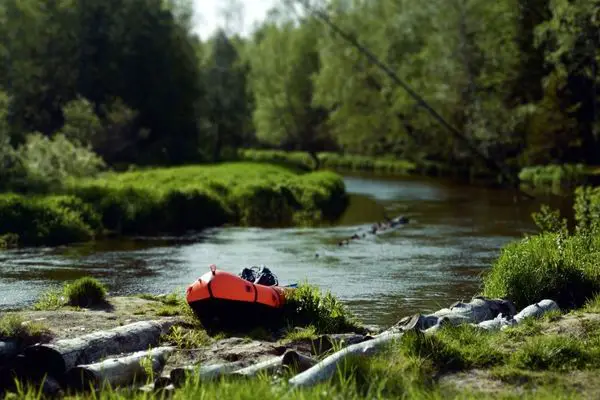 5) White water kayaking (and pack-rafting part II)
It is no secret that kayaks are excellent trout fishing boats, and even drift boats regularly run low grade rivers opening up whole sections of rivers that are difficult, if not impossible to fish from the shore.
For the young, with a high risk tolerance white water kayaking (and rafting) can open up stretches of rivers downstream of class IV rapids. While drift boats and canoes might float down a manageable grade III, only the truly insane will go beyond in such a boat.
Stronger water and bigger rapids are the domain of the more specialized white water kayaks and rafts and are the only realistic ways to reach some sections of rivers.
Whitewater kayaks and packrafts are also light enough to portage around truly dangerous sections of rivers. This is certainly my preference when conditions start to become a bit hairy, and if I am being honest with myself I was not even comfortable paddling most grade IV.
There are of course many limitations to combing whitewater paddling with fishing, the first, is that you can not really fly fish while sitting in the boat. It usually requires landing first and fishing from the shore.
It is also not recommended to run high grade rapids alone, which means it is essential to paddle in a group. Even the best paddlers can get into trouble, and require assistance from a rescue team. Because you are as part of a group, your companions will also have to be in the mood to fish.
When I was in my twenties, I was lucky enough to have a couple of close friends who were into both white water and fishing, I got to fish some river sections I will never get to see again.
6) Canyoning
Canyoning is a sub-set of climbing that involves navigating canyons using various climbing techniques. It also requires the occasion swim and more difficult canyons might require some rope work.
I discovered canyoning just by chance. I was researching some less known tributaries, and I happened across a blog discussing a canyoning expedition down it. A lot of people canyon just for the fun adventure, I use the same techniques to reach trout in isolated pools.
Is it worth the effort? To be honest, I probably will catch more fish on rivers that are easier to wade, but canyoning turns every trip into an adventure in its own right, and plus catching a trout after swimming two long pools, and scrambling up two rock faces is much more memorable.
Canyoning is a bit of an extreme sport, so another example that is better for the younger fly fisherman with less painful bodies. I still do it on hot summer days, but unsure for how many more years I will keep it up.
When combing canyoning with fishing, I highly advise using a cheaper fishing combo. Canyoning for obvious reasons is very rough on gear, and there is no reason to destroy a nice rod and reel.
On a topic similar to canyoning, I also know of people who have abseiled down cliff faces to fish pools that would have been inaccessible in other ways. I do not trust the rope when abseiling, so I personally have not attempted that one.