Best trout rod and reel for children (what to get, and what to avoid)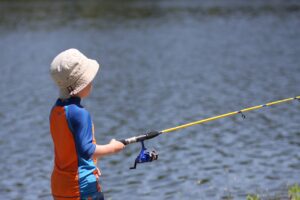 Are you Looking for a trout and pan-fish spinning rod and reel combo? An affordable setup suitable for children. Decent quality and durable enough to survive the rough treatment of children.
In this guide, I will cover the basics to look for and give my recommendations on what would be a good first fishing setup for any budding fisherman.
A setup that has the potential to start a lifetime passion for fishing, rather than frustrate with tangles, breakages, and generally poor quality.
Most rod and reel combos targeted at children resemble toys more than fishing equipment. Many are nearly impossible to cast yet along catch anything bigger than a malnourished minnow on. In this guide, I have only recommended fishing combos that are good quality, which I myself will be happy to fish with. I hope to avoid suggesting products that will prove to be a source of constant headaches for the caregiver.
Types of fishing reels
There are three main types of reels these are Spinning reels, bait casters, and Spincasters.
Trout fishermen, the ones who are not into fly fishing predominately use spinning reels. They are easy to learn to cast and provide good distance and accuracy when casting light lures.
For most new fishermen I personally recommend getting a spinning reel setup. Spinning reels are ideal for casting lightweight lures and baits, and they tend to give few problems. Just remember to open the bail arm before casting, and close it before retrieving.
Baitcasters are more complicated reels to fish with, and when fished incorrectly they can overrun resulting in massive tangles. Baitcasters are best suited for fishing higher-diameter fishing line. While baitcasters are great reels, and in the right hands they provide excellent accuracy and castability. The tangles will frustrate all but the most patient of children.
Are spincasters any good?
The final type of reel is the spincaster.
Many fishermen learned to cast and fish using them. Some still swear that they are the easiest reels to learn to cast with. I was an exception, at a young age I learned to cast on a spinning reel.
I feel all but the youngest of fishermen should learn to cast with a spinning reel. Spincasters are a niche product that do not not see much development. Most are also very low quality.
All Spincast combos marketed towards children are plastic junk. They lack in quality. They are prone to numerous issues such as the line jamming during the retrieve, erratic line retrieval and sometimes the line would start to release while reeling in.
A few years back, my brother-in-law gave me a Star Wars theme spincaster combo for Christmas. It looked like a lightsabre so for fun I wanted to catch a fish on it. That reel eventually imploded on me while I was trying to fix the umpteenth jam. My 9-year-old Nephew could barely cast it at all. For the true fans of Spincaster, spend extra and get a quality one from a reputable brand.
What to look for in a child's fishing rod.
Rod Weight/breaking strain
A trout fishing rod needs to cast lightweight line and lures. A thinner diameter line allows for longer casts, this is of particular importance when some trout lures weigh down to 1/18 oz.
A rod rated for 5 or 6lb line is ideal. The line rating is normally written near the base of the rod. It would say something like 4-8lb or 2-4kg. Even a slightly more powerful rod, say a 6-10lb rating will be usable and might even reduce the risk of breaking. A too powerful rod would be next to impossible to cast trout spinners with.
A 4-8lb (2-4kg) rod is typically designed to cast weights ranging from 1/16 -1/4 oz (10-30g). A 10lb rated rod can cast weights up to half an ounce.
Length
It should go without saying that children are simply smaller than adults. So they need to use shorter rods, very young children are best suited with a 3-4ft long rod. They are short and relatively lightweight.
Slightly older children can fish with more standard rod lengths, even a 6'6" rod would be manageable.
For more information on determining the ideal rod length follow this link.
What material should a child's rod be made from?
A child's fishing rod must be lightweight and durable, I suggest getting a fiberglass or composite rod.
Fiberglass rods
In many ways, fiberglass or composite rod are well suited due to their lightweight and durability. Fiberglass rods are very durable, and they can survive being dropped on the ground and even being stood on by little feet.
When fished with an appropriate breaking strain line, a fiberglass rod should nearly be impossible to break from poor technique or thoughtlessness.
The soft action of a fiberglass rod is a lot more forgiving when setting the hook or fighting a fish. Much less likely to rip the hook out of a fish because of a jerky or erratic fighting style.
Composite Rods
Composite fishing rods are becoming increasingly common, they use a combination of fiberglass and graphite. They aim to give the durability of a fiberglass rod but the lightweight strength of a graphite rod all at an affordable price. Unlike full graphite rods, composite rods typically have a medium to soft action. So still forgiving to fish.
Are graphite rods suitable for children?
Most fishing rods sold are now graphite. Graphite has an excellent weight-to-strength ratio and is very sensitive. Good for maintaining feel with a lure. When used properly, graphite rods are excellent.
But, they need to be fished with care. Even a tiny chip can be enough to cause a graphite rod to snap. So for this reason, I do not believe they are the best type of rod to learn fishing with.
A mistake I have made several times over the years is to point load a rod. The tip can easily snap if too much downward pressure is applied. This is called point loading and even the most premium rods suffer from it when fished incorrectly. The vast majority of broken tips in graphite rods are due to point loading and not a design defect.
Point loading is the primary reason I hesitate to recommend graphite rods to children. Especially ones who are still inexperienced and learning to cast.
Are telescopic fishing rods any good
No, entry-level telescopic rods are not worth the money or the convenience. I have owned and fished with quite a few telescopic rods over the years, including more expensive ones and they are all terrible. Firstly, they are extremely soft rods, even my so-called graphite one could bend into a loop. Was hilarious fighting strong fish on it.
Eventually, the telescopic portions will seize, or get very sticky, preventing it from telescoping in and out. Manufacturers always seem to use the cheapest, nastiest components on their telescopic rods
Finally, because each section needs to telescope inside the previous the spacing of the guides is always less than optimal. If you want a compact small rod, then get a two or three-piece rod instead.
If you are serious about buying a telescopic rod, there are a few premium models which are worth considering. We discuss them in more detail here.
What fishing line is best for a child's rod?
There are several types of fishing lines, the most common and affordable is nylon or monofilament.
Nylon is the only type of line I recommend using on a child's rod. Nylon is the most user friendly line, it has good knot strength and the slightly thicker diameter is unlikely to cut little fingers. I suggest using 6lb nylon, because it is a good compromise between strength and castability.
I have reviewed many lines here, but a good affordable line to use is Berkeley Trilene XL . If you can not find Berkely lines then any entry level line from Stern, Sufix, or even the time tested Maxima Ultragreen should perform just fine. I have used lines from these brands for over 20 years and have never had any issues.
Other types of line
Fluorocarbon line looks a lot like nylon. But it performs somewhat differently. The main reason fishermen use Fluorocarbon is that it is nearly invisible once in the water. But I do not suggest using it on a child rod, mainly because tying knots is more difficult, the line is prone to line twists and the line itself is much more expensive.
Finally, there are braids and superlines. These are high-performance lines and are more difficult to use. They are not suitable for beginners. The thin diameter can easily cut into moist hands. It is not a good option for young children.
Best cheap rod for small children.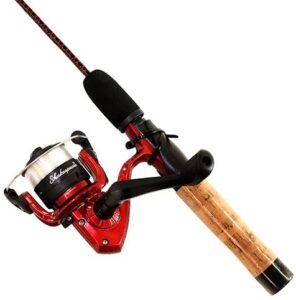 If your child is very young, or likely to quickly lose interest in fishing this combo is decent quality for a very affordable price. Unlike most fishing combos marketed at children, the Ugly Stik Dock Runner is more than just a toy.
Ugly Stik has a proven track record of making reliable and durable entry level rods. Ugly Stik has so much confidence in this fishing pole that it comes with a 7 year warranty. The rod is so soft that I can bend it into a U sharp without snapping. These super bendy rods are extremely forgiving and actually quite fun to fight fish on. The bend in the rod from a pan fish feels like a trophy. The softness also makes it surprisingly sensitive at detecting nibbles and light strikes.
Overall, it is a very forgiving rod for young children to learn to fish with. Due to the 3'6" length, it is no casting champion and your child will eventually grow out of it. But the rod will provide be a good introduction to fishing.
How good is the reel?
The supplied reel is the weakest link in this combo. While it is good enough to catch fish, I suspect it would fail before the rod. I struggle to think how they can manufacture both a rod and reel and sell them for under $20.
This reel is cheaply made. The tolerances are quite loose, and there is play in the bail arm. But, it is still serviceable and can be casted a fair distance. It is up to the task of landing trout and other small fish.
If your child's passion for fishing grows then it is worth budgeting for an upgraded reel such as the Shimano FX2500FC which I have reviewed in my spinning reel buyer's guide.
The included line is not the best, so if budget allows I suggest re-spooling with some better quality 5 or 6lb monofilament. Some fishermen, seem to think it is a good idea to spool these little combos with 20lb braid and target big fish. Then they wonder why the reel explodes or the rod snaps. A tiny reel that cost only a few dollars manufacturer is simply not designed for serious fishing.

Best Spinning Combo for passionate young fisherman
When a young child develops a passion for fishing they can start obsessing over it. Every chance they get they head to the local creek to try their luck. As they get older, they cycle many miles chasing trout and other small panfish. Such a child needs a proper rod and reel which would not hold their passion back. The rod needs to be tough and compact. It might get carried for miles on the back of a bike. Even slid down the slope of a steep bank to access a hidden fishing hole.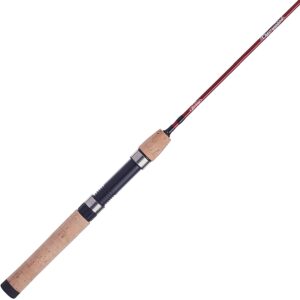 My pick of rod is the 5'6" long Berkley Cherrywood HD Spinning rod. For a long time now, I have been impressed with the entry level rods from Berkley. I even rate them above their premium rods which I have tried. When on a limited budget, it is always advisable to spend more on the reel than the rod. More often than not cheap rods are surprisingly good and the Cherrywood is no exception.
The Cherrywood is an entry level rod, but they spent the money where it counts. That is on the blank and the guides. It is a very nice casting rod, with good sensitivity. Perfect for a wide range of fishing styles.
I recommend the 5'6" two piece because it is a fairly short rod, suitable for a smaller fisherman and good for fishing in small creeks and streams. The two-piece construction also makes it easy to carry.
Reel to use with the Cherrywood
So far, I have only mentioned the rod, that is because at a low price point I can not find a rod/reel combination that maximizes value. If the rod is also going to be used for marine fishing, then I suggest pairing it with a Penn Pursuit III.
For a budget reel, it has good saltwater resistance. If you want a simple but dependable reel then the Shimano FX2000FC might just hit the mark. For more information, I suggest heading over to my spinning reel reviews and choosing the best reel that the budget allows.
Summary
When fishing with children, most importantly they must have fun and enjoy themselves. When children are happy they are much more likely to develop a genuine passion that could stick with them for life. To successfully catch trout and other pan-fish they must fish with gear that works.
Trout and other pan-fish might be smaller size fish, but they can still put up a fight. A child's first combo must be easy to learn to cast and be problem free. No child is going to enjoy fishing if their gear results in constant tangles.