25 Best Lures for Brown and Rainbow Trout
It was difficult selecting the best trout lures. There are hundreds of lures that can catch trout, and many of them are excellent. These 25 lures are all proven trout catchers backed by excellent reputations and often decade old designs.
I personally carry most of them in my tackle box. With one or two exceptions, they all should be readily available no matter where in the world you fish for trout.
Okay, in this list I mostly just ranked pre-rigged hardbody and metal lures. I decided to exclude soft plastic lures because they are in a class of their own, and there are simply too many for me to even attempt to rank them.
Fishermen make convincing arguments for their favorite trout lures, and I am certain many will disagree with my exact ratings. Sometimes, I even do. But no single lure or spinner is the best in all trout fishing situations. Many factors from location, skill, and the mood of the trout help determine what lure performs the best on any given water or time of day.
Localization is also a big factor, successful lures such as the Abu Garcia Toby or the Tasmanian Devil that dominate some markers, are all but absent in others. They are good lures, despite being popular in only limited markets.
1) Mepps Agilia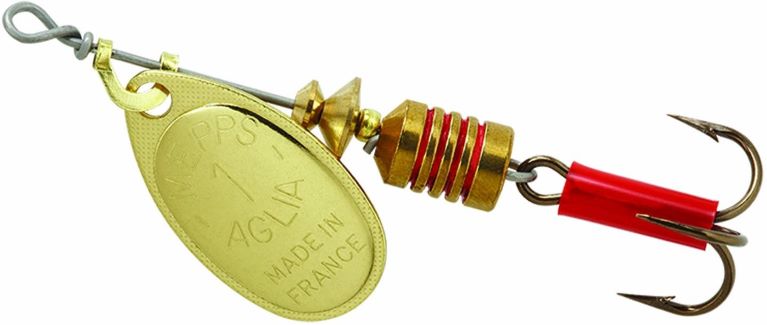 Inline spinners are some of the best trout lures available. No matter if you fish in North America, Europe, Oceania, or South Africa inline spinners are readily available.
Out of all the successful and highly effective inline spinners, one name comes to the forefront most often. That is the Mepps Agilia. The Mepps Agilia is one of the best inline spinners for stream fishing. Its lightweight, yet very durable construction makes it the perfect choice for retrieving across ripples and through shallow holes.
The Mepps Agilia edges out the just as capable Panther Martin because it seems to have slightly stronger international support. No matter where you are trout fishing, chances are the local store would have a selection of Mepps Agilia on display.
The Mepps inline spinner was invented back in 1938. It is deadly at catching trout, the solid construction makes for long casts and deep runs. The durability is excellent with lures more likely lost than damaged. I have written a review of the Mepps Aglia over on my in-line spinner guide.
2) Panther Martin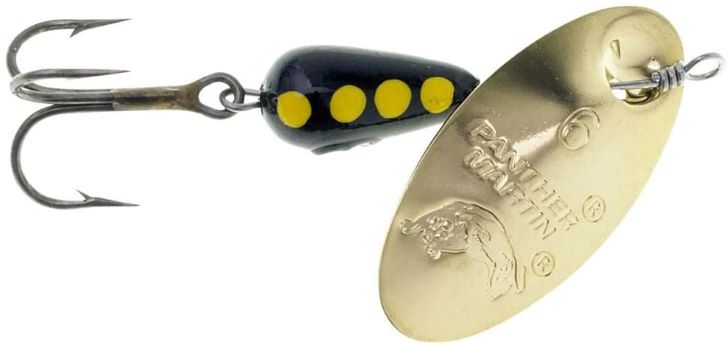 Panther Martin has been making in-line spinners for over 63 years, along with Mepps they were a pioneer in the development of in-line spinners. The most disincentive feature of the panther martin is the larger than average blade. This allows the lure to work efficiently even at a lower retrieval speed.
The Panther Martin is an excellent in-line spinner for bigger, faster water and deeper holes. If you are fishing big water it always pays to have a few Panther Martins in your tackle box.
Earlier this year I did an online survey asking for the most popular trout lure and the Panther Martin was the clear winner. They are a classic which has widespread community support. They might even be the most popular trout lure in America. Read my full review in my in-line spinner guide.
3) Original floating Rapala

The floating Rapala is my personal favorite trout lure. I have caught more wild brown trout on floating Rapalas than any other lures. Invented in 1936 the floating Rapala might just be the original Jerk-Bait.
It has spawned countless variations, imitations, and competitors. The floating Rapala is one of the most successful and dependable trout lures ever made.
Floating Rapalas are excellent lures for targeting wild brown trout, equally successful in streams to the largest of lakes. Although due to its lightweight construction long casts are all but impossible. I never go spin fishing without a floating Rapala.
A great alternative to the floating Rapala is the Yo-Zuri Pins Minnow. It casts even better.

4) Hex Wobblers / Acme Kastmaster / Slices/ Ticers / wedges.

Countless lures belong in this category, with little separating the various models. For this reason, I included all these solid metal bullets in one category. These lures dominate one niche, and that is long distance casting.
In North America, the most popular lure in this category is the Acme Kastmaster. During the retrieve, they have a tight back-and-forth wobble. The bright chrome gives off plenty of flash. These lures like a fast retrieve, often the faster the better. The occasional pause or jerk also does not hurt.
A silver hex lure was the first lure I learned to fish with. I have caught countless fish on them over the years. In small sizes they cast like a bullet, making them excellent, second only to the Toby above for prospecting large water. In my tackle box, I have hexes from half a dozen manufacturers, and I never noticed much difference between them.
Their popularity as trout lures has declined somewhat in recent years. They lack the refinement and details many competing lures offer. In my home fishery, when the fish are in close inline spinners, jerkbaits and streamers consistently outperform them.
For an affordable, which can cast a mile they can't be bet. When casting into a howling headwind, or when every yard counts they remain the best option. I have found most species of fish, including trout prefer the smaller size.
5) Eppinger Original Dardevle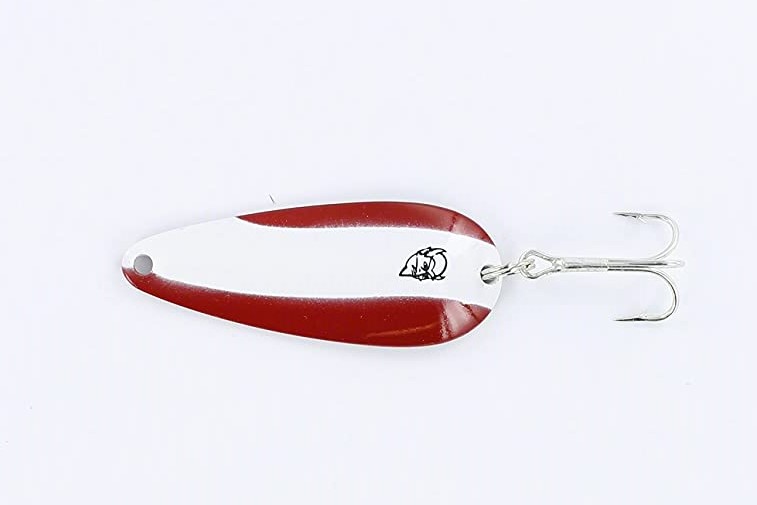 The Eppinger Daredevle might be the lure that best represents Spoons. It might just be the oldest lure on this list, with over 100 years of production to its name.
Daredevles, can be cast, trolled, jigged or even fluttered downstream. I like to fish them when I want to fish deep and fast. Targeting trout holding near the bottom in deep fast pools. Cast out, and across and allow the spoon to drift downstream bouncing around.
When casting, avoid a steady retrieve. Impact more movement through rod twitches and the occasional pause. Every spoon design responds slightly differently, so it takes a lot of trial and error to figure out the ideal retrieve speed.
There are many spoon variations on the market, I could not include them all in this list. Some alternative spoons which are worth using include Thomas Colorado, Husky Devle Spoon, Len Thompson Original Series and the Zed Spinner.
6) Abu Garcia Toby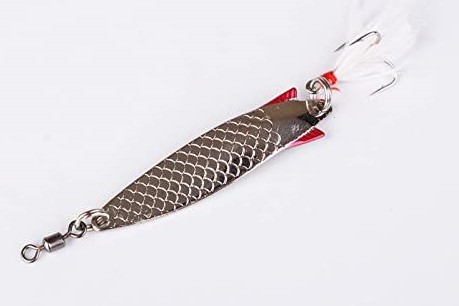 The Toby was invented in 1956 Denmark. It might just be Abu's most successful lure ever. The Toby mimicked the Tobis fish a slim minnow. Toby's have tiny wings, or fins which makes the lure more buoyant through the water. If interested in history. There is a great blog including discussions with the inventor over on realsreels.com
All Toby's get cut from solid brass. The concurve side gets painted. This is by design, and not a cost saving measure. As the lure rotates through the water, the plain side gives off a series of flashes.
Tobys casts like bullets. A great lure for prospecting from the shore, or to troll at high speeds. Tobys are almost indestructible. Popular colors include bronze, silver and black/gold.
The Abu Garcia Toby spawned an entire class of lures which separated them from the Spoon category. A black and gold swiped Kilwell Turbo, a lure based on the Toby is New Zealand's favorite trout lure.
While popularity has waned in recent years, especially in North America where it's now hard to find. The Toby remains a top pick for many trout fishermen. Some popular imitations include the Thomas lures Speedy Shiner and the Kenley Toby Wever.
7) Worden's Original Rooster Tail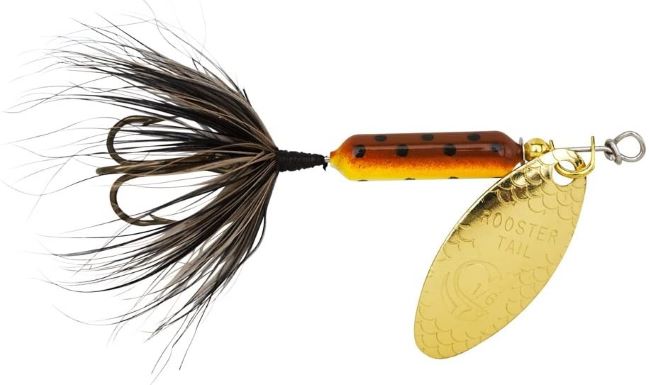 Another inline spinner, developed in the 1950's the Wordens Orignal Rooster Tail well deserves a spot on this list. Like all inline spinners, the Worden's Original Rooster tail is a deadly trout catcher. It is no surprise that the combination of the rapid spinning action and pulsating hackle really trigger trout to strike.
If there is one area where the rooster tail really stands out from the crowd is fishing around structure. The long willow leaf blade, if fished correctly deflects the lure away from submerged logs and branches. It does require quite a bit skill, but in the right hand the rooster tail is an excellent choice around submerged structure.
I consider the Worden Rooster Tail just as good as any inline spinner on the market. Just because it is lower on the list does not make it a lesser lure.
8) Tasmanian Devil

The Tasmanian Devil was designed in the 1970s to catch Brown trout in the Derwent River, Tasmania. Along with similar Tilliens cobra these lures are the most popular trout catcher in Australia. The Tasmania devil casts well and is a deadly trolling lure.

It sinks like a slow falling spoon, and wiggles through the water like a crankbait. As a relatively new design, the Tasmania Devil successfully made a name for itself against many established models. The revolutionary plastic wings, cause the lure to swim erratically. Darting and diving in such a way to trigger strikes.
Australians seem to like them in green and gold. I suspect that is because it matches their national colors. The main competitor to the Tasmania devil is the Tillins Cobra.
9) Joes Fly
This lure combines an inline spinner with a fly. Like all spinners, they catch fish. I have always been on the fence regarding the combination. Dragging a mayfly behind a lure does not seem that natural to me, but the trout certainly like it. I personally prefer the Joe fly with a trailing streamer.
Weighing approximately 1/4oz (7 grams) they are quite a lightweight lure. Best suited for smaller streams and lightweight techniques.
10) Yakima Wordens Flatfish
The flatfish is a classic which first hit the market over 50 years ago. Like many older lures, they have been overshadowed by newer flasher lures. Even today, there are still a sizeable number of fishermen who still remember just how effective the flatfish lure truly is.
When I first started out, I read an article in an old fishing magazine singing the virtue of flatfish lures. So I purchased a large number of used flatfish lures from an auction. Ever since I slowly been fishing through the collection. Flatfish have a very erratic dance to them and work best at a slow retrieve. An excellent lure for trolling.
For their size they are quite a lightweight lure, making them difficult to cast. Which makes them a difficult lure to prospect open water with.
11) Blue Fox Vibrax
There is a lot of inline Spinners on this list because they are such successful trout catchers. The Blue Fox Vibrax is heavy for its size. Allowing for longer casts and deeper runs than comparable size inline spinners.
The Vibrax is one of the more popular spinners to use for targeting Steelhead. This is because it sinks faster which makes it an excellent lure for bigger water.
I have written a longer review of the Blue Fox Vibrax over on my in-line spinner guide.
12) Storm Wildeye and Berkley Powerbait Swim Shads
There was a lot of discussions about whether and how to include soft plastic baits or not. Eventually, we decided many were closer to baits than lures.
These swim shads, being pre-rigged, certainly are more lure than baits they have earned a place on this list.
These pre-rigged, inexpensive and extremely lifelike synthetic soft plastic lures surged in popularity in the early 2000's. Many companies produce them. Including Storm Wildeye's and the Berkley power baits. They were excellent fish catchers and were a fraction of the price as most hard body lures.
I still remember the first time I fished them. Near my house, there is a plunge pool where an irrigation canal goes through a culvert and discharges into a long settling pond. I wondered what would happen If I fished one of these new Shads just below the outlet. The answer, over 15lb of trout, landed in fifteen minutes of fishing. The largest being 4lb. They went crazy over them. They are now my favorite lure to drift through fast water, I was a swim shad convert.
Many of these lures come scented, normally aniseed. At the time my local fishing regulations prohibited the use of scents lures in spins or fly fishing water. While the rangers turned a blind eye, they technically did not meet the criteria of bait.
I eventually discovered the Tsunami Pro Holographic Swim Shad, they looked the part and had no scent. The Tsunami Pro Swim shads remain my first choice even after the regulations got relaxed. Maybe controversial, but I doubt the scent makes much of a difference. Especially when fishing fast water.
There are a few downsides. Despite marketing claims the plastic is not durable. Tails lost, or the hooks well pull out. I also find trout swallow them much deeper compared with hard lures. Making catch and release more difficult. I only fish them when I want some trout for the table.
13) Jointed Rapala
Another classic trout lure from Rapala. The jointed Rapala exaggerated action is deadly at slow retrieve speeds. This is a very popular winter or early spring lure. With a slow retrieve, the lure springs to life. These lures work best in still or slow water. Where trout take plenty of time to inspect their prey before swimming in for the kill.
Downsides, I find them harder to cast than normal Rapalas, and if fished too aggressively, they are prone to tangling.
14) Rapala Countdown
The third and final Rapala on this list, the countdown has a special trick. Every second it remains stationary, it sinks another foot. Great for targeting trout lower in the water column. I personally consider the countdown one of my must have lures, the floating versions are great. But, sometimes you need to present the lure much closer to where the trout are holding. The Rapala countdown makes doing so easy.
15) Acme Phoebe
These little spoons somewhat resemble tiny fish. The curve design allows it to be fished at all speeds and depths. It runs quite close to the surface, so a good option for fishing shallow water and ripples. Great for working the shallow edges of a river or lake.
hey are a decent casting lure, and can be used for prospecting big water.
16) Dynamic Lures HD trout
These are a newer design but in recent years they have certainly made an impact becoming one of the most popular jerkbaits for trout fishing.
If there is one area where the Dynamic Lures HD trout separates itself from the competition is on a straight retrieve. It really darts and wobbles around like an injured baitfish.
It swims quite close to the surface, making it a great lure to fish shallow streams, river margins. Due to the excellent straight retrieve wobble, it also excels as a shallow water trolling lure.
17) Thomas Buoyant
Like many lures on this list, the Thomas Buoyant has been successfully catching trout for decades. The Bouyant has some features which separate it from the more mainstream spoon models. The obvious difference is the slow rate of sinking, the rear cut-outs gives the lure an erratic wobble even at low retrieve speeds.
It is the perfect spoon to reach for when slowly covering shallower water, or when the trout are still sluggish due to cold water temperature. The 1/6oz an 1/4oz are great weights for targeting trout in small streams.
18) Yo-Zuri Pins Minnow
If this was a list of my favorite Jerkbaits, the Yo-zuri pin minnow will be a lot higher on this list. But, my opinion is not the only one that matters.
Yozuri has done a lot to innovate jerkbait, and their Pin Minnow is no exception. The Pin Minnows like the name suggest is a long thin jerkbait, with a durable and realistic finish.
The feature which sets the pin minnow apart from the rest is the ball bearing weight transfer system was game changing.
Not only do they move to the end of the lure to increase casting distance. They also wobble and roll around during the retrieve. Giving off vibrations that not only attract trout but potentially trigger them to strike.
19) C.P. Swing
These French design inline Spinners are not as popular as they once. Yet, the design has successfully been catching trout for over 50 years. The design is brilliant in its simplicity. The beaded body provides weight, while the scaled blade sends reflections dancing through the water.
They are lighter than many inline spinners, which can make casting difficult. The fine gauge wire is prone to bending. The lightness of design sinks slowly fluttering through the water column.
The C.P Swing is popular early in the spring, that is because the blade rotates at very slow retrieval speeds which gives sluggish trout time to pounce.
Available in brass, copper and silver. Classic colors which are proven fish catchers. The brass and copper versions are their natural metal colors. While the silver is not silver but a matte coating finish.
20) Luhr-Jensen Krocodile
Another distance casting champion, the Krocodile gives a perfect combination of a true spoon shape and thanks to being a bit thicker than most it greater excellent casting distance. They cast far and sink fast with a tempting flutter.
This is a great prospecting and big water lure. It works well on a slow retrieve, or even with a jig action. Trout quite often hit on the drop.
This spoon has quite a bit in common with the Abu Garcia Toby, but it sinks faster. Making it well suited for targeting trout holding near the bottom, especially in deep or fast flowing water.
21) Savage Gear Line Thru Seeker
In recent years line thru lures have been surging in popularity across the Nordic country, and only recently have they become apparent to the team here at trout resources.
The Seekers are a long slim tube like lure where the line runs right through the middle. This design allows for extremely long casts and they are primarily used for targeting sea trout.
The seekers are gaining in popularity over the long casts spoons because trout are unable to use the weight of the lure to flick out the hooks.
22) Super Duper
This is a lure which I do not have much experience with, but that does not make it any less popular.
The Super duper is sharped like a U. This shape traps water, which causes it to dart and wobble. Some fishermen cast it downstream and hold it in the current where it dances around.
The Super Duper, despite its unorthodox appearance, is commonly fished like a spoon.
23) Bluefox Moresilda Trout
These little metal lures look just like tiny fish. Being streamlined and dense, they cast like a bullet. There is a slight curve which allows for a slight wobble on the retrieve.
It also sinks rapidly, making it a good option for fishing deep water. To keep it off the bottom, and to avoid snags a fast retrieve is required.
I have not tried targeting trout, but similar lures can be effectively jigged. Maybe an option for deep lake fishing.
The Super duper has an unorthodox U sharp design, which traps the water to give it a darting wobble. Can cast, troll or even jig.

24) Devon Minnows & Trillens Ashley Spinner
If you get taken spin fishing by elderly flyfishing purest chances are he would have a Devon Minnow or Ashley spinner neatly tuck beside a few vintage in-line spinners and a wooden flatfish.
These are a very old line through lure design that predates all other lures except the spoons. They come in both floating and sinking versions. The floaters are crafted from wood, and the sinkers from brass.
The sinkers cast well and sink fast. On the retrieve, they spin around creating an extreme amount of line twist. Although, with modern swivels, and improved spinning reels the issue of line twisted is reduced. Using a superline on a reel with good line lay should eliminate the line twist entirely.
Today some anglers, mostly elderly still use them to target salmon in the United Kingdom and trout in Australia.
25) Depose broken-back minnow
The origins of these hand painted hard plastic French made minnows seems lost in time. They first hit the market sometime in the 1970's. They were a popular seller, and retailers had trouble getting consistent stock.
Fishermen I have asked had polarising feedback regarding them. Some had great success, while others could not seem to make them work. I was in the later group; I purchase several of these articulated minnows when new to trout fishing. They swim like a minnow or bully darting across the bottom. The upwards facing bib, seems to cling the lure to the bottom and it sends up a trail of sediments as it wiggles along. It looks quite lifelike.
Having spoken with fishermen who had success, the secret was to fish them in fast water. Cast out, and let the current do the work. Work them slowly through the water column and let the current do the work. They certainly do not require a fast pace retrieve, and I have never heard of anyone trolling them.
These lures have several major flaws which probably contributed to them disappearing from store shelves. Their bottom hugging retrieves found every rock, log or weed in the river. Many got lost. The little upwards facing bib were notoriously fragile, hitting a rock or log was enough to cause them to break off. Finally, the lure was quite lightweight, which limit its use to smaller waters and short casts.
Several variations were made. Including by Teal in New Zealand, and Superflex in Australia. Pesco, marketed a larger version which I have never seen. As recently as 2010 they were still being advertised for purchase in the United Kingdom. Despite frequently visiting tackle tours on my travels, I have not seen them in stock for several years. The company also made a French eel lure, which was marketed under many names. This one made it to North America under I think Gracia branding. I once read it was a killer pattern on sea trout.