Best tent for hiking and fishing
There is nothing I enjoy more than escaping into the wilderness for a few days of pristine mountain air and wild fish.

When fishing remote areas, you need to ask yourself. Is the plan to establish a base camp, and return every night. Or will you keep hiking along the river and camp down whenever night catches up.
If base camping, then you can fish without any camping gear. You can afford to bring a slightly roomier and heavier tent.
This guide is predominately looking at lightweight tents. Which are easy to carry while fishing. When I fish and camp, I carry my tent with me. Sometimes I place my pack down, while stalking an extra productive looking run, but the majority of the fishing time I wear my pack. So every ounce saved makes for a much nicer fishing experience.
What to look for in a trout fishing tent
To stalk trout, requires stealth and a low profile. Carrying a large pack makes that difficult. So a suitable tent must be lightweight and compact taking up as little space as possible.

When fishing and hiking all day, you might not always have the best selection of campsites. Which is why any chosen tent must have a small footprint, and be quick and easy to pitch on uneven ground.
I once had the fun experience of getting caught in a river gorge just on dark. The beaches were less than a foot wide. The rivers banks were steeply sloping and covered in thickets of bush. Hard to navigate during the day, impossible at night. I thought I had more time but darkness descended upon me with little warning.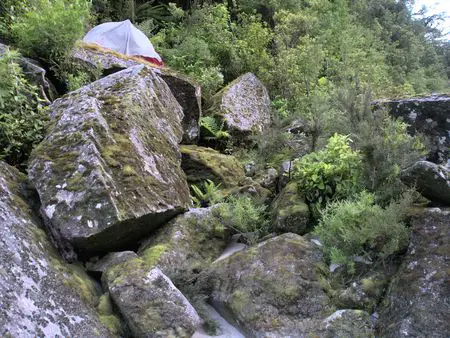 I had to pitch my tent and make camp on top of a giant boulder. It was next to impossible to force in pegs, but luckily my MSR Hubba is mostly free standing and self supporting. So with the assistance of a few scrubs and a couple of guy lines I had shelter for the night.
If my tent was not free standing, I probably would have rolled myself up in it like some sort of bivy bag.
Types of tents and shelters to consider

There are many types of tents, from basic tarps, bivy bags and to full feature double skin tents. They all have their pros and cons. Lets take a look as which type of shelter makes for the best fishing tent.
Tarps
There is nothing simpler than a tarp. They are basically just a sheet of waterproof fabric which you can pitch to keep the rain off and block the wind. They are the ultimate lightweight and compact shelter.
Tarps are very versatile, and there is many ways to pitch them to keep the weather out while maximizing ventilation.
There are some downsides, which I personally consider are deal breakers. Tarps offer next to no protection from insects. While camping beside a Scottish brook, I woke to my tent mesh buzzing with midges… A tarp would have offered no protection, it is the same with the relentless sandflies in New Zealand or the Mosquitoes in North America.
As trout fishermen, we sleep next to rivers are lakes. Which is the perfect breeding grounds for numerous types of biting insects. Tarps, unless paired with a bug bivy offers no protection.
Bivy Bags

Bivy bags like the name suggests are weatherproof covers for your sleeping bag. They are very lightweight and compact. Fancier models come complete with bag mesh for ventilation and some even have poles to keep the fabric off your face.

If you can lay down, you can use a bivy bag. They are designed for mountaineering after all.

There are several downsides. I have yet to discover a bivy bag that does not generate huge amounts of condensation when sleeping during warmer weather.

There is also very little internal space for gear storage or getting changed. It basically only a sleeping cover. If you want to seat up to read a book, or tie some leaders you can,t. There is not enough space.
To get changed, that is outside to. So nothing to protect bare skins. Getting swarmed by sandflies, mosquitoes and midges while making camp is not something I look forward to.
Tents.
We all know what tents are. The ones I recommend for trout fishing are usually self standing. That means the tent can be pitched with just the poles. The pegs, and guylines just provide additional support.
A self supporting free standing tent can be pitched almost anywhere. Including on rocky terrain. When fishing remote rivers there is no guarantee of well formed camping sites.
If camping in a hot climate, you will want a tent with a lot of internal ventilation. If it is a hot and dry, then I feel sorry for the trout. But you might even be able to go camping with just the inner and leave the rain fly at home. This greatly improves airflow and eliminates all condensation. Plus saves a lot of weight.
My recommendation
MSR Hubba NX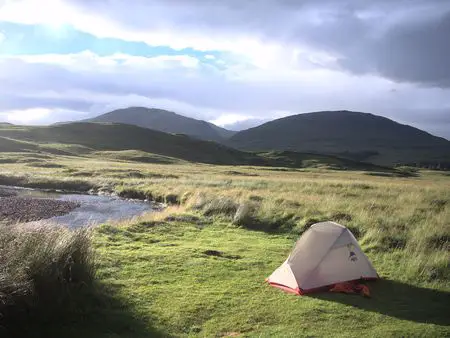 Weight: 2 lbs 14 oz
Space Dimensions: 
85 in (l) x 30 in max (w) x 38 in max (h)
18 sq foot floor
I feel the MSR Hubba is one of the best lightweight full featured tents available. The design has been around for decades and other than shredding a few ounces it has barely changed. The MSR hubba is and excellent three season tent. It handles the wind well, and even some light snow.
Unlike some ultralight tents, it is very durable. MSR got the balance between toughness and weight just about weight. I owned mine for the best part of 10 years, and it suffered no damage.
Inside the tent there is plenty of useful storage pockets, and enough spare room to store a small pack or some clothing. I had to keep my pack and boots under the vestibule.
If you need more room, then the MSR Hubba Hubba is worth considering. I eventually sold my MSR Hubba for the same price as what I paid new. It is an excellent tent but was a few inches too short for my 6'4" frame.
Big Agnes FlyCreek HV UL1
Weight: 2 lb 1 oz
Space Dimensions: 
86 in (l) x 38 in max (w) x 38 in max (h) 
20 sq foot floor
The model flycreek sounds like it was made for trout fishing. The big Agnes Fly Creek is widely considered to be the gold standard for freestanding ultralight tents. It is more roomy than the MSR Hubba and virtually the same weight.
I have seen Flycreek counts survive powerful winds and torrential rains. They certainly are a well built and designed tent. I am most impressed with how quickly the fabric dries in the morning sun.
Pitching is fast and simple. There is plenty of internal mesh, to improve ventilation on warm summer nights.
Outdoor Research Helium Bivy
Space Dimensions
Length: 82″(l) x 19 (w) x 26 (H)
Packed in stuff sack: 12.25″ x 3.5″
Weight: 16.8oz with pole

Bivvy Bags are usually more suited for higher elevations, with few biting insects and low humidity. The Outdoor Research Interstellar is an exception. It is useable in all four seasons. Like all bivy bags, It is quick and simple to pitch and dismantle. I can set it up in less time than it takes to inflate my sleeping mat.
There is a lightweight loop pool, which keeps the fabric and mesh away from your face. Allowing for a more comfortable night sleep.
On hot dry nights, it is possible to unzip the front fully, which helps minimize condensation.
In wet weather, it is miserable… but that is the price paid for the lightweight and convenience of sleeping in a bivy bag.