Cheap Fishing Gear for Casual Fishing.
Been invited for a camping trip, and have no fishing gear? Below are my thoughts on what represents the best value for money trout or panfish fishing kit for some casual fishing. Perfect for someone who might fish once or twice a year but nothing serious.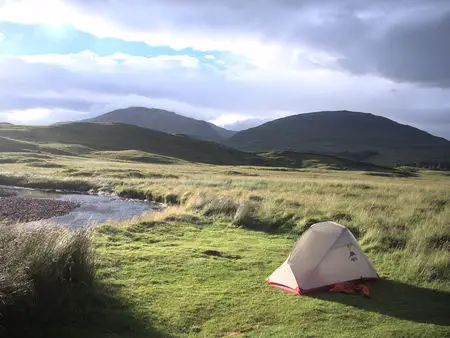 Handline – The Cheapest Way To Fish
The cheapest way to fish is with a handline. While there is skill and requires good coordination to cast a handline, it fundamentally comes down to using momentum to throw out a bubble or sinker.
With experience, it is possible to cast a respectable distance. Children often lack the coordination to safely cast a handline. If you want to take your kids fishing best to purchase them a dedicated child's pole and reel.
How to rig a handline
There are many ways to rig a handline. One popular method is to use a bubble or float, beneath which you can hang an artificial fly or nightcrawler.
It is usually very straightforward to connect a bubble to your fishing line. Best to follow the instructions on the package, there is usually a grove or little clip which secures the line in place.
Position the bubble about a foot above where you plan on tieing the hook or fly. Then bait the hook and throw the bubble to start fishing.
To add weight and assist in casting, it is often possible to partly full the bubble with water.
Lure fishing with handline
To avoid fishing smelly bait, it is impossible to cast and retrieve a lure. I find Swim Shads such as Storm Wildeye's or Berkley Powerbait are a good option. They come pre-rigged. simply tie them on and start fishing.
Which handline to buy?
The handline I fish with is the Daggerfish. It comes as a little kit including 6lb line, hooks, lures, and weights. It is lightweight compact and the Daggerfish itself is very high quality. Perfect for taking backpacking. The included terminal tackle can be stored inside the handline itself.
The Daggerfish comes filled with 6lb nylon which is okay quality, but I advise at upgrading the included tackle. It is slightly expensive at $55, but it is more durable than plastic reels plus it is American made. For instructions on how to cast a Daggerfish handline I suggest giving this youtube clip a watch.
A more budget-friendly option is a plastic Challenge 50282 Yo-Yo, fill it up with 6lb nylon (Stren Original Monofilament is my recommendation). For casting instructions I suggest checking this youtube video.
Then all you need is some floats, weights and some quality hooks to start fishing.
If completely short of cash. Try wrapping nylon around a food can, this creates a very rudimentary hand reel. Full cans are more rigid than empty and are less likely to distort out of shape. Catching dinner using a beer can as a rod is a fun campfire story.
Cheap But Decent Pole and Reel Combos

If you will prefer the versatility and ease of use of a fishing rod and reel combo, then this section is for you. When spinning for trout, the reel is the area to spend the most money. A cheap reel that malfunctions can easily ruin a fishing trip. Contrasty, cheap rods are usually durable and even less likely to break than expensive graphite models.
When receiving a new rod, I always suggest taking it to the local pond or field and having a few tests casts. If there is a manufacturing defect in the blank, or its suffered damage during shipping it is likely to reveal itself within the first few casts. Better for a rod to snap close to home then at the campsite. The occasional blank defect does make it through quality control, I have had new rods fail no matter the price point.

Best Pole and Reel for under $50
If you just want to spend a couple of hours occasionally fishing. The Quantum Optix Spinning combo value is hard to beat. I will not lie, the reel is cheaply made. But it will catch fish, and a little pan trout is not going to break it.
I suggest getting the 6'6 rod. This rod, lacks graphite sensitivity but the soft tip is sensitive enough to feel nibbles. Impressive even for the price. The rod is made from a fiberglass composite which is extremely durable, It can certainly survive rougher treatment than full graphite rods.
More generous budget
Pflueger President Spinning Reel and Fishing Rod Combo
This kit is excellent value. With some care, it should provide many years of hassle free fishing. Even when getting more serious, there is little need to upgrade further. The Pflueger President is excellent value for money, in our spinning reel buyers guide we actually consider it the best value trout reel for under $100.
The IM-8 graphite rod is sensitive for the price, and with the right technique can throw tiny 1/16 oz lures a respectable distance. I will happily go spin fishing with this combo, and know the gear is good enough to successfully catch trout.
If you have a bit more money to spend on a spinning reel, I suggest checking my comprehensive guide on ultralight trout spinning reels.
Budget Terminal Tackle
Fishing Line
There are many brands, and types of fishing line. All you need to catch trout is lightweight nylon. No need to purchase expensive braids or fancy fluorocarbon. Plenty of trout are caught every year on 6lb or lighter nylon fishing lines.
My recommendation is to spool your reel with 6lb Stren Original Monofilament. I have fished stern for years and can confirm the quality. There are cheaper fishing lines, but more often than not, you will get what you pay for. More time will be spent untangling a mess than fishing. Quality fishing line is worth a few dollars extra.
If fishing with a handline, I will not go lighter than 6lb. Handlines lack the smoothness of a drag system so easier for a fin to run and break you off.
For more recommendations on which line to buy check my guide here.
Terminal Tackle
Hooks.
If you wish to fish nightcrawlers or other baits you will need to get some hooks. Trout have keen eyesight, and are use to eating tiny prey.
So hooks need to be tiny. If primary after brown trout I suggest starting with size 4 hooks, this size is suitable for all species of trout. My favorite product is Eagle Claw 024 Wide Gap Baitholder hook. Available in packages of 5 or 100. But they can be hard to find.
If you can't find them in stock the Owner baitholder hooks are excellent if slightly more expensive alternatives.
If Brook trout then start with size 8 hooks instead. I advise against going much smaller than size 8. Trout are much more likely to swallow tiny hooks.
Buy size 4 and not 0/4 which are a lot larger.
I like the Eagle Claw 024 Widge Gap baitholder hooks for several reasons.
Foremost the circle design increases the likelihood of hooking trout in the corner of the mouth. Makes removing the hook much easier.
Secondly, no need to strike. The hook should set itself. Makes fishing easier if not paying attention.
Thirdly, Eagle Claw has been making hooks for decades. Hook failure is not going to cost the fish of the trip. They are worth the premium over generic brands.
The barbs on the hook shank help prevent the bait from sliding off during the cast.
Split Shot
A couple of small split shots can make a stubborn bait sink. The exact brand of split shot does not really matter. If after a suggestion, then look no further than Water Gremlin brand which comes in a nice little hard case.
Floats
Trout normally grab prey which is floating, so you will want to suspend it in the water column. There are plenty of floats on the market. I suggest getting a clear bubble float which you can half full with water to add mass for casting.
Lures
There are many lure suitable for catching trout, but to be successful you only need a few. When fishing new water I always take a selection of inline spinners. They are easy to fish and very effective. The brand does not matter too much and I cover them in greater detail in my inline spinner guide. To save time, a good affordable starter pack is the Super Vibrax Tri-pack.
Another great, user-friendly lure to fish are soft plastic swim shads. They have an amazing swimming action even at a slow retrieve. Just cast and wind them in. I recommend either a pack of Storm Wildeye or Berkley Powerbait Swim Shads. Go for small sizes, under 2″ in length.
For more information on trout lures, we have also ranked the 21 best trout lures of all times. Hopefully something there catches your eye.
Flies
Flys represent the tiny insects that make up the bulk of a trout's diet. Flies are too light to cast with their own mass. This is why fly fishermen, use the weight of the line to carry the fly to where the trout is fishing.
Spin fishermen can fish flies by using a bubble or other float. The float contains enough weight to make it possible to cast even the tiniest of flies.
A few suggestions
Floating Flies.
Stimulator, Parachute Adams
Sinking Flies
Hare's Ear, Pheasant tail
Lure flies
Woolly Bugger, Muddler Minnow