Where to find Brook Trout in New Zealand
Brook trout, Brook Char or Salvelinus fontinalis are native to the Eastern United States, from the Appalachian Mountains all the way north to the Hudson Bay basin in Canada. Brook trout were first brought to New Zealand in the 1877, and the acclimatisation societies released them widely across the country. Most of the liberated fish vanished, many thought they had swum out to sea.
Both in New Zealand and in their historical nature range in North America, brook trout populations have been forced upstream into high mountain streams and ponds. There they can out-compete other trout species.
Brook trout thrive in cold, clear, well oxygenated water. The cleaner the better. In all but the coldest, most ideal of conditions they get displaced by Brown and Rainbow trout. So it is very unlikely to find them co-existing.
(Technically speaking, Brook trout are not a species of trout. But they are a type of Char. They resemble trout, so are widely called Brook Trout. I personally switch between the two names interchangeably. Simply put, Brook trout and brook char are the same fish.)
Where to find Brook Trout in New Zealand
South Island Brook streams
Isolated pockets of brook trout exist in many South Island headwaters. These are all tiny stream trout and have minimal sporting value. These stream fish never grow to large sizes, a 250mm fish would certainly be a trophy.
Southland and Otago
Several headwaters in the Otago region also contain populations. Many of the upper tributaries on the eastern side of the Manuherikia river still contain populations of brook trout.
Waipori River above and below the former site of Munro's Dam contains a small population of stunted Brook trout. Here they rarely grow longer than 200mm.
Several upper tributaries of the Clutha also hold populations. Such as the Roaring Meg and the upper tributaries of the Nevis River. This is very scenic country but can be very exposed.
Canterbury Streams
Powerhouse stream in the Rangitata catchment, and the nearby Hinds River tributaries of Gawler Stream and Limestone Creek are reported to have small populations. In 2019 I spent a day scouting the Hinds River and Limestone creek but did not have much success.
The streams are very shallow and overgrown, casting was difficult. For best success, try to get permission to fish in the hill country where the water is colder and flows more consistently.
The Titan stream tributary of the Rakaia held brooks as recently as 1985. I have not been in there myself, nor have I heard any recent updates.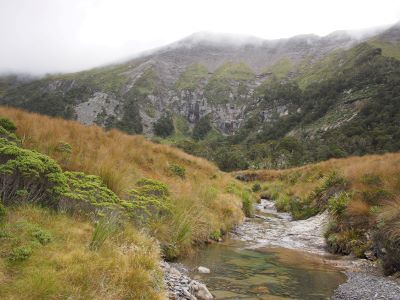 South Island lakes which contain Brook trout
Brook Trout inhabit a few small lakes across the South Island, the most famous of which is Lake Emily which has a wetted surface of approximately 21 hectares.
At the end of this post, I republished a trip report from my first visit there. Certainly a gem of a fishery that must be treated with respect.
Some resources claim Dingle Lagoon, a shallow, difficult to access 24ha mountain lake overlooking Queenstown contains a population of brook char. Recent feedback is that Rainbow and Brown trout have taken over and the last reported Brook Trout, an old fish was caught sometime around 2016.
I have also heard reports of a small population of Brook Trout in Lake Dispute. However, due to the healthy Rainbow and Brown trout population in Dispute I doubt any such population will be self sustaining and likely no longer exist.
Lake Emily, to the best of my knowledge, is the only reliable Brook trout lake in the South Island (maybe even New Zealand).
North Island Brook Streams and lakes
In the north Islands small populations likely still exist. The Waiwhiowhio stream, and tributary streams of the Waikato River, held brook trout up to 180mm.
The Rangitikei River also likely still contains some isolated pockets. Despite no recent records. Brook trout over 300mm have been caught in some of the upper tributaries such as the Moawhango and the Mangaio.
The shallow, 550hectate Lake Moawhango likely still contains Brook trout. But, it is inaccessible to the public due to being located on military land. It potentially rivals even that of Lake Emily down south. It is by far the largest lake in the country which is likely to hold populations of char.
Herb Spannagl a former Tongariro national park ranger and keen fly fisherman, told me of rumours of Brooks reaching 7lb in the early years of the dam development, he personally saw a large mounted specimen in an army's captain's office. The headwaters and lake are located within the army training area making them inaccessible to fish by civilians.
Upper Hinemaiaia Lake and the headwaters above on the river with the same name also contains a population of brook trout. In the 70', Upper Hinemaiaia Lake was quite the fishery producing many brooks over 3lb. Unfortunately, more recent feedback has been less positive and I have not been able to fish the lake myself.
Brook char diet and suggested flies
Brook char in New Zealand streams have a predominately aquatic diet, supplemented with terrestrial invertebrates when available. They are very opportunistic feeders.
The most common insects in their diet includes Mayfly nymphs, Stoneflies, Caddis, water boatmen, and Dobsonfly larvae (toe-biters).
So worthwhile flies to use include classics such as Pheasant Tail, Hare ears, Stonefly and could even be worth sourcing more specialised flies representing water boatmen and toe biters.
In saying that, there is a strong overlap between the diet of Brown Trout and Brook char in NZ streams so I just use my favourite Brown Trout patterns.
Tackle and rod weight.
The vast majority of wild brook trout in NZ are small. The only exception being some of the lake dwelling char found in the likes of Lake Emily.
When fishing Emily, I suggest using the traditional 5 or 6wt fly rod. There is a lot of water to cover, plus the extra weight is useful to punch into the wind. Lake Emily is a fly only water, so leave any spinning gear in the car.
Because stream brook char are so tiny, rarely longer than 300mm in length. Smaller, lighter rods and gear are suitable to target them. Ideally a small and light 3wt will be ideal. The streams can be tight and contain a lot of skinny water. Short and precise casts are useful.
Why fish for Brook Trout in New Zealand?

It might seem strange to many, New Zealand has some of the best Brown and Rainbow trout fishing anywhere. Yet, myself and a select few other anglers choose to drive past some of the best brown trout rivers in the world to target stunted versions of a little known species of char.
My motivation is simple. I like the challenge, brook trout are difficult fish to find. They live in small isolated lakes, tarns and stream which often take serious planning to reach. Brookies are also beautiful fish, I and many others consider them better looking than brown or rainbow trout.
Trip report to Lake Emily
Lake Emily, located in the centre of the South Island is New Zealand's most well known Brook trout fishery. Brook trout numbers are low, and many New Zealand anglers take several trips before they can tick brook char off their bucket lists.
I was one of the lucky ones, I caught a Brook trout on my first trip. I was still new to fly fishing at the time, and with better technique probably should of landed several.
The previous afternoon, I visited my favourite fly fishing store in the city where I purchased a selection of flies which were supposed to work well in the high countries lakes this time of yeat. To this day, one of the flies I brought that day has a permanent slot in my tackle box.
Whenever fishing a new area or water, I am a great advocate of supporting the local fly fishing stores and getting some advice.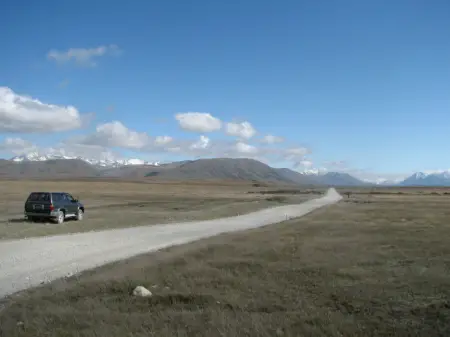 To reach Lake Emily requires driving around two hours from Christchurch.
An early start is best to get there before the afternoon breeze stirs up the surface making sight fishing difficult.

Getting to the Ashburton lakes is the easy part, finding the access track to Lake Emily can be challenging. Apparently, sometimes there is a sign.
I have never seen it. On my first trip I drove through the general area three times before figuring out which nondescript side road to take. I kind of like the hidden nature of the lake. It helps keep the wandering masses away.

The 4WD track to Lake Emily is a rough farm track. On my first visit, the track was in reasonable condition. Even a car with good ground clearance could have made it. On future trips the track was in a rougher state and on one occasion I even choose to walk.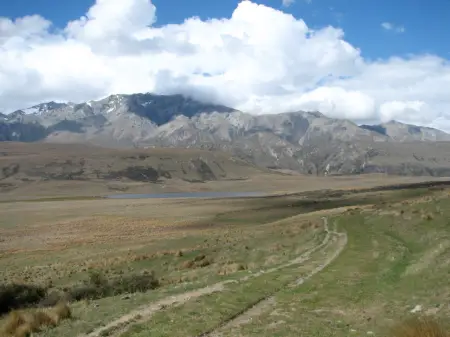 Much of Lake Emily's shoreline is unstable. Large clumps of reeds and other weeds seemingly floating on mud making the going slow in places.
Fortunately, enough of the shoreline is firm tussock country. Which makes fishing easy.
When I first got to the lake it was nice and calm, only a slight ripple breaking the surface of the lake, but all too soon the breeze picked up and blew across the lake towards me. I could not see into the water so blind fishing was the only option.

Being somewhat impatient, I headed to the far side of the lake. With the wind behind me, and now on a slight slope sight fishing become much easier until a nasty little wind from the other direction picked up. I persisted and was rewarded when I saw a 30cm fish feeding on the bottom.

I am used to fishing to wary Brown trout. That Brook char was not at all paranoid and was unconcerned about my presence. I cast out, and the water around my fly exploded as the brook smashed my fly. I must of panicked because I failed to set the hook as the brook darted away to safety.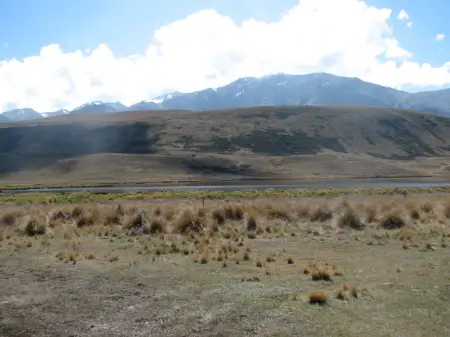 During my earlier research, I have read that brooks are school fish. So I continued fishing around the general area. I observed a couple of aggressive 'raises', both making large splashes. After half an hour or so I returned to the spot where I first saw the brook there was a happily feeding fish back in the same spot.
Seeing so much surface feeding, I decided to fish a dry instead. A small black gnat.

Over the course of the afternoon, I spotted a few more brook trout and had several more aggressively raise to my fly. Each time, despite spooking them with careless casting or missed strikes the fish always returned to their lays to continual feeding. They were much more tolerant than Brown or even rainbow trout.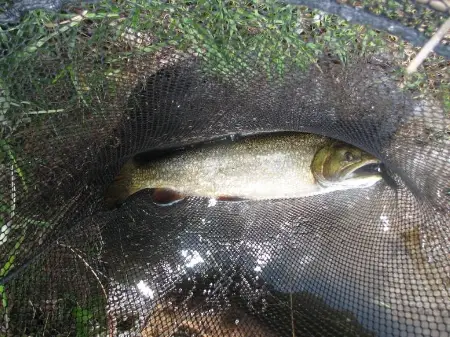 I eventually retruned to the first Brook Trout of the day. It was being very patient with me, so only had myself to blame for failing to hook it earlier.
I knew with persistence my luck will change. After another fairly typical cast In the spot where I saw the first Brook of the day, I finally had another chance, this time I felt the weight on my rod as I strike to set the hook.
My first brook trout fought hard, it was an angry aggressive little fish. It did powerful runs, jumps, and even rested once or twice before charging off again. That small brook put a bigger bend in my rod than the 7lb brown I caught last season.

Finally, I managed to get the fish into the net. Successfully landing my first brook char and completing one of my fishing goals. The most notable feature of the brook was its dark red fins.