The 6 best fly fishing vest and the reasons why

For a piece of clothing fishing vests are useful. They serve one simple purpose. Securely store my fishing accessories in an easily accessible way.
While fishing vests are high on my list of essential fishing equipment, there is honestly not much that separates the best vests from the rest. After all, they are just a vest covered in pockets. There is only so much room for innovation.
There really is a limited need to speed big money for the flagship vest, so in this post, I will share 6 of the best fly fishing vests without needing to spend top dollar.
Six Essential Features all Trout fishing vests must have.


Various pocket sizes: All vests need pockets in a range of sizes. They must be large enough to store a couple of fly boxes, including the oversize large ones some fishermen like to carry around. I also like smaller pockets where I can store small accessories such as floatant without losing them.
Velcro: I am a big fan of velcro over zippers. Pockets sealed with Velcro are nearly as secure but much faster to open. Velcro is also more durable, Zips even quality ones do eventually fail.
Maybe I am just lazy, but with zip closures, I eventually forget to close one, and all my small accessories will fall into the river when I bend down to net a trout.
For this reason, I want the majority of my pockets to have velcro closures. I like velcro because it is fast, and I can access my gear quickly. While it might only take a few seconds unzipping, and zipping pockets every time I change my fly or reach for my forceps certainly adds up.
Velcro pockets are slightly less secure but significantly more convenient and they even close themselves when my mind is elsewhere.
Quality Zips: A few zips are essential, but the zips must be quality ones. A high quality zip is essential to protect valuables that are too important to risk losing. For example my car keys.
I like zips on pockets I do not access frequently. I store my keys, license, and occasionally wallet in internal zip pockets because I know I will not be accessing them while on the river and it means I have zero chance to lose them.
Zips must be well made. Nothing worst than a zip mechanism that corrodes and becomes stuck. The zipper must also be large enough to easily grip with cold hands or even in gloves. They must be robust enough to survive a dunking and even a few silt grains between the teeth.
Clips and attachment points: I want permanent fixture points with which I can secure a lanyard, to protect small accessories such as forceps and line clips which I am likely to lose otherwise
Quick drying: Like all my fishing clothing, a fishing vest needs to dry quickly. A vest that stays wet for hours after leaving the river is just going to promote mold growth and increase the risk of corrosion for anything metal stored inside.
Color: Like all my fishing clothing, I want it to blend in with my surroundings. My vest is a pale brown, all the manufacturers know this, so most fishing vests are made in suitable colors. I do tend to avoid the brighter tan ones. If you do all your fishing in one environment, it might be worthwhile getting a specific natural shade to better blend in with the surroundings.
Fishing vest vs fishing pack
This comes down to personal preference. Fishing packs are certainly useful if you plan on carrying a lot of gear to the river.
I prefer to wear a vest. When I need to spend all day on the river, I generally bring too much stuff to fit inside a fishing pack, so I just use a small hiking pack to store my lunch, camera, and clothing. Hiking packs are usually better designed and cheaper. There is simply too much stuff to fit inside most fly fishing packs.
Sure, I could buy a large fly fishing pack, but then I have to carry that extra bulk on shorter trips. For my fishing style, a vest plus an independent pack simply offers more flexibility.
One final reason I favor vests is that they are much more streamlined. I can squeeze between branches and through thick vegetation with less worry, the bulging-out parts will catch on something.
Sometimes I wear a life jacket vest
For years, I only own two fishing vests, one I use for trout fishing. The other is my life jacket for kayak fishing. While I got it for my paddling, it was a pretty decent vest and I wear it whenever a little extra flotation will not hurt.
I mostly wore it when deep wading at river mouths while targeting schooling fish. If I were to lose my footing while wading out into the currents, I had nothing to worry about. When fly fishing I will go for a kayak PFD because they allow for maximum arm movements. They are a bit bulky, and maybe a bit more on very hot days but otherwise, they do not impede my fishing ability.
I personally will avoid the inflatable ones. Because the gas canisters eventually do fail and most of us will never get around to replacing them. So my choice for fishing potentially dangerous water is a kayaking PFD vest hybrid.
My recommendation for the six best fly fishing vests
When researching the vest currently on the market, the first thing which becomes apparent is that most of the vests from the major brands are over-engineered. Too many pockets, zippers, features, and just general clutter. A vest's primary purpose is to make carrying our fishing gear easier, not overcomplicate things with a thousand options.
It seems like companies are trying to cram in as many pockets and features as possible. This results in bulky monstrosities vest that dominates the fishing market.
Why designers think the average fisherman needs 24 pockets is beyond me. What follows are a few suggestions on more simplistic vests which I will be happy to buy.
I also include, what I feel is the best full-featured fishing vest. That is the one with the most pockets, features, and general clutter. I am personally a fan of simplicity, but if you are the type of angler who wishes to take everything to the river it might just be the best choice for you.
Best Basic Vest: Simms Freestone Fishing Vest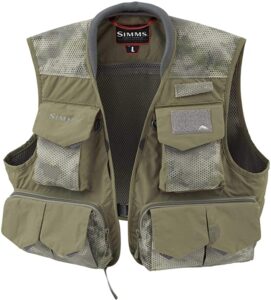 What I like about the Simms Freestone fishing vest is the good selection of velcro pockets, I would have liked one of the main pockets to also be velcro to allow easier fly box access, but I will not discount points for that.
Simms is a fly fishing brand I trust, their products are nearly always durable and well thought out.
The Freestone Fishing vest impressed me, It is excellent in its simplicity, but it is also one of the most affordable vests from Simms.
It comes with a couple of Hypalon tool attachment points to provide an easy place to attach lanyards. They greatly reduce the chance of leaving an expensive pair of forceps behind.
The vests come in multiple different natural shades, which helps break up the form of the angler. Some versions even have a faint camouflage pattern.
All in all, I quite like the Simms Freestone fishing vest. At the time of writing, the vest was cheaper from Simms direct rather than buying from Amazon.
Best Full Feature: Fish Pond Upstream Tech Vest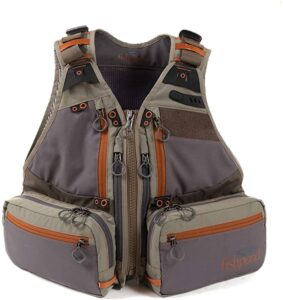 This is the vest for the fisherman who wants it all. There is enough storage for four large fly boxes, and numerous attachment points for multiple tools.
This vest has 14 interior and exterior pockets. So if you want to bring a spare reel, 10 spools of tippet, and enough fly boxes for any occasion this is the vest for you.
Fishpond makes excellent quality fishing gear, and the Upstream tech vest is no exception. It should last for years of hard use. I personally feel it has too many zippers, and could do with more velcro, but I guess this style of vest is not for me.
The zip's have nice large pull tags, making them easy to grip with wet cold hands.
I am pretty sure this vest has all the features anyone could ask for. Not a fan of the Fish Pond upstream, then the Simms Guide Fishing Vest is a worthy alternative.
Best Budget: Columbia Men's Henry's Fork V Vest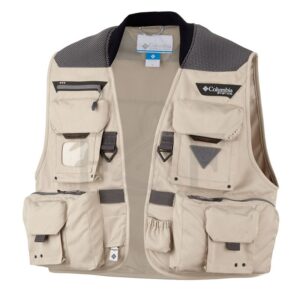 I will start with what I like, which is the good selection of Velcro and zippered pockets, all in a streamlined and fairly low profile design.
When fishing I mostly wear fishing clothing made by Columbia. As a company, they typically offer better value but no obvious reduction in quality compared with some of the more famous brands. The Columbia Henry's Fork V Vest is no exception.
This vest shares a lot in common with the Simms Freestone, such as two tool attachment points and a similar pocket layout. Although, the Simms offers more and slightly larger pockets. The quality of the zippers seems fine.
This vest is available in two colors. Neither of which I am that excited about. I find the Fossil to be slightly too bright, and the carbon too blue. Navy blue is simply not a color I associate with fly fishing. I doubt it will scare trout, but simply does not match my idea of trout fishing fashion.
In conclusion, while the Simms Freestone is a better vest, the Columbia Henry Fork is nearly as good for significantly less money.
Best For Hot Weather: Patagonia Mesh Master II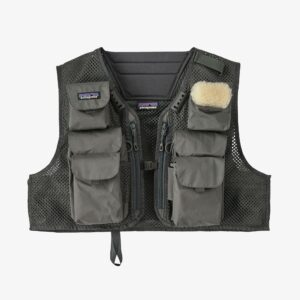 The Patagonia Mesh Master II is a great fishing vest for use on hot summer days. The mesh-heavy construction breaths extremely well. It is designed with ease of use in mind. It has six main vertical front pockets, all with secure velcro seals. All fly boxes are accessible without wasting time with zips.
For more secure storage there are two large zipped side pockets, and several internal pockets perfect for tippet storage.
The vertical layout results in low bulk. Like most fly fishing vests, it comes with two tool attachment points.
The back of the vest contains two large pockets. Perfect for storing away a jacket or a light lunch. All around this is a very well throughout fly fishing vest.
Downsides include the front pockets being excessively deep. Making it possible to misplace some smaller items. Having good organization is essential to get the most out of this design.
Best floatation vest: Astral Ronny Life Jacket PFD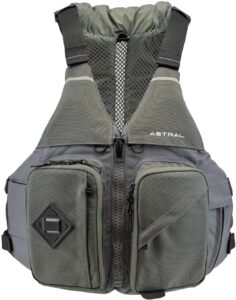 Combining a PFD and a fishing vest requires compromise. At the forefront of most PFD designs is safety, so expect to see the liberal use of bright colors.
But, nothing is going to scare a trout faster than turning up in a bright orange vest. So many popular options which work well out on the water are less suitable while wading.
The Astral Ronny Life Jacket does a lot right. For a combination of a PFD and lifejacket, I consider it one of the best. I particularly like it in the Cloud Gray color.
A fishing PFD is never going to be quite as versatile as a dedicated vest but the Astral Ronny offers a good selection of pockets and can store a lure box or two.
The design is such that it does not impede arm movement. It weighs light enough, that I barely notice when it is on.
All around a great fishing PFD, perfect for deep wading at river mouths or other areas where there are concerns about falling.
Gihuo Men's Fishing Vest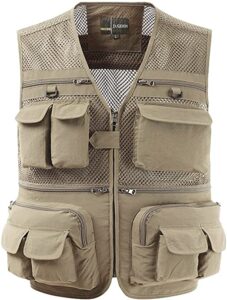 This vest is from one of the unknown Chinese brands that sell large numbers on Amazon.
At least I think it is unknown, I have not heard of them before. The vest design does a lot of things right, although they have gone overboard with the number of pockets.
Featuring several velcro and many zippered pockets the Gihuo vest offers plenty of storage. The build quality is okay, not the heaviest of fabrics, and probably not up to the task of bashing through thick vegetation, but overall it is pretty decent.
It is available in several different variations, including fabric and mesh. I got to try the mesh version and it is okay. It features three attachment points for retractors. Available in several shades of natural colors there should be an option for any environment.
So as a budget fishing vest, it offers a lot of value.