Kastking Sharky III Review | Is it any good?
Is the Kasking Sharky III worth $50?
Kastking Sharky reels are among the best sellers on Amazon, So to assist in your buying decisions I decided to take a closer look. Kastking has attention-catching marketing and fancy infographics which do a great job of promoting their offers.
The headline numbers are impressive, the Shark III offers 10+1 ball bearings and 33lb of drag. Are these numbers as impressive as they seem? Let's find out.
This review would primarily be looking at the Kastking Sharky III in the 1000 size and its suitability for ultralight fishing targeting trout and other panfish. At times throughout, I would theorize about larger sizes and possible implications of what I find.
As a brand, I do not have the best opinion of Kastking, they have been known to manipulate and even encouraged reviews. This just seems wrong to me, although to be fair most tackle brands are somewhat guilty of using paid reviews. I am prepared to give Kastking the benefit of the doubt and give the Sharky III a fair chance.
| | | |
| --- | --- | --- |
| Kastking Sharky III | | |
| | | |
| Ball Bearings | 10+1 | |
| Gear Ratio | 5.2:1 | |
| Weight | 7.4 | |
| Capacity mono 6lb | 200 | |
| Max drag | 33 | |
| Drag washer | Carbon | |
| Line per crank | 27.8 | |
| Gearing | Zinc Alloy / Brass | |
| Frame | Graphite | |
Initial Impressions
The Kastking Sharky III has a lot of capacity for a 1000 size spool. Over 200 yards of 6lb mono. Its spool is relatively deep and wide.
Weighing in at 7.4oz it is a touch on the heavy side for its price and slightly too big for a trout reel. A Daiwa Regal LT which offers similar capacity weighs in at only 6.7oz. While the Pflueger president 20X, a true ultralight reel, although with a much lower capacity weighs in at 6.2oz.
So in my view, it is larger than most 1000 size reels, and its weight and capacity reflect that.



Line Lay and Internals
On my reel, the line lay was decent, slightly bias towards the top of the spool. I did not have any problems using monofilament with it. But could result in wind knots with fine braid. Some reviewers have had a much worst experience regarding line lay. This variability in line lay might just be a case of poor quality control.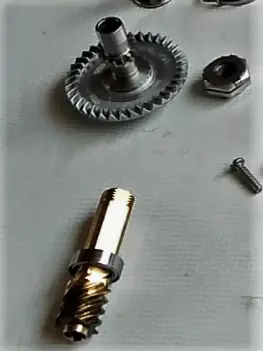 Internally, the Sharky III is a bit of a mixed bag. It uses zinc alloy main gears and what looks like a brass pinion gear. There is nothing wrong with that. It is a tried and true formula. After reading their marketing, I find that the pinion is manganese brass which supposes to offer improve corrosion.
What is less impressive is the rather thin main gear. A thin main gear is not only a potential point of failure but also shortens the reel life. I have had feedback, that the main gear is certainly a known failure point in such reels.
Smoothness and Ball bearings
There is no denying that the Sharky III is a very smooth reel. As smooth as any reel I have tried. The reel has 10+1 ball bearings. Although several of them appear to be surplus to requirements, for example, there are two bearings in the handle. At this level of refinement, a bushing would feel comparably smooth. So I am unsure why they felt the need to have two handle bearings other than to inflate the bearing count.
There are also two bearings in the Spool, while I doubt it hurts performance it certainly does not make it any smoother. A single ball bearing is more than sufficient.
In the roller, where someone would expect to find a bearing a bushing is actually used. While bushings are usually fine for light freshwater use it is a bit unusual why the doubled up the handle bearings without using a roller bearing.
Drag
33lb of drag is complete overkill in a 1000 size reel. Honestly, 5lb is plenty for a reel of this size, so the only logical conclusion is that the 33lb of drag is solely for marketing reasons.
I am pretty certain, that this reel would flex badly, and the malnourished main gear will likely shred teeth under that much pressure.
So, it offers 33lb of drag, but that much drag should never be used on this reel. Keep it to under 5lb and the structural integrity should be fine. Even the larger reel sizes probably will struggle with such a powerful drag. Even a Shimano Stella FJ 5000 size maxes out at 24lb.
Frame
The frame is made out graphite which is fine. What is less fine is the significant flex within the rotor arms. When this reel is fished under pressure chances are the internal mechanisms would creep out of alignment. This increases friction, and can result in a jerky less smooth action. Worst of all it significantly increases the wear and tear within the gearing shorting the reels like.
Even budget reels like the Shimano FX or Daiwa crossfire LT are more rigid. Follow the link to read my comparison.
Bail
I have no complaints regarding the bail arm. It seems to be well constructed with a sturdy spring. It closes with a nice sounding snap and feels secure.
Value and comparison with other reels
Hmmm, at $55 the Sharky III faces some serious competition but in many ways, its build quality is surpassed by much cheaper reels. For example, the main gear is thinner than the one used in the Daiwa Crossfire, a reel under half the price. There is also significantly more flex in the rotor arm.
But, the Sharky III does not compete against the Shimano FX. It goes against much more capable reels like the Daiwa Regal LT, Pflueger President, and the Okuma Ceymar. You can read my review of these reels in my buyer's guide.
All three of which does the basics better. For an ultralight reel, the Pflueger President or the Okuma Ceymar are just as smooth, and with much better internals. The president weighs in at 6.2oz and the Ceymar a feather-light 6oz. Now, both of these reels have much reduced line capacity, but 100 yards is more than sufficient for ultralight fishing.
If you need the line capacity the Daiwa Regal LT simply has the Sharky III beat. The Daiwa Regal has some of the best internals and build quality at this price point. It also features 10 ball bearings (admittedly more than it needs) and a more refined 10lb drag. For the same money, I can not think of anything which the Sharky III does better.
Summary
At the current price, I do not recommend the Kastking Sharky III. I feel this is a reel designed more by a marketing team than actual fishermen. Money was spent in places that do not really add much value, such as the 33lb of drag and ball bearings in locations where they are not actually required.
The rotor arm has quite a bit of flex, more than I would like to see in a $50 reel. Actually, many budget reels are more sturdy. The main gear is very thin, which I suspect will be an eventual failure point.
I can not really pinpoint, why this reel is as heavy as it is. The extra weight was certainly not in the gear mechanism or for extra rigidity.
If you can find it heavily discounted, and fish it with light drag pressure then it should be an alright reel. But it is currently too expensive for what it is.