Shimano FX vs Daiwa Crossfire – Sub $30 Ultralight spinning reel comparison.
Looking for a budget friendly ultralight spinning reel. A reel that is suitable for catching trout and other panfish. In this comparison I am going to compare two of the best selling small reels for under $30.
At this price point, all reels are mass produced with limited quality control. They are made on very strict budgets. So there is a real possibility of getting a dud reel. When buying budget reels I always advise purchasing them from a retailer with a hassle free return policy. So if you are unlucky, simply return the reel and hope for better luck with the next one.
Let's get into the comparison.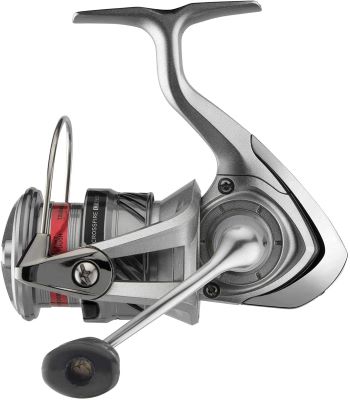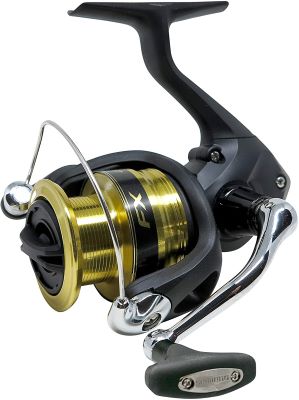 Shimano FX FC
| | Daiwa Crossfire LT | Shimano FX FC 1000D |
| --- | --- | --- |
| Ball Bearings | 2 | 2+1 |
| Gear Ratio | 5.2: 1 | 5.0: 1 |
| Weight | 7.8 | 7.2 |
| Capacity mono 4lb | 2/220, 4/110 | 2/270, 4/140, 6/110 |
| Max drag | 11 | 7 |
| Drag washer | Felt | Felt |
| Line per crank | 25.5 | 24 |
| Gearing | Zinc Alloy | Zinc Alloy / Brass |
| Frame | Composite | Composite |
Comparing the Daiwa Crossfire with the Shimano FX FC
Initial Impressions
For the money, these are quite nice reels. The Crossfire, in my opinion, is the better looking of the two and feels slightly nicer in the hand.
The Shimano FX is both lighter and offers a slightly deeper and wider spool resulting in more line capacity. So despite the slower gear ratio, both reels recover line at a very similar rate. A lighter reel better balances the lightweight rods these reels are designed to be used with.
I have no issue with line lay on either reel, and they cast and retrieve just fine.
Internally, both reels use Zinc Alloy gearing. This type of gear has been used for decades in fishing reels. It is nothing fancy but should be up to the task. The main gear in the Daiwa is larger, which in theory should be more sturdy.
Shimano uses a brass pinion gear
Smoothness and Ball Bearings
Both reels feel surprisingly smooth for the money. Even under pressure, while fighting a fish the smoothness remains. Now, most reels on the market feel smooth to me, so that should be expected no matter the price point.
The Shimano has an extra ball bearing. Including one in the roller. This roller bearing should be slightly more tolerant to wear and grime than the bushing used in the Daiwa. Although, when new, and clean there is no noticeable difference between the two with regard to roller smoothness.
Drag
Both reels offer more than enough drag for ultralight fishing, and I personally consider the 11lb of drag that the Daiwa offers to be excessive.
I have my doubts about whether the internal frame will survive such high pressure for prolonged use. I suggest keeping drag below about 3lb on both reels.
Both reels use felt drags, and they were smooth enough not to cause me any concern. There is nothing wrong with felt drag washers and they are still frequently used on much more expensive reels.
Frame
The frame is one of the most important, although also one of the most overlooked parts of a reel. If a frame is too cheaply made, it will flex under pressure causing the internal gearings to go out of alignment and potentially causing various moving parts to rub. This can result in a jerkiness to the drag and retrieve.
The frame on both reels seems to be made out of some sort of composite material similar to graphite. Daiwa calls these Carbon Light, they use the same branding on all their low to mid-range composite frame reels.
Shimano does not say what the FX FC frame is made from, but it appears to be some sort of glass-reinforced plastic. Of the two reels, the Daiwa seems to have less flex in the frame and rotor. Although, neither shows any sign of flex when using light drag pressure suitable for ultralight fishing. So in the small sizes, both frames offer enough rigidity.
Bail
The Bail of the Shimano FX reels uses a lighter gauge wire than the crossfire. The Crossfire feels more robust and sturdier in both construction and the strength of the spring.
Both bails are certainly good enough, but I prefer the slightly stronger snap of the crossfire.
Value
The Daiwa Crossfire typically has a higher retail price than the Shimano FX FC. Although, prices do vary and lately, I have seen the FX being advertised for around the same price.
The Daiwa has a better frame, gearing, and bail arm. Operationally both reels are very comparable and on the river they are hard to separate. The Shimano does come with an extra ball bearing.
Overall, I feel the lighter weight and larger capacity slightly favors the Shimano.
In larger sizes, where higher drag pressures might be used. I suspect the stronger frame on the Crossfire could add some additional value but I have not tested the larger versions.
Summary
Both the Shimano FX and the Daiwa Crossfire offer reasonable quality for a very attractive price. Overall, I favor the Shimano FX due to its lighter weight and slightly larger capacity. It better balances ultralight rods.
The Daiwa Crossfire, does seem to be the better built reel. With a more rigid frame, more robust gearing, and a sturdier bail arm. But, it is heavier and has a lower capacity. If I was reviewing larger reels, where they experience even more drag pressure I likely would favor the Crossfire.
Do you have any experience with either reel? or wish me to review some other models then feel free to comment below.
Interested in other reels? Head over to our spinning reel buyers guide where we list what we consider to be the best reels at various price points.