My seven favorite trout lures for trolling
Below are my favorite seven lures for catching trout while trolling. These are the lures that have brought me my most consistent success in catching trout.
I mostly troll in shallow or medium-depth rivers and lakes. I never really target trout in very deep water. But when I do, I still use the same lures and have success. I also mostly fish for brown trout and rainbow trout. If you are predominately targeting Lake Trout or other deepwater dwellers then I suggest checking out my spoons buyers guide. Spoons typically run much deeper and are a popular choice for lake trout.
When fishing deep water, these usually require additional weight to get them down deep enough. I am not going to go into detail here, but techniques such as downrigging, dropshotting, or simply a few pieces of split shot can cause a lure to swim much deeper.
Out of all lure types, my favorite trolling lures are Jerkbaits. Mostly those made by Rapala and Dynamic trout. They come in many sizes suitable for trout and are available in many different patterns.
Why only seven lures?
The answer is quite simple. These are my favorite lures so are the ones I always keep with me. Sure I do play around and test many different lures. Most of them do catch fish, but this list is of my perennial favorites.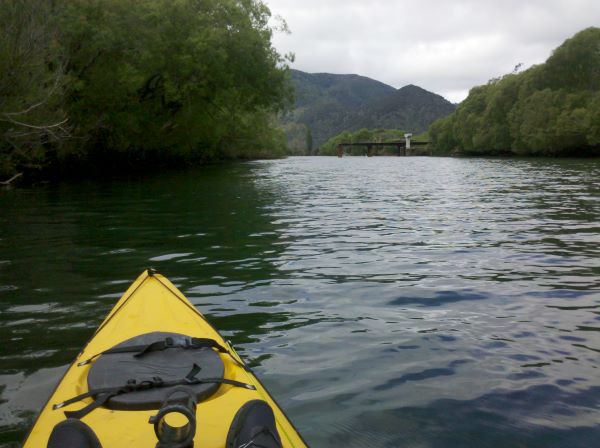 1# Jointed Rapala
Whenever I go trolling for trout. The first lure I tie to my line is nearly always a Rapala. Out of their huge stable of designs, the floating Rapala is my favorite.
Trolling is where the jointed Rapala really shines. The jointed body has an exaggerated action and it starts to wiggle in at low speeds.
I have found the best size for trolling is normally J5 or J7. Sometimes I will use a J9 when the baitfish are larger than normal.
A slow, steady, consistent retrieve works best. When I fish them with jerks and stops, I find the hooks often become tangled. That means I really only fish with on a straight retrieve, and that is exactly what trolling is.
I also troll with a lot of Orignal Floating Rapalas and even some X-raps. They also work very well, but I feel the jointed Rapala has the best straight retrieve action which gives it an edge. If for some reason, you want to troll at a faster pace, then the solid body lures are the better option.
The best time of year to troll a Jointed Rapala is in the Spring or Autumn, when the trout are hungry and the water is cool. Over the summer months, trout often seek deeper water and additional weight might be required to reach them.
2# Dynamic Lures HD trout
The HD trout by Dynamic lures has been around for a while, but I have only started to fish it seriously in the last few years. It is an excellent trolling lure, and in its size range, it is now my first choice for a solid body jerkbait.
The feature which makes the HD trout such a great trolling lure is its amazing straight line retrieve. It really has a good natural wobble.
It is a sinking lure, so if you stop trolling. Then it would slowly sink and rest on the bottom. When trolling in shallow water, I do like floating lures, because if I have to troll across a shallow weed bed or submerged trees, I can all but stop knowing that the lure will float to the surface allowing it to travel above the snags. This can not really be done with sinking lures.
3# Yakima Wordens Flatfish
One of the first lures, I remember trolling with was a Wordens flatfish. I read about them in an old magazine article, so decided to give them a try.
Glad that I did. They are an excellent trolling lure, especially when the trout are a bit reluctant to strike when the water is too cold.
The Wordens Flatfish has a crazy, erratic dance that can really get trout going. I typically go for the F5 size, but sizes both smaller and larger can work.
Over the years, I have discovered that the flatfish is either hot or not. Sometimes trout go absolutely crazy over it, other times they flat out ignore it. If I been trolling my jerkbaits for a while with no action, that is when I switch to a flatfish lure.
If it does not trigger a strike, I know the fishing is going to be tough.
Tip: When the bottom is sandy and smooth do not be afraid to run your flatfish close to or even scrapping across the bottom. The trail of sand it digs up seems to trigger trout to strike.
4# Tasmanian Devil
This Australian lure really shines at trolling. It sinks through the water like a slow dancing spoon, but behaves more like a crankbait on the move.
The wide plastic wings, gives the lure a very erratic action which makes it a great trolling lure.
The small 7g version is good for targeting wary trout in clear water. While the larger 13.5g lure is good when trolling slightly deeper.
Do not be intimidated by the lures size, much of it is made out of clear plastic. So only the core is readily visible for any hunting fish.

5# Acme Kastmaster
Kastmasters are a very versatile lure. I feel they are best known for their ease of casting.
But, they are a rather effective trolling lure also. They have a rapid darting, wobbling action that drives which certainly works trolling.
To be completely honest, they are not my first choice for a trolling lure but I always keep a few in my tackle box for when the trout are ignoring my mainstays. Click here for more spoon recommendations.
6# Mepps Marabou
Inline Spinners or just spinners are probably the most fished type of lure for trout. They are also a very effective trolling lure. To be upfront, they all work, and for other recommendations, you can check my inline-spinner guide here. But my favorite inline spinner for trolling is the Mepps Marabou.
It features a large Colorado blade the Mepps Marabou spins into action even at the slowest of retrieves which gives it an edge over many competing inline spinners.
This is a rather shallow swimming inline spinner, making it great for trolling over weeds and flats.
The Marabou tails further add to the attractiveness.
#7 Wedding Ring Lure

It is hard to know what the Wedding ring lure meant to represent. Maybe it is a line of eggs or a wee wiggly fish. The spinning blade on the end does give off good trout attracting vibrations.
This has to be one of my favorite lures to target stock trout with. Newly released Rainbows can go absolutely crazy over them.
I find them less effective on wild trout.
Frequently Ask Questions
Can I use the same trolling lures in rivers and lakes?
Yes, select your lures based more on the depth of the water than where you are planning on trolling. I basically use the same trolling lures everywhere I fish, but I do sometimes change the colors and sizes to better match the baitfish which live in the area.
What is the best lure color when trolling for trout?
There is no simple answer. The best color on any given day depends on many variables, most notably the color of the water and the mood of the fish. I do have a comprehensive guide on selecting the best jerkbait color, and the same principles can be used for most styles of lures.
In brief, I advise using dark, natural colors when the water is clear and the trout are wary. If the water is a bit stained, or murky, then I change to bright vibrant colors.
Plain Silver or gold lures are also a safe general option. It is popular to fish silver lures when it is cloudy and gold when it is bright.
What is the best trolling lure in the Spring or Fall
I choose my lures mostly on how deep I expect the trout to be holding. When fishing in the Spring, Fall or even ice free winters. I expect the trout to be holding and feeding close to the surface. So, in the spring I mostly fish floating Jerkbaits, Flatfish, or Mepps Marabou.
What is the best trolling lure in the Summer
Over the summer, I find trout trend to seek deeper water where it is cooler. So I use lures that naturally swim deeper.
If I am not prepared to fish a dropshot or downrigger, I generally go for a heavier metal lure which sinks faster like an Acme Kastmaster. I also tend to fish late in the day, sometimes even into the night. In the evening I find the trout might return to the shallows where I can catch them on Jerkbaits.
What is the best time of day to go trolling for trout?
I have the most success trolling in the evenings, early mornings can also be successful but I usually struggle to get up on time.
In the early spring, when the water is still cold. I have the best results after the day's sun have warmed the water slightly. So usually around 10am.