What is the best landing net for trout fishing?
Landing nets make catching trout much easier, they are almost an essential piece of equipment.
But what landing net to get, and does it even matter?
In this guide, I will discuss the optimal sizes and what I consider to be the best landing nets for trout fishing. I will also discuss the different options available, and my preferred choice for various fishing styles.
Keep reading to find out more.
How long of a net for trout fishing?
Before we take a look at specific models, I will briefly discuss net length, or maybe more specifically handle length. Yes, it does make a difference.
A net with a long handle makes it easier to reach fish that are just out of reach, the added length is also of great benefit when used from a driftboat or a kayak with a high seat. Shore anglers benefit from a long net when they can,t quite reach the water, maybe they are fishing a spring creek with a steep marshy shoreline. Reaching a hooked fish is not always easy.
Short handle nets on the other hand are much easier to carry, they more comfortably hang off your back and are less likely to get in the way. I know my net just loves tangling itself on passing vines and branches. So in many ways, a shorter more compact net is better for a walking angler.
| | |
| --- | --- |
| Net Length | What it is best suited for |
| Less than 35″ | These are the standard size wading nets carried by shore based anglers. Some kayak, canoe and float tube paddlers prefer this length because it is easier to store, and the short reach is less likely to destabilize the craft. |
| 35″-50″ | This is a great length for fishing from drift boats or rafts. It is a popular length among guides because the extra length makes it easier to reach their client's fish. Some land based anglers prefer this length because it tucks in neatly behind a pack. |
| >50″ | These nets are excellent for boat based fishing. The extra length is perfect for reaching down and scooping up fish. |
Best net length for trout fishing
What size landing net to get?
| | |
| --- | --- |
| Net Opening | Size or species of trout |
| 14 x 10 | Ideal for trout and fish under 20" or 3lb |
| 17 x 13 | Suitable for most trout and fish up to about 30″ or 10lb. |
| 20 x 16 | Suitable for very large trout and steelheads. |
| 24 x 20 | Very large nets are suitable for large Salmon, Steelheads, and monster trout. |
This chart is an approximate guide to determine the size of fish most suitable for various size nets. Keep in mind, a skilled angler certainly can net larger trout in a smaller net or vice versa.
The Best Net For Trout Fishing – Mclean Weigh Net.
Do you want to net and weigh your trout without taking them from the net? Then the Mclean Weigh net is an excellent choice. I have personally used Mclean weigh nets for over twenty years and they are excellent nets. Thanks to the aluminum construction they are lightweight and durable. I even used mine in the sea and corrosion has not been an issue. I personally vouch for the durability and the quality.
The integrated scales can weigh fish up to 14lb. That means there is no need to carry separate scales whenever you wish to weigh a fish. I personally feel the scale works great on the shorter length nets, On longer handle nets it does feel a bit more unstable, especially when weighing larger fish.
Mclean nets do not really float, but nor do they sink. When first dropped they float but as the water pushes out the air, they slowly suspend into the water and they eventually will go under.
Mclean makes a wide range of net sizes, suitable for everything from stream trout to large salmon or steelhead. There are also short and long handles and even a telescoping folding option for maximum reach. They even make a neat spring folding net that stores neatly in a pouch on your wading belt. I will discuss it further in a later section.
If you are after a net for trout fishing, I suggest getting a small size. If after a net for steelhead or salmon, then the large size is much more suitable.
Mclean has three different meshes available. There is the old fashion knotless nylon mesh, it is the cheapest option but not one I really recommend. The thinner nylon mesh can be quite rough on a trout's slime coating. They also have rubber meshes in both standard and micro sizes.
For smaller size trout, and when fly fishing the micro mesh is the best option. It really helps to spread the load when lifting fish. If you are a spin angler, I find the micro mesh can easily tangle treble hooks, so when spinning the larger rubber mesh is much more user friendly.
There are a couple of downsides, but not regarding the nets themselves. The first is price, they typically cost north of $100, although they are still cheaper than other premium nets such as the Nomad range from Fishpond.
Mclean nets can also be a bit hard to find retail in North America, but it is possible to order direct from the Manufacturer in NZ (Shipping is usually free), a quick google search also reveals that the madriveroutfitters store based out of Idaho also has them in stock.
I honestly believe they are the best weigh net on the market and are worth the money. The build quality is top notch and they can handle a lot of abuse.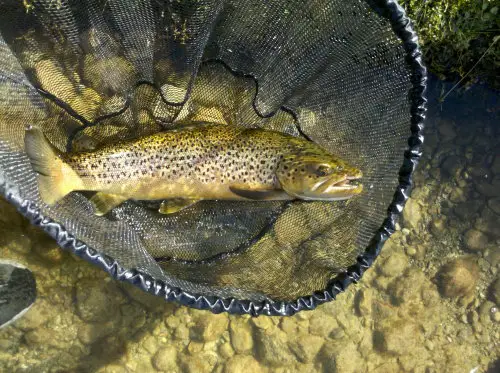 Runner Up – Fishpond Nomad Landing Net
If this was a ranking of the best looking, or most popular net, then the Fishpond Nomad range of landing nets might take the top spot. Some of them certainly are a work of art.
The frame of the Fishpond nets is made from a carbon composite and it is possible to get them in a kevlar finish for extra bling.
They are powerful and extremely durable, under normal fishing conditions it will be next to impossible to break the frame. The interior of the net is also hollow, making it surprisingly lightweight, finally being made out of composite it is 100% corrosion resistant. To put it simply, it is a basic net built and designed extremely well.
They are so well built and durable, that I heard some people even use the longer handle versions as an alternative to a wading stick.
These nets also float, which reduces the chance of losing them if you accidentally drop them over the side of a boat. But, the opposite applies in a fast current where it might just float away downstream before you have a chance to grab it.
The Fishpond Nomad series of nets also comes in several different sizes and models to cover all of your trout or salmon fishing needs. They also come in short and long handle variations, although none of which are foldable or telescopic which does make them more awkward to carry while out on the river.
All Fishpond nets come with a standard rubber mesh of the large gap variety. This mesh works well for all but the smallest of trout. When stream fishing, I do prefer a micro mesh, because I have seen tiny trout attempting to wiggle through the holes which can mess up their fins. But this is just splitting hair.
The biggest negative regarding the Fishpond nets is their price. While they are an excellent quality net, I feel the best place to use them is from a boat. In my opinion, the cheaper Mcleans weigh net is a better option for more shore or wading fishermen.
If interested in a Fishpond trout net, you can check out various models on Amazon. Click here for their extremely popular Fishpond Nomad Emerger trout net, or here for a longer model which can also be used as a wading stick.
Plusinno Fly Fishing Net – Best budget small net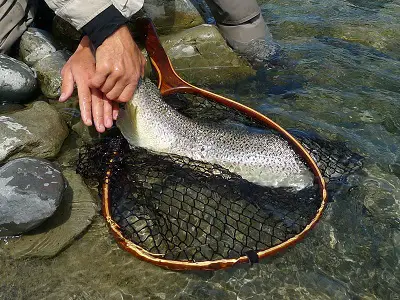 If you have a look on Amazon (link to plusinno net), there are countless variations of this basic net design. Based on the ones I have tried they all perform similarly and to be honest I singled out the Plusinno as a representative of this type of net.
It is possible to buy another brand, at the same price point and it would perform almost the same. It would not surprise me if all the clones were not made in the same Chinese factory. Although some of the more premium ones are made in Puerto Rico, I have not tried any of the expensive ones so can not say if the price difference is justifiable.
The Plusinno Fly fishing net is a good example of a small wooden landing net. It is a really traditional design. They are nice and compact, which makes carrying them easy. It is also cheap enough that it does not break the bank if lost.
If you are using this net to land stream trout, say under 8" in size make sure to get the micro mesh version. Tiny trout at times can squeeze through the gaps in the standard size mesh.
Best budget foldable net – Oddspro Fly Fishing Landing Net
Another mass-produced Chinese net, but this time with a folding handle. From a value for money perspective, it is very hard to beat such nets.
While the Oddspro is not likely to be winning any awards for beauty, it is a functional net with a folding handle for a budget price.
The Oddspro landing net features a carbon composite frame, but the feature that really separates it from most nets in its price range is the folding handle which folds in upon itself and reduces storage space. The net does feel reasonably durable, and the locking mechanism feels secure. It might not have the timeless durability of the premium nets above but I can not see anything breaking too early.
At the time of writing, the Oddspro is only available in micro mesh and not standard rubber mesh. This is really only an issue for spin anglers who are using multiple treble hooks.
If you are interested in a Oddspro net they can be purchased on amazon.
Best packable net for backpacking or travel?
Looking for a small compact net that does not take up much space and is easy to carry? A net that packs down as small as possible, and potentially even fit into cabin luggage?
Well, you are probably looking for a packable net, and I am going to recommend two spring nets from different companies.
The first, and in my opinion the best is the McLean Spring Foldable Weigh Net. It features a robust handle and inbuilt scales. It is very lightweight and compact, it folds away in seconds. This net like all McLean products are made in New Zealand.
Check it out in the demonstration video below.
If the Mclean is a bit out of your budget, there is another great option. That is the Handy Pak Net, the handy pak net also features a fish friendly rubber net but is half the price.
The Handy Pak Net comes in a range of handle materials, my personal pick is the teak handle, but the composite option is lighter. It also comes with a lifetime warranty against defects in materials and workmanship At half the price of the Mcleans it is a great value. I believe they are still made in the United States. If you are interested in a Handy Pak landing net, various models can be found on Amazon.
Check it out in the demonstration video below.
So what are the drawbacks of this design? Well, they really only suitable for small trout, probably nothing over 4lb. I also have heard that water pressure can at times bend the net closed when trying to net fish in fast currents. So they do have a few limitations, but no other design is smaller or more packable.