9 Best Trout Lures in Montana
Welcome to our guide for the 10 best trout lures for fishing in Montana. This ranking is based on surveying anglers who fish predominantly in the Mountainous North West. These suggestions will likely also work well in the neighboring states of Idaho and Wyoming and even north into British Columbia.
1) Panther Martin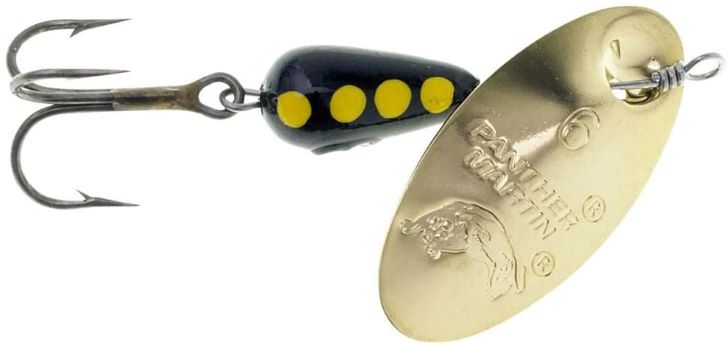 It seems that no matter where you fish for trout in North America, the Panther Martin inline spinner is a top pick. Montana is no exception.
Panther Martins top so many best trout lures lists due to several important characteristics mostly based around the larger than average inline blade.
The large blade generates a lot of fish attracting vibration and flash, including a distinctive thump.
The blade often rotates on the drop, creating a tantalizing fluttery descent. I have had strikes as the lure sinks towards the bottom before and I am sure the blade spinning then certainly helps.
The blade rotates even on a slow retrieve. This gives reluctant trout even more time to decide to strike. This is of even more importance when the water is very cold.
All color Panther Martins can catch trout, and they come in many excellent colors. Some popular patterns for Montana include the traditional favorites of silver or gold. If you want to get a little fancy, then try gold/brown, black/gold (as in the photo above) or the ever-popular Salamander pattern. I feel the Salamander pattern works well because the red highlights acts as a sort of hot spots to grab the trout's attention.
I personally find silver/blue works particularly well when the rivers are cloudy with snow melt.
Panther martins of almost any size can catch trout, below are a few guidelines.
Size 1 and 2 for shallow waters and small trout streams. Although in practice I prefer fishing Mepps for Joe flies in such water.
Size 2 to 4 for moving water and rivers, where the extra weight assists in getting down to where the trout are holding.
Size 4 to 6 for large lakes and fast water where distance and sink rate is more important than finesse.
For more information on how best to fish Panther Martins and other inline spinners check my comprehensive guide here.
2) Mepps Aglia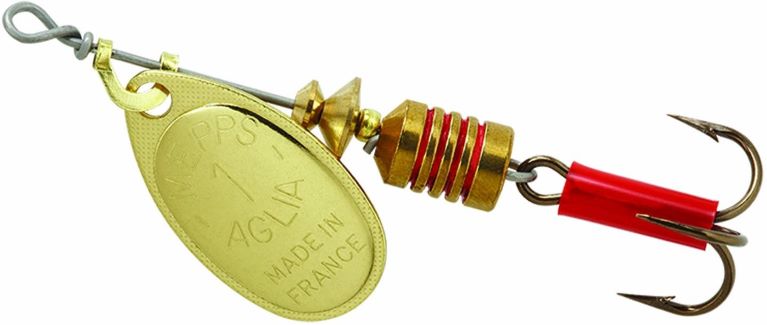 These are my personal favorite trout spinner when fishing streams and many others in my survey agree giving them a close second place just behind the Panther Martin.
Mepps Aglia spinners work well in streams because the blade creates a lot of upwards lift that can keep off the bottom and away from snags.
In my experience, Mepps has the most durable wire of any major inline spinner brand. They just seem less likely to bend which makes them very durable compared with other spinners.
The more finesse construction makes them an excellent option when fishing shallow streams and smaller lakes.
The most popular colors include gold, silver, and red/white. My personal pick is the black fury pattern which works particularly well in small sizes.
With regards to sizes
Size 0-1 is best suited for streams and shallows.
Size 2-3 for rivers and small lakes.
Size 4 for large rivers and lakes. Although I prefer to use Panther Martins or Blue Fox spinners in such water.
3) ACME Kastmaster

Kastmaster's are very popular lures because they are easy to fish and extremely versatile. While I find them a bit boring, there is no denying they are an efficient fish catcher.
The biggest mistake I see new anglers make when trout fishing with Kastmasters is to use too large of a lure. Use the smallest size that you can cast.
Kastmasters are the best choice when a long cast is required, they are also excellent when punching into a headwind. After casting, I usually wait for 5-10 seconds before starting the retrieve, this allows the lure to sink to the bottom where trout are more likely to be holding.
Kastmasters are more than just a casting lure. They troll well and can even be jigged when trout are holding in deeper water. A great option for larger lakes for both trolling and casting.
The two most popular color combinations for river fishing are gold or silver. While blue/silver is a great choice for trolling in larger lakes. For more effective colors check my guide.
The most popular casting weight seems to be a 1/4oz. This is enough weight for very long casts but can feel a bit heavy on some ultralight rods. I have found the smaller 1/12oz lure can actually get more strikes at the expense of a few yards of casting distance.
4) Rapala

Rapalas are very popular among fishermen who target wild trout. The more subtle, yet lifelike appearance and action can seem to trigger strikes from even the most cautious of fish. In my opinion they are among the best lures for targeting large brown trout.
Rapalas come in many variations. The original floating and the countdown versions are both popular and they fulfill different requirements when fishing. Some anglers, favor the 'broken back' jointed Rapalas when trolling or when water temperatures are very low.
Floating Rapalas are excellent lures for shallow to medium depth fishing making them well suited for rivers and streams and lake margins.
The countdown or sinking rapala's work well in deeper water.
The most popular sizes are 5 and 7 (2" and 2 3/4"). Although, trout can be caught on either extreme but I have never had much luck on the 1" versions.
Popular colors in Montana include silver, gold and rainbow trout. I find the muddler minnow pattern works well in fisheries that contain brown trout and fire tiger is an excellent option for cloudy water.
For more information on how best to fish Rapala lures and other Jerkbaits check my comprehensive guide here.
5) Blue Fox Classic Vibrax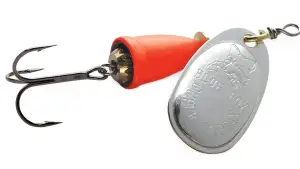 There is no denying that Spinners are extremely popular lures when targeting rainbow trout. So it is not at all surprising to see a third spinner make it into the top 5.
The Blue Fox Vibrax is loud and heavy. It is the perfect big water lure. Trout can sense the loud vibration over the roar of white water, and they have the mass to sink fast to where the trout are sheltering beneath the current.
So, are vibrax or panther martins better in big water? Well, that mostly comes down to personal preference. I prefer the louder vibrax but I know many fishermen who prefer the panther martins. There is no wrong choice.
Popular colors include Gold, Silver and bleeding gold (Red/gold). These are no finesse lures, they are designed to be seen so subtle, natural colors seem to be less effective.
Popular weights for bigger waters range from 1/4 to 1/8 oz.
6) Marabou Jig
I have to admit, that the marabou Jig is one lure I do not have a lot of experience with. If I want to throw fluff I will get out my fly rod.
But, there is no denying that the Marabou Jig is a very effective trout lure and one that shares many similarities with Streamer fishing on the fly rod.
But unlike a streamer, it does cast quite well on usual ultralight spinning tackle.
The Marabou Jig is an excellent finesse way to fish on the spinner rod, the light delicate presentation can work extremely well when the trout are reluctant to feed. A very popular choice early in the season when the water temperatures are still to cold.
7) Spoons
Maybe it is cheating or just laziness on my part, but I decided to combine all spoons into one category. Many of them fish similarly and have comparable results.
Spoons are not fancy, but they work and in the right hands they are some of the best lures for targeting trout holding deep beneath fast flowing surface current. Spoons are easy to fish, but difficult to master.
The most popular spoons for fishing in Montana according to our respondents are.
Krocodile spoon: Long, oval chunky spoon, easy to cast and sinks quickly. Great for searching for trout in big water. Works well when trolled. Fulfils a similar role to the Kastmasters but I personally prefer the profile and overall action.
Eppinger Original Dardevle: A traditional spoon design that still performs well. Best suited for trolling, but equally at home when swinging across deep pools. Apparently, it works well on Lake Trout out east. I also suggest trying the Acme Little Cleo although it did not rate well in our survey.
Thomas Buoyant: A great choice when fishing down current or in shallow water, the natural buoyant design assists in lifting them off the bottom during the drift.
In this article, I go into comprehensive detail discussing various spoons and how to fish them.
8) Joe Flies
The Joe Fly combines two very successful trout fishing methods, a spinning blade, and a trailing streamer or fly. Is it a match made in heaven, or a conflicting compromise between two styles?
Well, in my opinion, they are more a compromise, and they fish more like a spinner than a fly. While trout do strike the trailing fly with quite some frequency, they were certainly attracted by the spinner and can strike that instead avoiding the hook.
One aspect I do like is how they feature a Colorado blade which allows for extremely slow retrieve speeds. Good choice when the water is still chilly and the trout sluggish.
Joe flies are extremely lightweight and are quite difficult to cast. Due to the lightweight construction, I find they fish best in shallow streams and creeks where longer casts are rarely required. They also quite productive when fished downstream.
9) Rooster Tail
The rooster tail is quite a polarizing spinner. In some regions it is extremely popular, while elsewhere it struggles for much recognition.
It is best known for, and named after the pulsating rooster hackles tied to its hook. Although, dressed hooks are nothing specials and most brands have them available.
The most unique characteristic has to be the willow leaf style blade. Willow leaf blades tend to work best at faster retrieval rates, which makes them less effective at slow retrieves used for trout fishing.
The long willow leaf blade does have a few advantages. The first is that it gives the lure, a longer, more streamline appearance. Resembling an escaping baitfish. Secondly, some anglers claim that the blade is long enough to deflect the lure away from structure reducing the risk of snags.