Largest trout caught on fly (and which fly caught it)
The largest brown trout caught on a fly rod weighed 36′ 6 oz (16.5kg) . It was caught by angler Hans-Peter Schaar in the Möll River Austria. It was caught on a purple lucky diver streamer and was landedthe on 2nd of July 2007.
On a hot day in June, Hans-peter caught a glimpse of a giant trout that rose to inspect the deer hair sedge fly he was fishing. Due to its size Hans-Peter referred to it as looking like a river dolphin.
On the 2nd of July 2017 after finshing work, and despite bad weather Hans-peter had to visit his fish. On that day the Möll river was slightly discolored which Hans-peter believes increased his chances of getting a strike from such a giant.
The trout was caught on an 8wt fly rod, using 20lb tippet. Even with relatively heavy gear, Hans-Peter took the best part of an hour to land his trophy fish. During which it attempted to break him off by running towards a drowned elder tree.
The trout was exhausted due to the length of the fight and died shortly after landing. If you wish to see photos of the trout check this link here.
Based on the trout's coloration, I suspect this monster brown trout was a lake resident fish but must have ventured into the Möll river in search of food. The lake living German brown trout (Salmo trutta lacustris) are known to grow to very large sizes.
The mount of this trophy worthy trout is on display in Ice Cafe where Hans-peter is the proprietor. The Ice Cafe is located near the Wildwasserarena section of the river Möll, which is about a two hour drive from the city of Salzburg, Austria.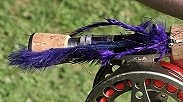 The Lucky Driver Streamer
The world's largest fly caught brown trout took a flexible streamer known as the lucky diver.
This fly no longer exists and has been out of production since around 2010.
The Lucky flies were sold by German fly shop Rudi Heger and were invented by Martin Gerber. They no longer seem to be available and information regarding them is extremely sparse. Although, I was able to find the sale listing for them on an archived copy of the Rudi Heger website.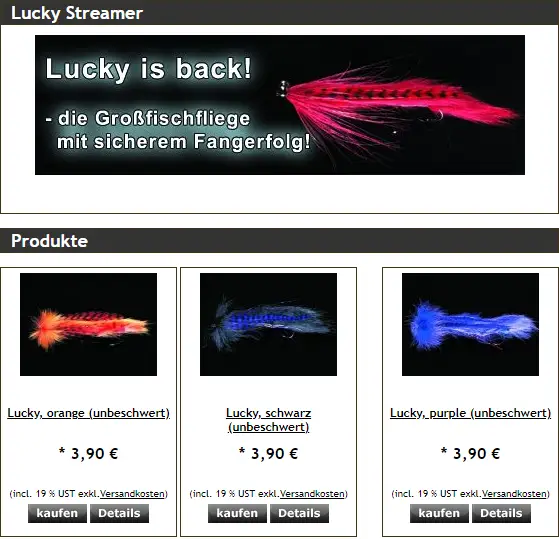 The lucky streamers appear to be an early version of an articulated streamer designed to catch trout, sea run trout, huchen, steelhead, salmon, perch, and pike.
I 'translated' the original product description it goes
"Compared against streamers and salmon flies, whose body length becomes stiffer and less flexible with increasing size due to longer and longer hooks, the bodies of the Lucky is fully flexible, from the eye to the assist hook. It perfectly imitates a fleeing prey fish.
The patented braided connection between the eye, body, and the small, snappy hook not only results in unique mobility but also in a bite-resistant, almost unlimited durability."
How to tie
Complete tieing instructions do not seem to exist, but I have pieced together a basic outline below if anyone wants to attempt one. These are not complete instructions.
The Lucky Sinker Streamer is basically a very long zonker with a marabou head.
Length: 10cm
Hook: 2/0 – 4/0
A piece of braided cord (fireline works) is sewed through a stripe of rabbit fur.
A short shank hook is attached to the cord which sits at the back.
The Lucky sinker is heavily weighted at the front with lead and bell eyes. It can be used for jigging.
Marabou is used for the head.
Summary
When I started searching for the fly which caught the record trout, the last thing I expected was it to be a fly which is now discontinued and nearly impossible to find.
In the sections above, I have included nearly everything I can gather about the lucky diver streamer. This streamer is a large fly, and really only suited for large trout. It is likely too big for the typical river and stream fish.
If anyone has further information feel free to contact me or comment below.
Reference: – (All are in the german)
The entire story of the capture: www.rotauge.at – Berichte – Weltrekordforelle aus der Moell
Archived copy of Rudi Heger webstore: Fly Fishing – Rudi Heger GmbH – Fascination Fly Fishing – Lucky Streamer Lucky, purple (carefree) 51-0540 (archive.org)
Web forum discussing the lucky diver lure: Lucky Diver – Fly Fisherman – Forum (fliegenfischer-forum.de)