Can Trout Survive in Private Ponds?
Trout can survive in private ponds if the conditions are suitable, which means cold, highly oxygenated water. The ideal water temperature is between 34 and 67 degrees Fahrenheit, although trout can survive for short periods in temperatures exceeding 75°F. Much hotter conditions quickly become lethal.
Trout can survive in small ponds, but they require high water quality. Ideally, there should be a natural, cold, and consistent inflow of water from springs or surface runoff.
The NRCS recommends that trout should not be stocked in ponds where the surface temperature exceeds 70°F on all but the hottest summer afternoons.
Even in large, deep ponds, if the water is stagnant and the nutrient loading is high, it is likely that eutrophic conditions will occur, which quickly become lethal for trout and all but the hardiest of fish. One of the biggest enemies of trout in such waters is algae bloom, which can use up the little available oxygen and can produce toxins.
In such ponds, seasonal stockings can be successful, but do not expect any fish to hold over the summer months.
When to stock trout in a pond?
The best time to stock a pond with trout is early in the fall, but after water temperatures have consistently remained below 68°F. This ensures that the trout have sufficient time to acclimate to their new environment before the lean winter months arrive. Fall stockings also give the fish a chance to feed on insects and other aquatic life that are more than during the winter months.
If fall stockings are not feasible, then spring stockings are the next best option. It is best to wait until afternoon water temperatures in still waters reach at least 42°F before stocking in the spring.
Allowing the water to warm up sufficiently, ensures that the trout are less stressed during the transfer process. Spring stockings also give the fish a chance to grow and feed during the summer months when aquatic life is most abundant.
It is important to note that stocking trout in a pond during the summer is generally not recommended. The warmer water temperatures can cause stress to the fish. Additionally, summer stockings can increase the risk of disease and parasites spreading from stocked fish to the existing populations.
How many trout can a small pond sustain?
Natural ponds, with established ecosystems, can typically be expected to provide enough food for between 50-100lb of trout per acre of surface. This is about 30-50 mature fish per acre.
How to improve a pond for trout
– During the warmer months try to maintain a constant inflow of water. Without circulation, the water will quickly become stagnant and might even become eutrophic.
– Construct the pond to have various deep. Deep water for a refuge from the summer heat, and shallower water for foraging.
– A large surface area can improve aeration but encourages evaporation.
– Prevent nutrient rich run-off from entering the pond. Try and divert silt or mud laden water elsewhere. The higher the nutrient loading the more chance of algae blooms occurring.
– Prevent large amounts of leaves from blowing into the lake. Decomposing leaves can further reduce oxygen levels.
– Aerators and fountains can improve oxygen levels in ponds, but they can not lower the temperature. At best it will buy the trout a few more days.
– Wrongly installed aerator can do more harm than good because they can cause mixing between the warm surface layer and cold deep water. Some people choose to only run their aerators at night when temperatures are lower.
– Keep predatory fish such as bass out of the pond. They will outcompete the trout.
Case study: 15 Acre Pond
I want to discuss the experiences a friend of mine had with stocking trout in his large pond.
The Pond
This is an example of trout dying in large ponds if the conditions are not suitable. A family friend constructed a large pond with a surface area of just over 15 acres.
The pond received the majority of its water from a nearby stream during winter floods. It also received some rainwater from small gullies during periods of heavy rain. Conditions in the stream are cool enough to support wild trout populations.
Half of the total pond area was shallow flats, with the remainder over 20ft deep. It was nicely landscaped with trees and reed-covered islands. Several forage fish species were also in the lake; they introduced themselves during the filling and were in abundance.
The primary purpose of the pond was as a source of emergency water for frost control and fire fighting. But at the same time, it was designed to be environmentally friendly for wildlife. It had a compact clay-lined floor, rather than high-density polyethylene plastic.
This is an example of trout dying in large ponds if the conditions are not suitable. A family friend constructed a large pond with a surface area of just over 15 acres.
The Stocking
All things considered, the pond had some potential as a trout pond, and the staff at the local Fish and Game thought it was worth a shot due to its size. They decided to stock it with some excess juvenile king salmon and rescued wild brown trout. In exchange for the fish, the owner had to provide public access (although it was never advertised).
The trout and salmon survived the introduction, and trout were occasionally spotted cruising the shallows and feeding on hatches in the evening. The salmon disappeared to the depths of the pond and were rarely seen. During the spring, a few trout were even caught by anglers
The outcome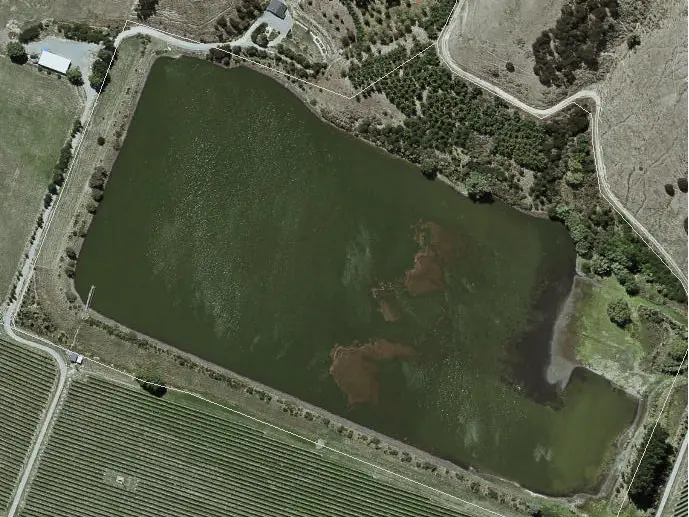 Spring, changed into summer and the days grew warmer and with no inflow, the water temperature started to rise. This in turn caused the algae population to bloom and the clear pond water turned a greenish-brown. Shortly afterward, the salmon, all slightly larger returned to the surface in a mass die-off.
The brown trout held on for longer, but they eventually started to disappear. After the first summer, no trout were seen in the pond. It received no further stockings and is now home to ducks and bait fish.
A combination of several factors contributed to the die off but it mostly comes down to the stagnant nature of the water. There was simply not enough circulation, and the wind, water plants could not replenish oxygen levels fast enough to counteract the effects of the warming temperatures. The algae bloom was potentially the last straw.
What to do if the trout are dying in a small pond?
Other than praying for cold rain and cooler temperatures there are not many options available when trying to save trout in a pond that's not suitable for their survival. However, there are a few things that can be done to try and improve their chances.
It might be possible to capture the trout and relocate them to a more suitable habitat. But transporting live fish without a permit is illegal in many states. Also, catching trout in a pond is easier said than done. Additionally, catching trout in a pond is not an easy task as they are fast swimmers and can easily outmaneuver a slow-moving net.
Another option is to try and lower the temperature of the water. Again, easier said than done. This can be done in several ways, such as by increasing the inflow of cooler water or by increasing shade.
I sometimes just leave a hose flowing into my pond during the hottest days of summer. If the water is coming from a bore or town supply, it is a good idea to aerate it to try and lift oxygen levels.
A longer term solution will be to try and increase shading, either from tall trees or shade cloth. Increasing shade not only reduces the surface temperature by a few degrees it also reduces the growth rate of algae and pond weeds.
Finally, deeper ponds typically stay cooler than shallow ponds. So, digging it out deeper can increase the chances of trout finding refuge towards the bottom of the pool.
Can trout spawn in ponds?
I have discussed this topic in more detail elsewhere. The short answer is that trout do not usually spawn in ponds because they require clean gravel and oxygen rich moving water. These conditions do not usually exist.
Now, if desperate, trout can and do find ways to spawn, but for successful hatching, the eggs still require clean gravel and extremely oxygenated water.
Trout have been known to spawn around powerful subaquatic springs which provide suitable conditions, occasionally in lakes trout have been known to spawn on the gravelly shorelines where there is a lot of wave action. I do not believe ponds are ever large enough to provide for such conditions.