Is It Worth Bringing a Fly Rod to Jeju Island?
This website normally covers trout fishing, but in some places like Jeju Island, there is no trout, making saltwater flyfishing the best alternative.
Jeju is a volcanic island located around 100km (60 miles) south of the Korean Peninsula. Jeju is a popular vacationing destination, which combines Korean culture with a more relaxing island lifestyle. A nice break from the hustle and bustle of Seoul.
Korean and the local dialect are widely spoken, but it is possible to get by with only English.
In many ways, Jeju reminds me of Maui Island, Hawaii. Both islands are heavily influenced by their fairly recent volcanic activity, and there is plenty of black volcanic rocks, as well as white sand beaches. The middle of both islands is dominated by large volcanoes. With the 1947m tall Hallasan towering over Jeju and the 3055m tall Haleakalā dominating Maui.
Climate wise, Jeju is more diverse than Hawaii. While the summers are as hot and humid as any tropical beach destitutions. The winters are cold, windy, and dump. The slopes of Hallasan see frequent snow from November and during particularly cold periods it can reach lower elevations.
When I was there in June, the humidity made it extremely uncomfortable to wear typical nylon base fly fishing clothing. Short, and T-shirts were much more comfortable than long sleeves.
We were there towards the end of the Monsoon season, and the weather was very variable. There were strong wind and rain at one destination, but a few miles down the road it will be sunny and relatively calm. The only constant was the unrelenting humidity. Jeju is an island, the weather can be hard to predict.
The cost of travel on Jeju is comparable to mainland Korea, once flights are accounted for. It is quite a bit cheaper than a Hawaii vacation. Korean cuisine dominates the menus on the island, but with a little effort, a wide selection of international cuisines can be found.
Fishing on Jeju
Before my second trip to Jeju, I asked myself if I should bring my fly rod? If you search the internet, chances are you will find nothing about fly fishing on Jeju island. Sure, there is a fishing industry, and shore based angling is popular but Jeju is certainly not a recognized saltwater fly destination.
I will briefly cover freshwater fishing, there is not much. Jeju has a few small rivers, but they are mostly seasonal. Assumingly only flowing after heavy downpours and from snow melt in the spring.
It is safe to say, that river fishing in Jeju is nearly non-existent. There are a couple of small lakes/ reservoirs on Jeju, and by all reports, they do contain Bass, and probably carp. Because freshwater fishing is very limited on Jeju. The focus of this article will be on saltwater fly.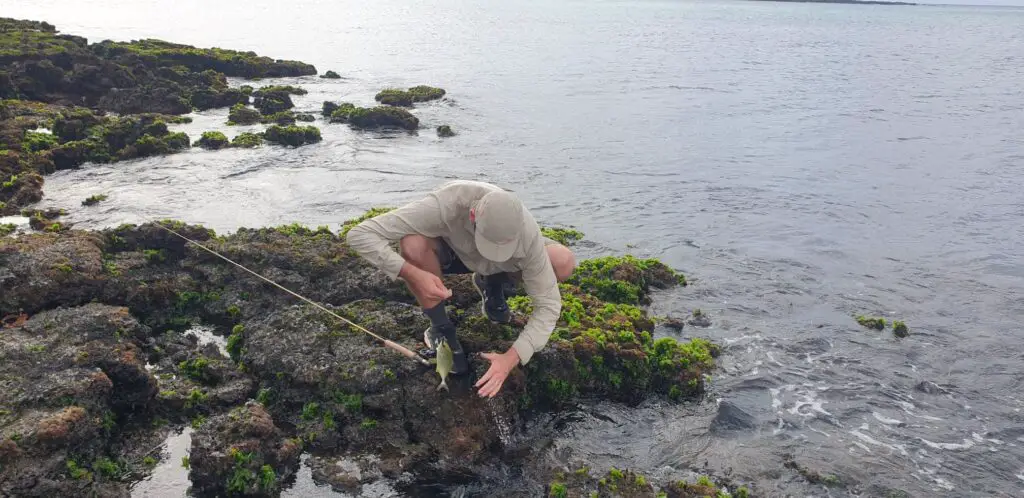 So, is saltwater fly fishing worth it?
While on Jeju I was able to find the time, to spend a few hours saltwater fly fishing, and while I will not travel to Jeju just for the fly fishing. If you already have a vacation planned, fly fishing from the shore is a relaxing way to spend a few hours. I also have the feeling I am only scratching the surface of what the island has to offer.
The coastal waters seem to be fairly rich in small reef fish, some of which aggressively attack flies. I went snorkeling, and in some places, I saw hundreds of fish. I was surprised by the richness of species because there is a lot of commercial fishing pressure.
If you want to target larger species, then it is certainly possible to catch pacific sea bass off rocky point. Lure fishermen typically target them with 20lb leaders.
Some locals swim across to rocky outcrops, through breaking surf, to lure fish for the hard fighting "Jeju perch" at night. Apparently, the largest specimens are nocturnal and usually feed within the breaking surf off rocky points and outcrops. I was not brave enough to swim through breaking surf at night to fly fish.
If I had more time, I personally will concentrate my fishing on some of the offshore islands. There the water seems to be deeper and clearer, although the points are probably even more popular with visiting fishermen.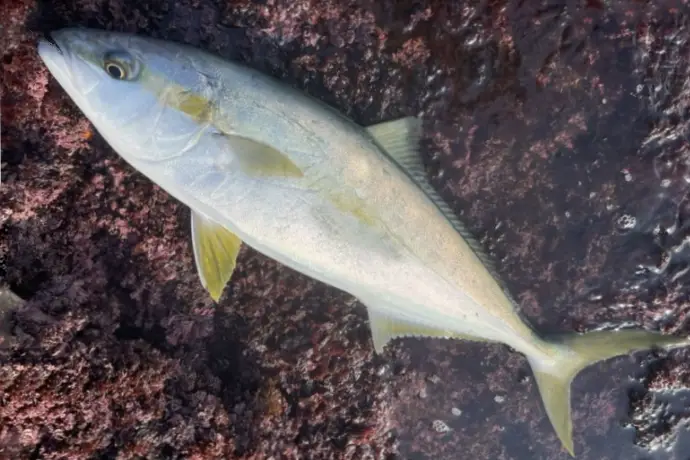 Are there bonefish around Jeju?
Two species Bonefish (Albula koreana and Albula argentea) do exist around the coast of Korea, they grow upto 10kg. I was not able to catch any nor do I know how abundant they are.
Despite my best efforts, I was not able to find much information on people fishing for them around Korea.