Penn Battle III vs Daiwa BG
Welcome to my review comparing two of the best metal body spinning reels that are available in sizes suitable for trout and steelhead.
In this review, for the most part, I will be comparing the smallest sizes, these being the Penn Battle III 1000 and the Daiwa BG BG1500. While the emphasis, is on the ultralight end of the model range, what I write should broadly apply to the rest of the range including the larger sizes.
I will start by saying, there is not much that separates these two reels. I consider them to be both excellent and worthy of consideration.
History of the two reels
First, a little history, the Penn Battle III is the third generation of the Battle lineup of reels, over its predecessor the Battle II is more evolutionary than revolutionary. The main difference is one that does not appear on state sheets, it is a greatly improved line lay. This means, when used as a casting reel it is much less prone to line twisting and throwing wind knots. The Battle III is a much better reel than the earlier generations.
The Daiwa BG was released in 2016, and there have been several generations since then. The BG was a replacement for the iconic Daiwa Black Gold spinning reel. The Black Gold was an absolute workhorse of a reel, nearly indestructible but lacking in refinement and finesse. The BG is a much more modern reel, while still a solidly built reel, the designers have placed a lot more emphasis on refinement and performance. In many ways, it is a nicer reel, but it lacks the rugged simplicity of its predecessor.
| | | |
| --- | --- | --- |
| | Penn Battle III 1000 | Daiwa BG 1500 |
| Bearings | 5+1 | 6+1 |
| Gear ratio | 5.2:1 | 5.6: 1 |
| Weight | 7.8oz | 8.5oz |
| Drag | 9lb | 4.4lb |
| Line capacity (mono) | 4/135, 6/105 | 4/155, 6/100 |
| RRP | $119.95 | $119.99 |
Comparing the Penn Battle III and the Daiwa BG
How do they perform for trout and steelhead?
Call me old fashion, but I prefer the feel of metal body reels more than carbon.
As trout reels go, they are both a touch heavy, but I like to fish these reels with longer rods where the extra weight does a nice job of balancing out the length of the rod.
I also often use my Battle III as a trolling reel, it has a nice loud clicker and because it spends most of the day in a rod holder, the extra weight does not really matter.
I also like how both reels can handle inshore saltwater use, if I decide to fish a river bar for returning salmon or sea-run trout I have less to worry about. I also know the reels are built tough enough if I were to hook into something unexpected.
Once while retrieving lures with my BG I foul hooked a large ray, it took off like an underwater bulldozer and I was surprised my drag was not smoking by the end of the first run. I fought that fish for the best part of 20 minutes before getting it in close enough to cut the line. I would not want to fight such a fish regularly, but the reel did not miss a bet.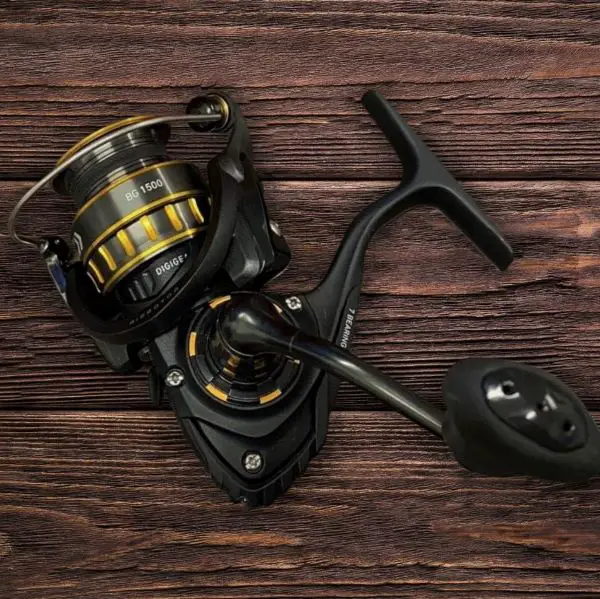 What are the main differences?
I will start by discussing the specifications.
The Penn Battle III on paper looks like a clear winner. Not only is it lighter, but it offers more drag. (Although keep in mind, a higher number is not always better. 9Lb of drag is of dubious benefit when fishing 4 or 6lb line)
At a glance, the official line capacity numbers seem a bit funny. The Battle has less 4lb but more 6lb capacity than the BG. I suspect this is due to using different diameter line in their testing.
In reality, both reels offer very comparable capacity. If you want even more capacity, the Daiwa BG 2000 exists which is the same frame and gearing but with a deeper spool allowing it to hold more line.
Performance
The Daiwa feels smoother. Almost no resistance on the retrieve. The Penn has a slightly heavier retrieve, just a touch more resistance to it. Certainly not a deal breaker and the differences are not noticeable when actually fishing.
For years, Penn had terrible line lay, but with the Battle III this has been fixed and it is now on par with the Daiwa BG. I have no complaints regarding either reel.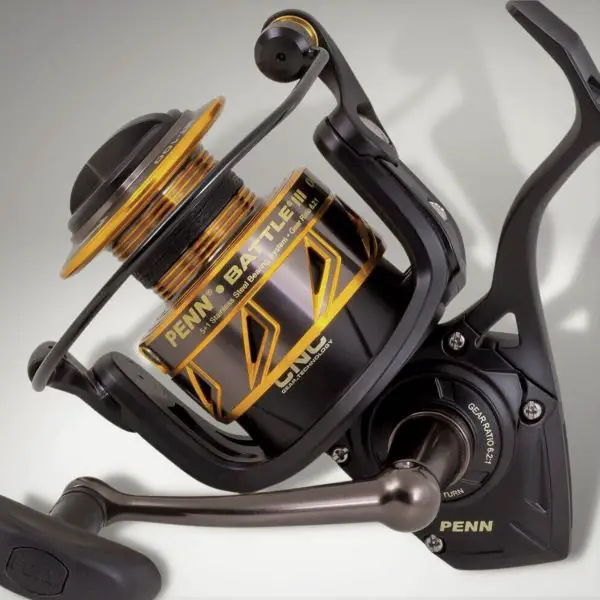 Which is the most durable
In my testing, both reels have been flawless, but I have heard a few stories from other fishermen.
The only widespread complaint regarding the BG is to do with the anti-reverse mechanism either seizing or slipping. I have not had this problem with my test reel, and unsure just how common it is. But the parts are replaceable.
I also know of one example of the BG drive shaft becoming bent, and I honestly can not imagine how this can happen unless the owner was absolutely abusing it with some serious winching.
I have not heard of any common reliability issues with the Battle III. Although, based on my experience with other Penn reels, their metallurgy does not seem to be the best with gearing or handles potentially snapping after several years of use. This will be less of an issue if kept away from the salt.
Bearings
I find bearings kinda boring to discuss, but other people seem to love having heaps of them in their reels. The BG has one additional bearing.
The BG uses shielded Minebea bearings that are made in Thailand, these are the same bearings that Daiwa uses in their premium reels.
Penn uses sealed Shanghai Mos Precision bearings, they are cheaper and considered to have lower tolerances.
While the Penn uses sealed bearings which potentially will make them slightly more durable. Daiwa's marketing does claim their bearings are corrosion resistant, but such a claim can be made for almost any material used in fishing reels.
In either case, replacement bearings are cheap and fairly easy to replace for anyone experienced with servicing reels.
Drag
Drags are much more interesting to discuss than bearings.
The Battle uses their capable, and very widespread HT-100 drag system that used a carbon washer. It is a fine drag system that I rate highly, although I find it is a bit overkill for most freshwater applications.
The BG uses a heavily greased drag washer which Daiwa labels "Daiwa's Automatic Tournament Drag". It is extremely smooth, and fast. Overall a good drag system. For trout, I always favor a smooth drag over a powerful one, so for trout I give a slight edge to the Daiwa. But for heavier applications where more drag power is required, it is basically a tie between the two reels.
Frame
Both frames are very rigid, and durable and contain basically no flex. I doubt either will cause any problems unless the reels are mistreated or fished outside their line specifications.
Both frames are made from Aluminium which is slightly heavier than carbon, and less corrosion resistant. But it is metal, rather than fancy plastic. Which makes it more impact resistant.
Gearing
Both reels feature well designed gearing.
Performance, and smoothness
The Daiwa BG features a very large cast zinc alloy main gear, I believe it is also machined for extra precision. Brass pinion gear
The Penn battle III main gear is smaller but is machined from solid aluminum. So, slightly higher quality.
I really do not have any complaints about the gearing either. The Penn, main gear is likely more corrosion-resistant for saltwater use.
Summary? Is the Daiwa BG or Penn Battle III better?
I have to come to some type of conclusion, I like both reels. My heart and personal bias favor the Daiwa BG but that is mostly based on past preferences.
On paper, and based on the quality of the material and machining. I actually feel like the Penn Battle III is the better-made reel. It is also just under an ounce lighter, while still heavy, it does balance better with ultralight rods.
Any other options?
Will, for $80 more the Shimano Stradic is a legendary metal body reel that I only have praise for. The 1000 size also weighs in at only 6.5oz. If budget was not a consideration, I personally will get a Stradic.
If you do not care for metal body reels then there is plenty of options. The Shimano Sedona/Sahara are both excellent, consider the Nasci for saltwater use. While the Daiwa Regal LT offers excellent value in a lightweight body. I have reviewed most of the above reels in my buyers guide here.