"Top 12 Trout Spinning Reels: Tried and Tested Recommendations"
Best Trout Reels, updated June 2023
Throughout numerous fishing seasons, both myself and fellow contributors on this page have extensively tested and reviewed a wide range of spinning reels from leading manufacturers. After carefully evaluating all the reels we've used, I have handpicked the top 12 spinning reels that, in my opinion, offer exceptional value compared to their competitors. Choosing these reels was no simple feat, given the overwhelming variety of options currently available in the market.
Recognizing that this page has grown significantly in length, I have taken the initiative to address this concern. In the following section, I have provided concise summaries highlighting the key distinctions and reasons behind my preference for one reel over another. Additionally, for those seeking more comprehensive feedback, I have conveniently included direct links to the respective reviews.
Best Budget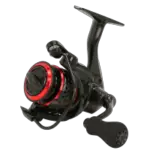 Okuma Ceymar C10
---
Weighs just 6oz
Uniform line lay
Smooth multi-disc felt drag
Best Value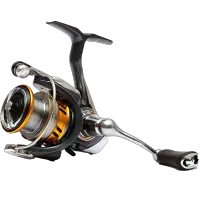 Daiwa Regal LT 1000D
---
Class-leading casting distance
Full carbon frame
Excellent line lay
Editors Choice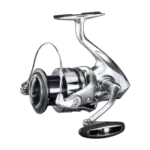 Shimano Stradic FL 1000
---
Weighs 5.4oz
Lightweight metal frame
Unbeatable durability
The four factors which I rate most highly in a spinning reel include
Long term durability ( Trout fishing is tough on gear)
Smoothness and rigidity under load (No flex in the frame)
Uniform and even line management. (Reduces the occurrence of line twists, wind knots and improves casting distance.)
Light Weight. (A properly balance combo is less tiring to use and more sensitive)
---
Best Value for Money Ultra Light Spinning Reel
Sub $50 price budget
Quality is very mixed in the under $50 price bracket, and thanks to inflation $50 does not go as far as it once did. Believe it or not, just a few years back some of these reels could have been gotten for under $30.
With that said, there are still some honest quality spinning reels available for less than the cost of a tank of gas.
For under $50, the three reels that I rate most highly are the Okuma Ceymar, the Shimano FX, and the Penn Pursuit.
Out of these three, my personal pick is the Okuma Ceymar. (review). The Ceymar offers a lot of features and quality for the money but what sets it apart from the competition is its weight. The C-10 size weighs just 6oz.
The Shimano Sienna or even the Daiwa Crossfire offers better durability but weigh considerably more. They are still worth considering if you need to balance out a longer or heavier rod. In most trout fishing situations, a lighter reel makes for a more balanced and nicer performing combo. (I have compared the Crossfire and Sienna head-to-head here)
To round out the sub $50 price bracket I have included the Penn Pursuit III. The Penn Pursuit is one of the cheapest reels that comes equipped with a sealed drag carbon fiber drag. The downside is that the Pursuit III is a fairly large and heavy reel. Out of all these budget reels, the Penn Pursuit is best suited for occasional saltwater use. I personally use mine when trolling in estuaries where the weight is negligible.
Sub $100 price bracket
There is a noticeable step up in quality from the cheaper reels. Although, the Okuma Ceymar still competes somewhat in this category. The sub $100 range in my opinion offers the best bang for your buck.
Two ultralight reels really stand out from the crowd. The perennial favorite is the Pflueger President (review) and the just as capable Daiwa Regal LT (Review). Deciding between these two is tough, they both represent excellent value.
If fishing braid, I will go for the Daiwa due to its better line management. But when fishing monofilament, it is difficult not to love the featherlight weight of the President which weighs in at an impressively light 6.2oz.
In 2022 Shimano released the new and improved Shimano Sahara FJ (Review). The Shara FJ is an excellent reel which is now the best trout reel for under $100. It is a touch heavier than the Daiwa or the Pfleuger but it is a much more durable reel with higher-quality gearing. It is also quite a bit more expensive.
Finally, the Penn Battle III (review) deserves a mention. Although, due to inflation it is now above budget. The battle III offers full metal construction and a sealed body. It is heavy (The 1000 size weighs 7.6oz), but no other reel, in this category, features an aluminum body and a sealed carbon drag. (Update: I really should recommend the Penn Fierce III instead, it shares most of the same parts but is significantly cheaper)
The Penn Battle III is also rated for saltwater use making it a good option for targeting trout living in brackish rivers. The extra weight does help to balance out longer rods typically used for catching sea run trout such as Steelhead. The Daiwa BG is a very similar reel, but I have heard many are struggling with damaged anti-reverse bearings in the smaller sizes. Check my head to head comparison here.

Premium Trout Reels
Two brands really dominate the market for more premium reels. These are Shimano and Daiwa. While Abu Garcia, Pflueger, and even Penn have offerings in this price range they simply lack the precise machining to compete. When buying a premium ultralight spinning reel I only consider Shimano or Daiwa.
The best premium trout reel, taking budget into consideration is the Shimano Stradic FL (Jump to review). The Stradic is simply an excellent reel with a full metal body quite impressive considering the 1000 size only weighs 6.5oz. I still fish with a Stradic that I brought in January 2007. It still feels smooth, despite years of abuse. They might cost over $200 but Stradics offers performance and features rivaling the flagship Stella and Exist.
If you prefer a carbon body reel, then look no further than the Shimano Vanford F. It is even lighter than the Stradic. On the hand, it is a seriously smooth and nice operating reel. Check for my review comparing the Stradic with the Vanford.
The Daiwa Luvias LT is an excellent alternative but quite a step up in price over the Vanford.
Finally, I will discuss the flagship offering.
The Stella and Exist are exceptional reels, and they both represent the absolute pinnacle of spin fishing technology but they are overkill when it comes to trout fishing. Neither offer better durability or fish catching ability than the Stradic which only costs a third of the price. The price is really hard to justify.
Spinning Reels, I do not recommend for trout fishing.
In this section, I will provide a brief overview of spinning reels that I strongly advise against using when targeting trout. Please note that this is not an exhaustive list, but rather a selection of reels that are not well-suited for trout fishing or have been surpassed by superior models.
Penn Battle II: While the Penn Battle II has some positive aspects, it falls short in terms of line lay, making it unsuitable for trout fishing. If you're considering a Penn Battle reel, I recommend investing a little more for the significantly improved Battle III model.
Daiwa Revros: As the most affordable reel in Daiwa's "regal" family of spinning reels, the Revros lacks an essential pinion gear bearing found in its superior counterparts. This omission negatively impacts longevity and performance. I suggest spending a bit extra to acquire a Daiwa Regal, Exceller, or Legalis reel instead.
Spinning reels from Kingkast, Piscifun, Aliexpress: During your online reel search, you might come across brands like Kingkast, Piscifun, and Aliexpress. While these reels may boast thousands of reviews, it's important to be cautious as these brands heavily incentivize reviews. Despite their appealing specifications and flashy marketing campaigns, they suffer from subpar quality control and questionable durability. Feel free to read my review of the Kastking Sharky reel for further details.
Sadly, spinning reels marketed specifically for children often tend to lack the quality required to be useful tools for the next generation to learn to fish with. While these reels may appear appealing due to their child-friendly designs and branding, they typically fall short in terms of durability and overall functionality.
It's crucial to make informed decisions when selecting spinning reels for trout fishing, and avoiding these particular models will help ensure a more successful and enjoyable angling experience.
Best Trout Spinning Reels for Under $50
What are the best spinning reels for trout fishing when on a budget? in this section, we will discuss the best value spinning reels currently available. For more ways to save money when trout fishing check here.
---
Best Budget: Shimano Sienna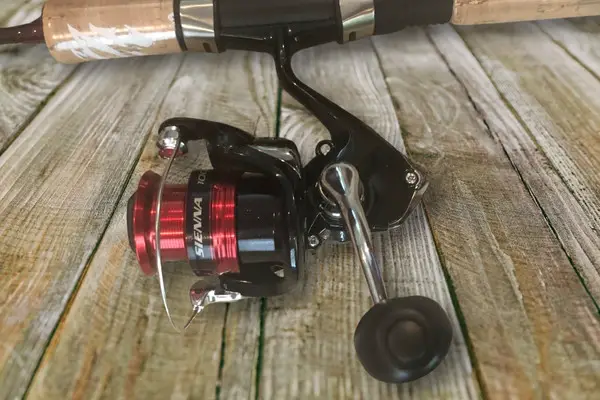 The Shimano Sienna is a dependable affordable spinning reel for trout fishing. I happily recommend it to any angler on a tight budget.
While the Sienna might lack the flashy visual appeal of the competition, its internals shares many of the technologies found in Shimano's premium models. I have more confidence in Shimano reels lasting than any other brand.
Note: The Shimano FX and Shimano Sienna are basically the same reel. Other than color, the main difference is that the Sienna has an additional ball bearing. We suggest purchasing whichever is the cheapest. Recently due to stock shortages, I have often found the Sienna for cheaper than the FX.
The Shimano Sienna is one of Shimano's cheapest reels, and there is no denying that Shimano has cut some corners. But overall it is is still a highly capable reel that still represents value at its price point.
Shimano spent the money where it matters. Like the quality and tight tolerances within the gearing. So despite only having three ball bearings, it still feels smooth, and unlike some of the competition that smoothness is unlikely to diminish after a few weeks on the water.
The frame is made out of some sort of composite material which feels a bit like plastic. In saying that, on the 2000 size reel the frame experiences no flex or bending even at maximum drag pressure.
The 3+1 Bearings are surprisingly good quality, they are the same ones that Shimano uses in the midrange Sahara and maybe even more premium models. Unlike some other brands in this price range, Shimano did not cut corners by using crappy quality bearings.
The 7lb of drag is smooth, and I never had it seize or become jerky. On ultralight reels, I actually prefer felt drags over the more pricy carbon.
My first dedicated spinning reel for trout fishing was an earlier generation of the Shimano Sienna line. The name was slightly different but the fundamentals have not changed. It still fishes and cast fine even after 15 years. Maybe I was lucky, and in recent years it only saw light use but for any reel to last that long is an indicator of underlying quality.
My 15 year old Sienna predecessor has held up well. The frame shows no signs of weakening or becoming brittle with age. There is wear, and the font is hard to read but structurally it is fine.
Today I mostly use it as a loan reel, my little FG is still up to the task. It casts, winds, and lands fish without breaking. I can not expect more from an entry level reel. It has never given me any problems. Over the years Shimano Sienna has not changed much with this line of reels and the 2021 model seems might even be better built.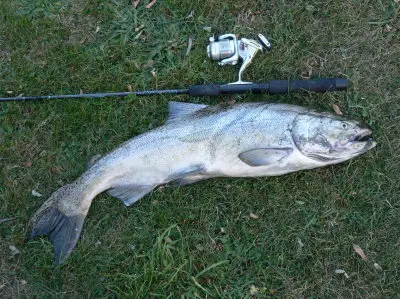 These entry levels Shimano's have not only proven themselves to me, but also to many other fishermen to be a reliable and durable reel. On mine, I have caught many trout and even a rather unexpected salmon. Once or twice, I even took it to the beach and slain saltwater pelagics. Not bad for a 2500 size reel spooled with 6lb monofilament.
Unlike most manufacturers, Shimano still makes their affordable reels in their own factories. The Sienna is made in their Malaysian factory. They have not outsourced it to some nameless Chinese OEM. Shimano as the world's forefront manufacturer of fishing reels they have a reputation to uphold. Their high standards even apply to their entry level reels.
Want to know how the Shimano Sienna (or FX) compares with the Daiwa Crossfire?, Check out my comparison here. To save time, I favor the Sienna due to its lighter weight and larger capacity, but the Daiwa Crossfire has slightly higher build quality.
Size and specifications
The Sienna comes in 8 sizes. Four of which are well suited for trout spinning, SN500FG, SN1000FG, SN2000FG, and the high speed SN2500FG (There is also a high speed version of the 2500).
The sizes and capacities are
SN500FG 60yds of 6lb mono (weighs 6.3)
The 500 size is rather small but still well suitable for catching stock and stream trout. Also a good size for ice fishing. Due to the small diameter of the spool, expect slightly more line twist than the larger sizes.
SN1000FG: 110yds of 6lb mono (Weighs 7.20oz)
The Sienna 1000 size offers plenty of capacity when spooled with 4 or 6lb line. It is well suited for most size trout and perfect for the stock lake. Despite its extra weight, I do favor this size over the 500. The larger spool similar results in less line twist and improved line lay.
SN2000FG 165 yards of 6lb mono, (weighing 8.8oz)
A good general-purpose size for all trout fishing. Although the body is the same as on the 2500.
SN2500FG 200 yards of 6lb mono, (weighing 8.8oz)
The 2000 and the 2500 models share the same frame but the 2500 has a higher capacity spool, allowing for more line storage and slightly higher line retrieval. The larger spool also improves line lay and reduces memory.
The shallow spool on the 2000FC is popular to use with braid because it takes less line to full it to capacity.
The 2000 or 2500 is a good general purpose size that is suitable for targeting brown, rainbow and larger brook trout. I personally use 6lb monofilament or 8lb fireline on my 2500 size reel.
If you are planning on targeting Steelheads, monstrous Brown trout or lake trout then the Shimano 4000 size reels are worth considering. These large sizes are typically too big for typical spin fishing.
---
Best Budget Ultra Light: Okuma Ceymar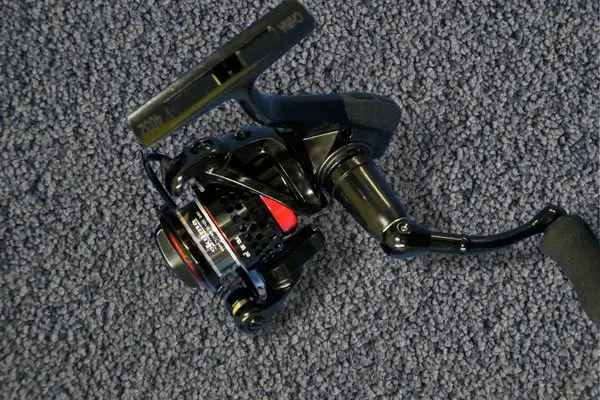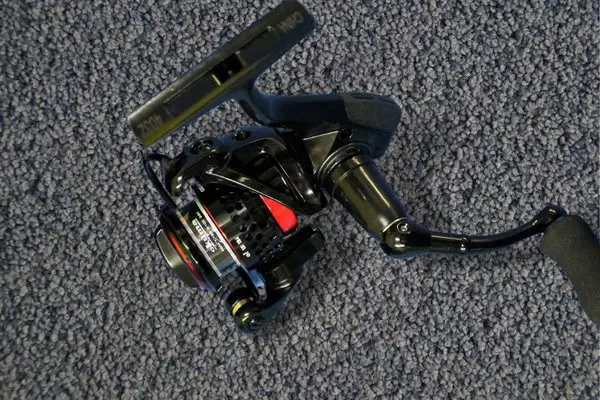 We rate the Okuma Ceymar as the best budget ultralight spinning reels for trout fishing.
It weighs in at only 6oz, which is significantly lighter than the Shimano FX, Daiwa Crossfire, and Penn Pursuit. This is a true ultralight reel for under $50.
I never use to like Okuma reels. I kept brushing off recommendations I hear from my mates and for a long time considered them just another budget brand from east Asia.
I admit I was wrong. Okuma makes some very nice reels. They are no longer just a manufacturer of low quality entry level reels. They have grown to become one of the largest manufacturers of reels, and they still control their own production.
Their quality is even approaching that and sometimes surpassing the industry heavyweights of Shimano and Daiwa.
The Okuma Ceymar impresses me. Upon taking it from the box my first impression was of the striking design which belies its low price. It does not actually feel cheap.
The build quality of the Ceymar is solid. The finish is bright, and the underlying graphite frame offers good rigidity. Very little flex is present in the handle and rotor.
It comes equipped with six ball bearings and one roller bearing, the Ceymar is remarkably smooth considering its entry level price tag. These all contribute to the reel outperforming its price tag.
Like most reels, the Ceymar comes with a machined anodized aluminum spool.
The Ceymar comes with a brass pinion gear. Much better than the Zinc Alloy gearing usually found in this range. Brass is a harder metal so should prolong the life of the reel. Most budget reels only use Zinc Alloy gearing including the offerings from Shimnao's and Daiwa.
With regards to pricing. The Ceymar costs close to $20 more than the Shimano Sienna above. The extra money gets you a true lightweight reel that weighs around 6oz. This means the Ceymar feels much better when used with a ultralight trout rods than the much heavier Shimano FX, Sienna or Daiwa Crossfire.
I do not own a Ceymar myself, but I did quite frequently borrow my mate's reel while writing this review. He has fished his Ceymar hard for nearly 9 months and it still feels like new. I was pleasantly impressed that even after months of use the retrieve was still smooth and the drag free of stickiness.
Don,t just take my word for it. The Ceymar has been widely applauded by both reviewers and fishermen alike. It is widely recognized for its great value for money. Okuma with their Ceymar has gained the reputation as one of the best, if not the best budget friendly spinning reels.
Sizes and specifications
The Okuma Ceymar is available in a range of sizes suitable for trout fishing. The C-10 is tiny, and a delight to use on any ultralight setup, weighing in at only 6oz and with a capacity of 70 yards of 6lb monofilament it is ideal for pulling in panfish or small brookies. Such a
Both the C-20 and the C-30 sizes offer increased line capacity; and more drag. Making them suitable for targeting larger trout or for when more line capacity is required.
C-10 70 yards of 6lb weighing 6oz 5lb of drag
c-20 120 yards of 6lb weighing 6.8oz 6lb of drag
c-30 200 yards of 6lb weighing 8.2oz 13lb of drag
The C-30 is comparable in size to the Shimano 2500, and is a good size to catch medium size trout.
---
Penn Pursuit III Review
Best budget spinning reel for estuarine trout fishing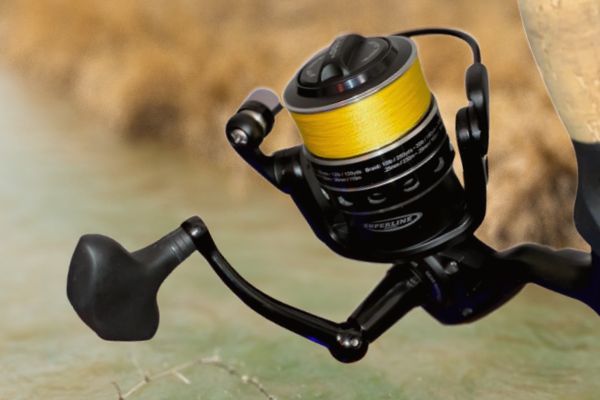 The Penn Pursuit III is a great budget reel, but it is only suitable for larger trout. If you are after a reel for stream fish you can skip this review, but if you are after a reel for steelheads, sea run trout or even large lake trout then this might just be the reel for you.
Update: Penn has released the Pursuit IV, it is a very similar reel sharing most of the same parts including the gearing. Based on the schematics, the main changes seem to be in the frame, ball bearings, and the bailwire. Due to the similarities, at this time I have decided not to review it.
The solidly built Penn Pursuit III is excellent value and brings many features and technologies normally exclusive to more expensive reels such as HT-100 carbon fiber drag washers and a sealed drag.
Internally, the Pursuit III shares many parts with its more expensive brother the Battle III. The main difference is that the Pursuit III has a graphite body while the Battle's body is metal. The Battle III is also available in a couple of smaller sizes making it more suitable for trout fishing.
While I will not go as far to claim this reel is waterproof. It is certainly a lot more water resistant than the other reels in its price range. It is a good choice for fishing from kayaks or other small boats where the reel might get wet.
Line management
Line lay is decent for the most part and seems to have improved over the older models. I have no complaints.
The Penn Pursuit III comes with a superline compatible aluminum spool which is designed to eliminate line slippage when using braid. It works, but I still recommend using a monofilament backer just as insurance and to greatly reduce the amount of braid it takes to load the reel.
Smoothness and bearings
To further add to its robust reputation, the 5 Stainless steel ball bearings which are shielded. They are not sealed, you will need to pay for the Battle III to get that feature. In saying that the bearings are still good quality.
Like most modern reels, the Penn Pursuit III feels smooth. The graphite frame is built around is rigid and I experience no flex even when I tighten the drag up to max.
How is the drag?
Speaking of drag, the Penn Pursuit III has 10lb of drag and carbon fiber drag washers. I usually prefer felt washers on trout reels, but Penns drag was smooth and I had no issues with Penns HT-100 drag system. I will add, that 10lb of drag is too much for most trout fishing situations, but it is there if you need it.
The HT-100 drag is sealed. I have fished with Penn reels with comparable sealed drags for many years from my fishing Kayaks and they held up well to that hostile testing environment. The HT-100 drag Penn uses is a good one.
While the Penn Pursuit III is rated for saltwater use I still advise rinsing it down with fresh water after use in the sea. The Penn Pursuit III is my budget reel pick to use in estuarine or marine environments. Great cheap reel for targeting steelhead or even salmon.
The saltwater rating is achieved thanks to its sealed drag, 5 stainless steel ball bearings, and a strong yet lightweight graphite body.
Size and specifications
If there was one criticism, is that the smallest Penn Pursuit III model is the PURIII2500 and with a line capacity of 255yds of 6lb monofilament, and weighing a relatively hefty 9.8oz it is getting a bit too large for smaller trout and more finesse styles of fishing, but for anglers targeting lake trout, steelhead or trophy browns then it will do nicely.
For a dedicated Lake trout, steelhead, or the monstrous browns which inhabit some tailwater then the PURIII3000 model is worth considering.
---
Best mid-price ultralight reel: Pflueger President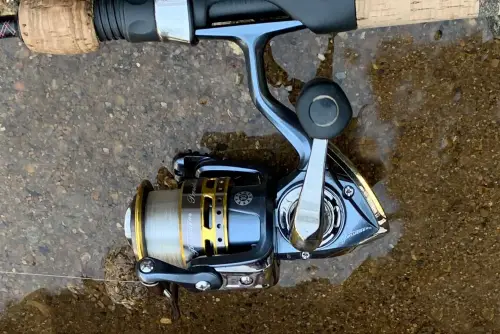 The Pflueger President 25x is one of the best ultralight trout reels on the market. It is well built and very smooth. If you are looking for a well proven lightweight spinning reel for trout fishing it is hard to beat. I will discuss it more later in the review, but I suggest avoiding the tiny 20x for trout fishing.
I can still remember the first time I picked up and played with a Pflueger President spinning reel. It was on the display shelf of my local tackle shop. At the time I was not familiar with the brand, so was immediately surprised by just how smooth and free running it was.
Pflueger president reels are one of the most commonly fished reels on North American rivers. It is also a popular choice among fishing guides. I see a lot of them wherever I trout fish.
My first impression of the President was its surprising smoothness and lightness. This is because of its strong yet light graphite frame, stainless steel gearing, and up to 10 bearings. This results in a smooth-performing reel cast after cast.

The drag is strong and consistently smooth. Nicely tuned for fishing 4lb or 6lb line. It is everything I want in a trout reel.
Time to discuss the 20x, firstly it weighs only 6.2oz which is impressively light. But, it does not seem to be built to the same standards as the larger size presidents. It simply feels like a cheaper reel, and I even heard of a few cases of the gears getting stripped. If you are on a budget but want an extremely lightweight spinning reel I suggest going for the Okumas Ceymar instead. They weigh about the same but are much better built.
While the 20x might be a winner in terms of weight, the slightly larger 25x is actually a much nicer reel to fish with. The slightly larger spool helps to keep line twist under control and it does feel smoother. The extra ball bearings might be helping. It does weigh 7.5oz so there is a price to pay when it comes to weight but you are getting a much more durable reel.
The Pflueger President is high on quality, but not on price. The president deserves its reputation for quality, reliability and overall dependability.
It is widely regarded as one of the best freshwater spinning reel for trout fishing. Simply a very nice reel for the money. For a dedicated freshwater trout reel the President is hard to beat even equalling the performance of reels in much higher price brackets.
Sizes and specifications
The Pflueger president comes in a range of sizes, the lightest and smallest of which the 20x weighs only 6.2oz with a capacity of 80yards of 6lb line, good size for small trout and fishing line lighter than 6lb. The 20x is an impressive reel considering its price and weight. It is considerably lighter than the similarly priced Shimano's.
The only downside, with the 20x is that it is a tiny reel, the small diameter spool can result in some quite nasty line twists at times, although jumping up to the slightly larger 25x helps fix that issue.
For typical trout spinning to larger size fish I would look at the 30x, it gives additional capacity to compensate for break-off and has line to spare to outplay even the feistiest of fish.
The 35x or even the 40x again represents a step up in size and capacity. The above sizes are best suited for targeting large trout such as steelheads.
---
Best Trout Spinning Reels for under $100
There is some excellent value for money spinning reels available for under $100. Many experienced anglers consider this price range represents the best compromise between price and quality. Compared with cheaper reels, these reels generally have tighter tolerances and use higher quality components. This results in smoother reels that last longer. Overall they simply feel more refined to use.
Best mid-price ultralight: Daiwa Regal LT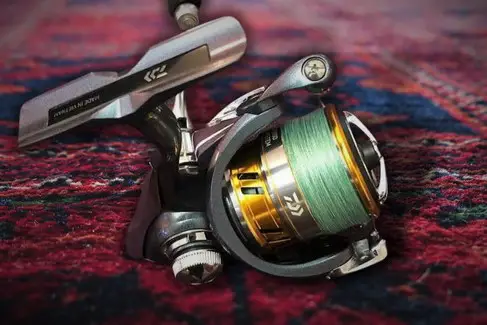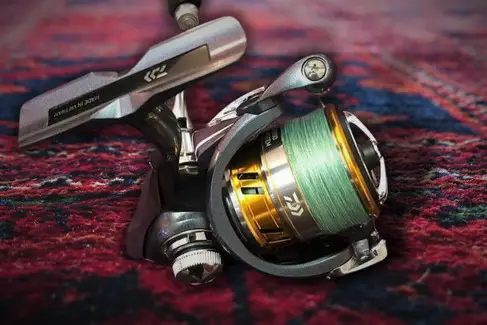 The Daiwa Regal LT is one impressive ultralight spinning reel. It ticks all of the right boxes. I consider it to be the best ultralight spinning reel in its price category and my pick for a sub $100 reel for fishing with braid.
It is extremely lightweight (6.7oz), but built extremely well. The Regal features an oversize spool and combined with its excellent line lay results in the best line management in its class.
I will start by highlighting that the Daiwa Revros, Regal, Exceller, and Legalis are all slight variations of the same reel. There are slight feature differences between them, but in most cases the parts are interchangeable, sometimes a couple of parts need to be moved at once.
The main difference is that the Exceller has a screw-in handle, and the Revros is missing one of the pinion gear bearings. This is a rather important bearing, so out of the four variations, I suggest avoiding the Revros.
Ball Bearings and Smoothness.
The Regal features 9+1 ball bearings, which is a lot. I have said this before in other reviews, and I will say it again now. I struggle to feel much difference in smoothness between a regal and much more expensive reels.
When new most reels, even cheaper ones are smooth. With the right lubricants, even a poorly assembled reel can feel buttery smooth. But, after a few months of use, or under the pressure of a tough fighting fish only well-built reels continue to perform.
The Regal is in the second category. The machining and tolerances are tight, I have confidence that with basic maintenance the Regal will continue to feel smooth even after a considerable amount of use.
Drag
The regal features a felt drag that can apply 11lb of pressure. So far I have not noticed any stickiness or jerkiness in the drag. I have confidence in it.
Felt drags are my preference for trout reels. While not as powerful, I personally find felt drags are smoother than cheap carbon drags. So they remain my preference in ultralight reels.
Now, I find 11lb of drag a little excessive for a reel of this size. The 2000 size regal is designed to be fished with 8lb line, but I suspect most of us will be using 6 or 4lb. So, it has more than enough drag, and I will never have to fully tighten it down.
Line lay
On my reel, the line lay is excellent. The line lays in a sort of crisscross pattern, which works well in preventing the line from digging into itself. This line lay method is generally better for braided line rather than monofilaments.
I will also add, that the regal has an oversized spool for the size of the reel. This is a good thing, a large spool means the line gets wrapped around it less tightly, this, in turn, reduces line twist, and in doing so reduces the chance of wind knots and might even improve casting distance.
Frame
Daiwa has certainly done a great job at saving weight. The 'Carbon light body' certainly feels light in the hand, but at the same time, I could not get it to flex. It is light but still rigid.
Sizes and weight
| | Gear Ratio | Line Per Crank | Weight | Line Capacity | Drag |
| --- | --- | --- | --- | --- | --- |
| RGLT1000D | 5.2 : 1 | 25.5 | 6.7 | 4/250, 6/160, 8/110 | 11 |
| RGLT2000D | 5.2 : 1 | 26.8 | 6.7 | 4/340, 6/220, 8/160 | 11 |
| RGLT2500D | 5.2 : 1 | 29.6 | 7.4 | 8/240, 10/210, 12/160 | 22 |
| RGLT2500D-XH | 6.2 : 1 | 34.5 | 7.4 | 8/240, 10/210, 12/160 | 22 |
The regal comes in several different sizes.
The most interesting for trout anglers will have to be the RGLT1000D or the RGLT2000D. These two sizes share the same body but just feature a different size spool. I personally will recommend the RGLT2000D because the larger spools will result in less line memory.
There is also the RGLT2500D and the RGLT2500D-XH. These larger sizes might be of interest for anyone who primarily targets steelhead or larger fish. The XH is simply the high speed version.


---
Best Durable Budget: Shimano Sahara FJ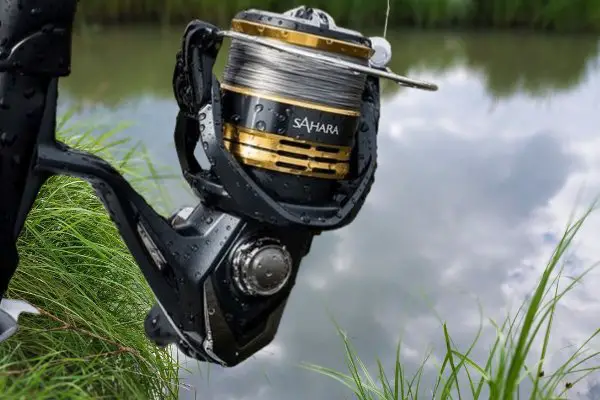 Shimano Sahara FJ
The Shimano Sahara FJ is an upgrade to the Shimano Sahara Fi and it is significantly better than its predecessor. The FJ has improved gearing, a new handle, and a new lighter frame. All things considered, the Sahara FJ is now my first choice for a Sub $100 trout reel.
The release of the Sahara FJ dethroned the Daiwa Regal as the best trout reel for under $100.
The Sahara FJ Features upgraded, machined aluminum gears, that are not only smoother but are more durable than the ones found in the older mode.
Ball Bearings and Smoothness.
The Sahara FJ has 4+1 ball bearings, which is more than enough for a reel in this price bracket because it feels insanely smooth.
I will go as far as saying, that it is smoother than even the Shimano Stradic and Vanford, reels which cost over $200.
The reasons for the smoothness edge over the more premium reels is due to lacking an oscillation worm drive that adds a little resistance to the retrieve. While the worm drive certainly brings other benefits, it does make the reels feel slightly more rough.
Frame and gearing
The Sahara FJ is one solid reel, the frame is carbon and feels very rigid. No risk of the fram flexing when fighting that trout of a lifetime.
Beneath the frame, the Sahara has a black coated machined aluminum main gear. This is the same design as found in the Vanford. Yes, it uses the same gear technology as a $200 reel.
While the main gear is the star, the rest of the gearbox is a bit more mundane featuring a zinc alloy locomotive gear, like in most reels the oscillation gear is brass and the drive shaft is stainless. Not bad for the price bracket.
Drag
The Sahara has a high-quality felt drag offering 7lb of stopping power. More than sufficient for trout.
Line lay
While not quite as good as Shimano's flagship models, the line lay on the Sahara is still very good. I have no complaints.
Sizes and weight
| | Gear Ratio | Line Per Crank | Weight | Line Capacity | Drag |
| --- | --- | --- | --- | --- | --- |
| SH500FJ | 5.0:1 | 27 | 6 | 2/190, 4/100, 6/60 | 7 |
| SH1000FJ | 5.0:1 | 26 | 7.2 | 2/270, 4/160, 6/110 | 7 |
| SH2500FJ | 5.6:1 | 29 | 8.5 | 8/140, 10/120 | 20 |
| SHC3000HGFJ | 6.2:1 | 36 | 8.5 | 6/230, 8/170, 10/140 | 20 |
The 500 size is very lightweight, but is quite a small reel. . It even weighs less than the Pflueger President 20x, and it is a much better-designed reel. Although the President is cheaper. It could be a good option for ice fishing.
The 1000 size is well suited for general trout fishing. It is ever so slightly heavier than the comparable size Daiwa reels.
The 2500 and the 3000 size reels are quite similar, the main difference is the gear ratio and the size of the spool. The 3000HGFJ has a much faster retrieve, so I personally will recommend the 2500 for steelhead fishing.
---
Best Budget Metal Frame Reel: Penn Battle III
The best spinning reel for steelhead trout for under $100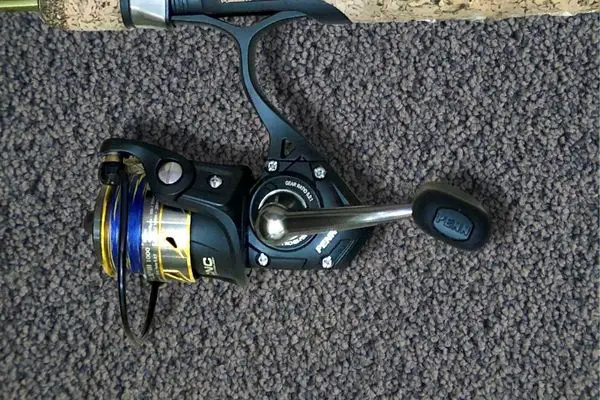 If you are looking for a full metal trout size spinning reel for under $100 look no further. The Penn Battle III has excellent sealing against water intrusion and a carbon fiber drag system. It comes in a range of sizes, but I only consider the 1000 and 2000 sizes suitable if targeting trout.
It is also one of my favorite trout spinning reels while kayak fishing. Do not be tempted to save a few dollars by buying an older Battle II, that generation had issues with line lay which resulted in wind knots. Thankfully Penn seems to have fixed that issue with the 3rd generation of the battle.
(The Penn Fierce III is a very comparable reel to the Battle III and is also worthy of consideration, It is also quite a bit cheaper. I have compared the two reels here)
The Penn Battle III is the second reel from Penn on our list of best spinning reels for trout fishing, and it comes as little surprise based on the Penn pedigree. While the recommended retail price seats just above $100, with discounts and promotions it is usually available for under $100 making it a steal.
This reel has also been widely applauded by reviewers and anglers alike. It shares several features with the $200 Penn Clash such as the HT-100 carbon fiber drag and CNC gear technology. Yes, it shares the same gear technology as Penn's $200 reel.
Ball bearings and smoothness
The Battle III has 5+1 stainless steel ball bearings which are sealed. This is an upgrade over the cheaper reels in the Penn line. Like all modern reels, it does feel smooth. Being a sealed reel, there is slightly more resistance than some of the competition.
Drag
The Penn Battle III Penn uses Penns HT-100 carbon fiber drag system which is known to be powerful, robust, and smooth enough. Even the smallest reel in the Battle line up, the BLTIII1000 has a whooping 9lb of drag. While the 2000 size offers 10lb.
From my experience, I can assure you that the Penn Battle III has more than enough drag. I struggle to see any trout being able to push it to its limits.
I personally do prefer felt drags when fishing ultralight lines, because I feel a well greased felt is the pinnacle of smoothness, but the HT-100 drag is smooth enough.
Line Lay
Good line lay can easily make or break a spinning reel. I am pleased to say, that Penn has done a good job, the line lay is very good and comparable to the likes of Daiwa.
It is a massive improvement over the previous generation Penn Battle II which had some issues which resulted in many fishermen complaining about wind knots.
Construction and durability
Penn reels are designed to survive the harsh marine environment. Which makes them somewhat over-engineered for freshwater fishing. But that is not a bad thing, it just means they are more durable with improved corrosion resistance. Penn, as a company has been making reels since 1932. They have plenty of experience and knowledge to full back on when designing reels to survive the harshness of coastal fishing.
Lets talk about construction and build quality. The Penn Battle III has a full metal body and side plates. I know graphite is lighter and fully corrosion resistant, but there is something a bit more premium feeling and reassuring about a metal frame.
The aluminum frame is treated with a corrosion resistant coating, but it can not work miracles. Like all aluminum reels, the metals will eventually corrode if not rinsed thoroughly after use in saltwater.
Internally, the Battle III uses machine cut aluminum gears which are known to be light and strong. At this price point, many manufacturers are still using zinc alloy gear.
Penn also includes seals on the drag and the handle mount. This helps prevent water from reaching the gearing. Prolonging the reels life and allowing it to remain smooth for longer.
Lastly, I need to add that battle III is braid compatible. With a Superline compatible spool and line roller.
Where do I use my Penn Battle III?
While it works perfectly fine for general river and stream fishing. There are two main areas I like using my Penn Battle III.
The first is while kayaking fishing. Anyone who paddles knows that water gets everywhere. Luckily, the sealed drag helps prevent water from entering the reel helping protect the gear.
I also spend a lot of time trolling, so I am not holding the reel. So the increased weight of the metal frame is barely noticeable.
I also use it when fishing at the mouths of rivers in the surf. Mostly for chasing sea run brown trout, steelhead, or salmon. When fishing the surf I like to have a powerful reel because there is always the chance of hooking a saltwater pelagic.
Sizes and specifications
Unlike the cheaper Penn Pursuit III, the Battle III comes in 1000 and 2000 sizes, which is ideal for trout fishing.
The BLTIII1000 is the smallest, weighing in at 7.8oz while still holding 105yards of 6lb monofilament. Yes, this is heavy for an ultralight trout reel, but is justified given the full metal construction and more rugged construction.
The BLTIII2000 jumps up to 9.4 oz and holds 180yards of 6lb line making it suitable for nearly all trout fishing needs. It is a good choice for targeting bigger, powerful trout such as steelheads or large lurkers that live beneath fish farms.
---
Best Enthusiast Spinning Reel for trout fishing.
For serious trout fishermen. The spinning reels in the enthusiast's section are delightful reels to use and should give years of quality use. Full metal construction is common although there are still a few graphite/carbon options. Many features previously only found on flagship models have now started to appear in this price bracket.
Abu Garcia Revo SX Spinning reel review.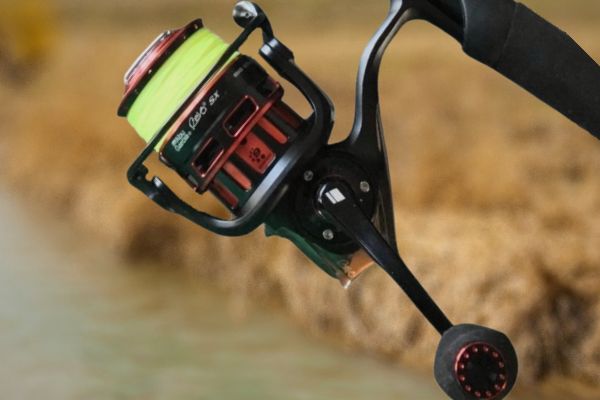 A well-made, relatively lightweight smooth spinning reel that should offer good durability, especially in freshwater applications. If you can not afford a Shimano Vanford, this might just be the next best thing.
Abu Garcia is one of the biggest names in freshwater fishing. The introduction of the Soron (a precursor to the Revo line of spinning reel) was the beginning of a renewal for the fortunes of Abu Garcia.
The first Abu Garcia I added to my collection of fishing reels was a first-generation Soron. I still use it to this day. I have since added several newer Revos to my collection.
With the Revo line Abu got everything right, from the smooth and powerful drag to the slick and smooth performance. It really feels like a premium reel.
All made to a high standard typical of Abu Garcia more premium lineup. The final result was an excellent, robust spinning reel at a drastically low price point for the quality and features it offers. The Revo was done right.
Having been on the market for over a decade has only seen minor refinements among its numerous variations. Still today, the Abu Garcia Revo SX remains one of the best value spinning reels on the market.
As for my original reel, even after 10 years of abuse, often in the extremely hostile environment which is kayak fishing my Revo, despite showing its age and surface corrosion is still a perfectly functional reel. I still have complete confidence in it to land big fish.
I have only seen comparable longevity from my Shimano's. I personally rate the Abu Garcia Revo's among the best spinning reels for trout fishing.
Variations and different models
While there are many variations of the Revo, I feel the SX offers the best value for a trout reel. The carbon frame allows the Revo to be lightweight and corrosion resistant.
There are also two niche variations of the Revo, being the Rocket and the Revo Winch, the rocket has a high gear ratio (6.2:1) allowing for lightning fast retrieves, while the Winch has a low gear ratio (4.7:1) allowing a slower more controlled presentation, although currently only available in size 30 which is on the large size for trout spinning
Although in personal experience, the speed at one winds the handle also has a similar effect on performance.
If you want to stick with Abu Garcia, but prefer the sturdiness of an Aluminium frame then the Abu Zata is also worthy of consideration. Just keep it away from the salt. The specifications are very comparable.
Size and specifications
The Revo 10 provides 10lb of drag and holds 110yards of 6lb line. While the slightly larger Revo 20 provides an additional lb of drag with slightly more capacity. Weighing only 7.2 and 7.3oz respectively both reels are light in weight.
---
Best lightweight metal frame: Shimano Stradic FL
My pick for best all-round spinning reel for trout fishing.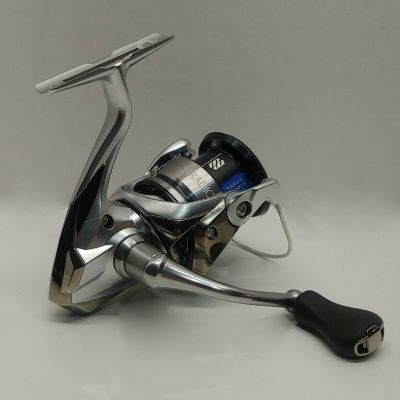 The Shimano Stradic might just be the best all-round spinning reel for trout fishing. If there is one reel that represents a dedication to timeless quality, reliability, and consistent improvement, and all for a reasonable budget it must be the Shimano Stradic.  My first 'expensive' trout spinning reel was a Stradic, and even 15 years later it remains my go to reel whenever I get the spin gear out.
From my first cast to the last the Shimano Stradic impressed me with consistently smooth performance. The bail arm sets with reassuring security and reopens with a flick of my finger. The drag is solid and smooth and has never left me. Handling today's Stradic is no different, and if anything, it is even more refined and precise in its operation.
I have no hesitation or doubt to recommend the Stradic, from the ease of service to the high levels of corrosion resistance.
My Stradic has outlasted multiple reels from all other major brands and has never disappointed me. While the price is high, the quality and dependability is there. If you spread the price across many years of hassle-free fishing, The Stardic is a bargain. If one reel deserves its reputation, it is the Shimano Stradic
Ball Bearings and Smoothness
This should go without saying, the Stradic is one smooth reel, and in my experience, it has maintained that smoothness longer than any other spinning reel I regularly fish.
All moderns of the Stradic come with 6 shielded ball bearings in the body and one in the roller. This does make assist in protecting the reel against silk and sand.
Drag
The Stradic comes with a waterproof cross carbon drag. Shimano advertises it as providing 7lb of drag pressure and I do not doubt that. I am usually a fine of felt drag, but this Shimano carbon drag is every bit as smooth and requires less maintenance.
Line Lay
It is excellent. I personally feel no other reel has better line lay for monofilament and fluorocarbon than the high end Shimanos. It handles braid slightly less well, but still better than most of the competition. I always fish 6lb Berkely Fireline on my Stradics and never had any issues with wind knots or memory.
My Stradic survive a tumble through the surf which ruined my Daiwa Certate!
The story which follows is an anecdote on why I have so much confidence in Shimano Stradics.
When I first got my stradic, I wanted to play with it every chance I got. I kept wanting to push my new trout reel it to its limits by catching more and bigger fish. It was not long until I was launching off a surf beach in my fishing kayak to target offshore pelagic. My 2500 size Stradic did not disappoint and was even able to handle feisty bonitos just fine.
The trip back is the point of this story. As I was surfing my kayak back in through the breaking waves, I must of made a miscalculation and over my boat went. Into the water went myself, and all of my gear. Which included my newly purchased Stradic and a Daiwa Certate (which is an even more premium reel). My gear had a good wash around the surf zone. Even getting violently smothered by sand and pounded into the surf beach. While I was able to recover all my gear, my reels got an absolute hammering.
I took both reels home where I rinsed, cleaned, and later got them serviced. The Stradic felt and performed like new. However, the expensive Daiwa Certate survived it did not flourish. It never recovered its silky smooth performance.
This proved to me that the Shimano Stradics deserves its reputation. It survived getting pounded in the surf and was no worst for wear. They really are remarkable reels and I personally feel they deserve their price premium.
Sizes and variations
The Stradic FL comes in a range of sizes suitable for trout fishing, the petit 1000 size weighs only 6.5oz, while the versatile 2500 is still a lightweight 7.9oz. It is impressive for such a solidly built reel. The FL variation also comes with a long cast spool (long stroke spool) which allows for a slight increase in casting distance compared with more traditionally portioned reels.
Stradic CI4 is another variation and a more mature product. The main difference is that the CI4 is made from a magnesium alloy which means it is even lighter, with the 1000 size weighing in at only 5.4oz and the 2500 only slightly more at 6.7oz. The ultimate finesse fishing at a budget the CI4+ is hard to beat. The much lighter CI4+ does come at quite a price premium so for most trout anglers the FL should more than exceed expectations.
---
Best Ultralight Reel: Shimano Vanford
The Shimano Vanford is an excellent carbon frame spinning reel. It is extremely lightweight cementing its popularity among trout anglers. Think of it as a Stradic with a carbon rather than a metal frame,
The Shimano Vanford has been on the market for several years now, and it has proven itself to be a reliable and very high-quality reel. The Vanford is the successor to the extremely popular Stadic CI4.
The Vanford as a reel shares a lot in common with the Stradic line of reels. The main difference, most of us will notice is that the Vanford has a carbon frame, while the Stradic is aluminum. Carbon is lighter and 100% corrosion resistant while aluminum offers slightly better impact resistance.
They are both great options.
Casting
The Vanford casts like a dream, it features a long cast spool. Which in theory allows for longer casts, but in practice, it is not really noticeable.
Smoothness
Very smooth, and comparable to the other high end Shimano's. There is very little start up inertia.
Unlike some cheaper reels, the Vanford is even smooth under load.
Ball Bearings
The Vanford has one more ball bearing than the Stradic. So it comes with 7 shielded ball bearings in the body and one in the roller.
Shimano uses high-quality bearings and I have never had any issues with them seizing up even if they are exposed to saltwater.
They are nearly bulletproof for freshwater applications.
Drag
I am fairly certain this is the same sealed cross-carbon drag as found on the Stradic. It is an excellent silky smooth drag that applies a fairly consistent 7lb of pressure.
I normally do not like carbon drags, because the minimum drag pressure is often a bit too high when fishing with ultralight lines, but this is not an issue here.
Line Lay
The Vanford uses Shimano's worm drive technology to achieve an extremely even line lay. It excels at laying down both monofilament and fluorocarbon lines.
It handles braid slightly less well, but still better than all but the most premium of Daiwa's. I also believe the criss-cross lay pattern does assists in preventing the line from digging into itself which can improve casting distance.
I have had zero issues such as tangles, or wind knots that were caused by line lay.
Sizes and variations
| Model/Size | MONO LINE CAPACITY (lb/YD) | WEIGHT (OZ) | BEARINGS | GEAR RATIO | MAX DRAG (LB) |
| --- | --- | --- | --- | --- | --- |
| 500 | 4/100, 6/60 | 4.9 | 6+1 | 5.6:1 | 6 |
| 1000 | 4/160, 6/110 | 5.3 | 7+1 | 5.1:1 | 7 |
| 2000 | 6/165, 8/105 | 5.3 | 7+1 | 6.1:1 | 7 |
| 2500 | 6/200, 8/140 | 6.3 | 7+1 | 6.0:1 | 20 |
500 size: The 500 size is tiny and weighs in under 5oz. I personally consider it is almost too small for trout fishing. The narrow spool will increase the risk of line twist developing and the tight coils during the cast can compromise distance. This size is usually best suited for ice fishing.
1000 / 2000 size: The 1000 and 2000-size reels feature the same frame but a different spool and gear ratio. They both virtually weigh the same. The larger spool on the 2000 does improve line management slightly, but it does require much more line to fill it to capacity. They are both excellent options for trout fishing.
2500: The 2500 size Vanford is getting a bit large for trout, but it is still serviceable. Compared with the smaller sizes it is quite heavy, but compared with much of the competition it is still very light. If you need more line capacity, or often target bigger trout such as steelhead then consider the 2500 size Vanford.
Frequently Asked Questions About Trout Spinning Reels
What is the best gear ratio for a trout spinning reel?
A slow-to-average speed gear ratio, between the range of 5.0: 1 to 5.2: 1 works best for trout fishing. This is because trout respond best to lures that are retrieved slowly. It is possible to fish high-ratio reels, but you must remember to wind in slowly. For more information check my article here.
What is the best spinning for fishing in streams?
When fishing for trout in streams, it is best to use smaller size reels with smooth drags. This is true ultralight fishing, so an ultralight reel is best suited for such small waters. Due to the increase in line twist, I will still advise against very small reels such as 500 size but go for a reel that is 1000 size or bigger. I have discussed the best stream reels here.
What is the best spinning reel for ice fishing?
There is really no difference between reels suitable for ice fishing and normal trout fishing. Although, smaller sizes are sometimes preferred because there is no need to cast, so less line capacity is required. I personally like the Daiwa regal, Okuma Ceymar, and the Pflueger president. I have suggested a few suitable ice fishing reels here.
To keep the reels smooth, even in the coldest of temperatures. It can be a good idea to oil the gears with a high velocity oil rather than grease.
Best spinning reel for brook trout?
Most brook trout are smaller than rainbow or brown trout. Although the difference is not typically enough to justify a different size reel.
For more brook trout-specific information check here.
Why Spinning Reels Rather Than Baitcasters?
Spinning reels are among the easiest reels to learn to cast. With only a few minutes of coaching, new anglers will be able to cast their lure into the water and hopefully catch fish. In the hands of experienced fishermen spinning reels offer great versatility, excellent accuracy and some of the best stopping power on the market. One of the major advantages of separating spinning reels from baitcasters is that they are nearly impossible to tangle. So no need to spend, what seems like hours, of potential trout fishing picking away at a giant birds nest of twisted nylon.
Spinning reels are also much better suited at casting lightweight line and lures which are commonly used for targeting trout.
Why Spinning Reels Instead of Fly Fishing
Many fishermen place fly fishing at the pinnacle of trout fishing. The grace, precision, and ability to place even the tiniest of flies onto the water is hard to beat.
Spinning for trout still has many advantages for both new and experienced anglers. Some of the key advantages include; the ability to cast further and with heavier lures. Spinning is also much better at punching into the wind. Thirdly spinning lures being heavier more quickly sink to the bottom. This can be essential when fishing in deep or swift water. Lastly, a good quality trout spinning reel and rod is usually much cheaper than the equivalent fly-fishing gear.
If you are interested in fly reels, check this guide instead.
How much drag does a trout reel need?
When looking at ultralight spinning reels, the drag needs to be smooth, not powerful. A reel's drag does not need to be much more powerful than 20-30% of the line breaking strain.
If you are fishing with 6lb line, probably only need 2lb of drag. If fishing 4lb line then you only need to apply a lb of drag pressure.
All modern trout spinning reels have powerful enough drags. There is no need for 10lb drag when fishing 6lb line.
Carbon vs Felt drag in a trout spinning reel?
A smooth drag is more important than a powerful drag. A well-greased felt drag is typically the best drag for ultralight fishing due to its smoothness.
Carbon drags are not better, they are simply more powerful, and cheap carbon drags can even feel jerkier. This youtube video here gives a good explanation.
In most cases, the drags which come with modern spinning reels are totally overkilled for trout and most other types of fishing.
Powerful drags are extremely common on reels today. I suspect marketing rather than any real fishing need has been the primary driver for the overpowered drags.
I have landed trophy trout, and believe it or not. You do not need 10lb of drag to slow or turn a 10lb trout. That is because the trout is suspended in the water, the line and drag is only fighting a fraction of its total weight.
How Much Line Capacity Does a Trout Spinning Reel Need?
Spinning reels come in many sizes with various line capacities.
When targeting trout we only need to consider reels in the smaller size ranges and lower spool capacities.
The numbering and rating systems do differ between manufacturers. Most spinning reels for trout will be in the 1000-1500 size range or 10-20.
For trout fishing, there is generally no need for more than 100 yards of line, and this information can typically be found printed on the spool, or on the retail packaging.
If you are targeting large trout in big water then a 2500 size reel, that holds approximately 200yds of 6lb can also be considered. . The larger spool size is also useful when trolling because you might have 50-60 yards of line trailing behind the boat. Check here for additional information on selecting the best size spinning reel for trout fishing, or here for details on how
If you are targeting steelhead, or large lake resident trout then you can go up to 3000 or 4000 sizes, although it is not normally required. A reel that holds approximately 140 yards of 10lb line should be more than sufficient. If you are after steelhead-specific recommendations check my guide here.
Best Frame Material for a Trout Spinning Reel
Plastic: The cheapest spinning reels predominantly have plastic frames. Comparatively plastic offers poor rigidity and durability but it is surprisingly impact resistant.
Most plastic frame reels are marketed to children.
Sometimes, people also refer to graphite and composite reels as plastic. This is because the reels are made from epoxy-reinforced glass or carbon fibers.
What Is the Difference Between Carbon and Graphite Spinning Reels?
A question often asked is, what is the difference between carbon and graphite reels? Technically speaking graphite is a soft crystalline form of carbon. They are the same material. All carbon and graphite frames are composite materials.
They are basically a combination of carbon fibers bonded together with various co-polymers. In more basic terms, the material is a blend of plastics and carbon molecules. In reality, the difference between carbon and graphite is mostly marketing. A more accurate description would be carbon-fiber-reinforced plastic.
Low end reels are typically marketed as graphite, while premium models carry carbon labeling.
While all graphite and carbon frame materials are made from carbon fiber, the resulting composites are not all the same. The amount of bonding agent and quality of the carbon fibers do differ. Expensive composites have more carbon and less filler. High end carbon frames are more rigid and offer a better strength-to-weight ratio.
I own several saltwater reels which are over 30 years old. While the internals feel a bit rough the frames; although dirty with dust are still in reasonable condition despite years of neglect. Graphite can be somewhat vulnerable to hard impacts.
So I am convinced about the strength, durability, and longevity of graphite.
What is Shimano CI4+, Daiwa Zaion, Okuma C-40X, and Abu Garcia IM-CS?
These materials are graphite/carbon with fancy names such as Shimano CI4+, Daiwa Zaion, Okuma C-40X, and Abu Garcia IM-Cs.
While the exact makeup of these composites is kept secret, they are all basically a resin reinforced with carbon fibers. They basically use more carbon fiber rather than fiberglass like found on cheaper reels.
On their website, Daiwa Claims "ordinary carbon is made of nylon 6-6 resin and carbon fibers at 20%, ZAION boasts twice the density of carbon fibers. The result is a unique material that is as strong as magnesium."
While Okuma describes their C-40C as "Okuma's C-40X carbon technology utilizes a specially blended graphite polymer. The carbon fibers in this material are elongated and reinforced, creating a substantially stronger composite than standard graphite materials."
How good are metal frame reels for trout fishing
Check this review for what I consider to be the best metal frame spinning reels.
Aluminum: Aluminium is the most popular metal frame material for spinning reels. Aluminum is lightweight, impact-resistant, and offers good rigidity.
The downside is that aluminum frames can suffer from corrosion. Although with good maintenance, and most importantly washing away any saltwater corrosion should not be a major issue.
Magnesium. Magnesium is found on some more premium reels, it is a popular choice because it weighs 33% less than aluminum, although it is also comparatively less rigid.
A magnesium reel with the same rigidity as aluminum requires more magnesium to be used. The extra magnesium needed counters the advantage of the weight savings.
Like aluminum, magnesium offers low weights and excellent rigidity, but like all metals, magnesium can corrode. Marketing claims aside, I personally do not consider magnesium reels much of an upgrade over aluminum.
How Many Ball Bearings Do I Need in a Spinning Reel?
Marketers love to increase the number of bearings inside a spinning reel. In some cheap reels of dubious quality, you can find a dozen or more ball bearings.
While bearings help improve a reel's smoothness after a certain number there is little benefit to additional bearings. They just add cost, and weight to the reel. A good trout spinning reel only needs 4 or 5 bearings any more than that is just a luxury. When I was young, I caught many good trout on an entry-level reel with only two ball bearings.
Cheap reels are simply not made with enough precision to benefit from additional ball bearings. Even if a Shimano Sienna has as many bearings as a Stellar it would not feel as smooth because the precision of the gearing and the frame is there.
So the factor which limits smoothness in cheap reels is not the number of ball bearings. But the tolerances in the construction and how precisely they are assembled.
Which Fishing Reel Brand Makes the Best Trout Reels?
There are many brands selling fishing reels, but few actual manufacturers.
Big Three Manufacturers
Three companies dominate the manufacturing and distribution of fishing reels. These three companies control their own factories and production.
The big three companies are Shimano, Daiwa, and Okuma. Shimano and Daiwa have their headquarters in Japan while Okuma is from Taiwan.
Shimano manufactures its premium reels in Japan and its cheaper reels in Thailand and Malaysia.
Daiwa manufacturers their premium reels in Japan, with additional factories in Korea
Okuma predominantly manufactures in Taiwan.
Cottage Manufacturers.
These are small specialized manufacturers, they typically do their own design and manufacture relatively small numbers of reels to a very high standard. Some examples include Accurate, IRTReels, Alutecnos, Duel, Avet, and ZeeBas.
I am not aware of any cottage manufacturer making spinning reels suitable for trout fishing.
Conglomerates
Several large conglomerates hold and market multiple fishing brands. These conglomerates mostly have their reels manufactured in china, with their premium models made in Korea.
These companies include PureFishing which owns Penn, Abu, Shakesphere, Mitchell, Pflueger, and Berkely. Out of these Pflueger, Abu and even Penn have some very nice trout reels. I have covered the best spinning reels from the Penn catalog here.
The slightly smaller Zebco group who holds the rights for Zebco, Fin-Nor, Quantum, etc.
Importers and House Brands
These are companies that do not design their own reels but rely solely on the expertise of OEM.
For the most part, these are designed and made in China and the brands simply choose the colors and branding. Quality is always questionable. These reels are often sold directly to the consumer via online sites such as Amazon and eBay.
Some better quality house brands which might be worth considering include Gander, BPS, and Cabelas whose reels are mostly manufactured by Doyo in South Korea, although Daiwa sometimes acts as an OEM for Cabelas.
Previous mentions
Here is where I list reels that were previously included in my buyer's guide, that have either been replaced or discontinued.
---