Yo-zuri Snap Shad on the water review
Just a quick on the water review of a little Jerkbait, the Yo-Zuri Snap Shad. Unfortunately, the lures which I tested appears to be discontinued so they can be hard to find. Yo-Zuri does have a new version on the market, but they are shorter and rounder.
The Yo-Zuri Snap Shad is a slender 3.5cm long jerkbait which comes rigged with two hooks of somewhat dubious quality. I found the hooks to be quite soft and they even bent out of sharp while fighting fish.
It features a hard plastic body, with a printed on design which contains a fair amount of details. Inside the jerkbait there is an internal rattle.
Action and castability.
I lost the oringal packaging years ago, but in my testing they appear to be a suspending lure. It will dive down quite quickly then suspends in the water column.
It has a large bib, but because it is quite flat it does not dive down deep bur rather swims quite close to the surface. This makes it well suited to fishing the shallows.
The action during the retrieve is rather high enegery, with a fast side to side wobble. Trout respond extremely well and many will strike without hesistation.
If there is one area of weakness it is castability, it certainly not going to win any casting contests.
On the water test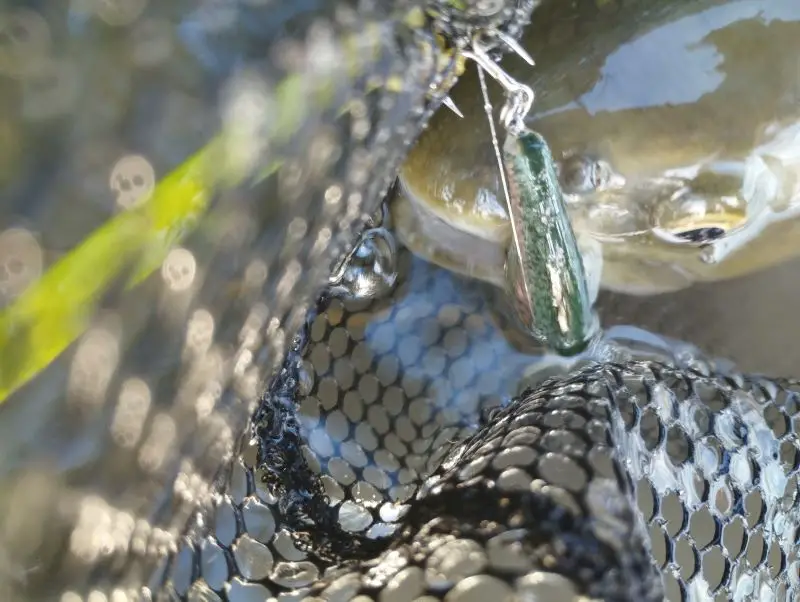 I decided the margins of a large river, well within the tidal zone. This river contains populations of both Brown and Rainbow trout, a few Salmon also migrate upstream in the fall. Although, I was not expecting any of this time of year.
My fishing location is about a 30 minute walk from the carpark, over some rather ugly and smelly muddy beaches. But once there the fishing is idylinc and I have never seen another angler make the effort.
I started the test with my gold standard, a Rapala and was fishing is around submerged logs. It kept snagging on the bottom, and was failing to generate any bites. So I decided to tie on the little Yo-zuri Snap Shad and continue fishing upstream.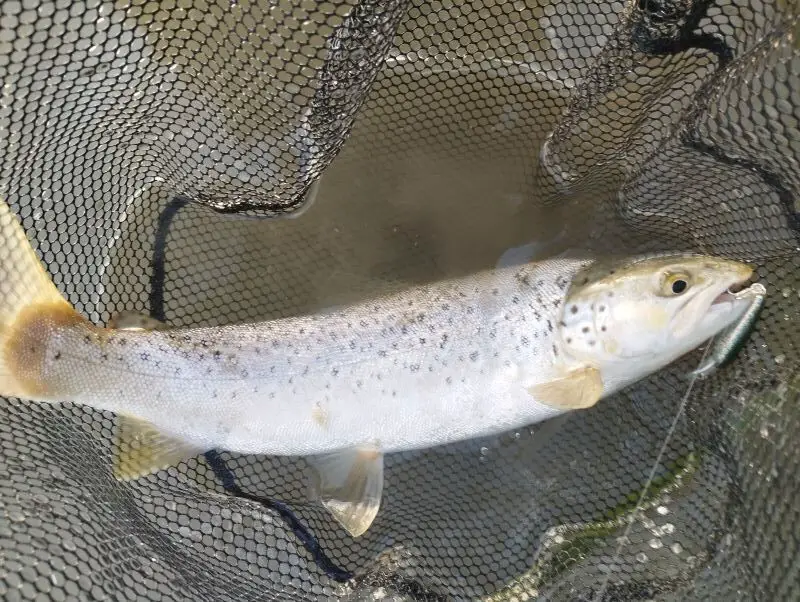 The action was almost immediate, with three small trout brought to the net, and another one lost.
Promising start. About then I noticed quite a few splashes in the extreme shallows. And I even spooked a trout that was resting in tall reeds in only a couple of inches of water.
So I decided to fish the shoreline, my next cast was hit hard and fast and my rod bent over. It was a good size trout, and the fight was happening in only a couple of feet of water.
The cunning brown, immediatly tried to wrap my line arund some sticks, but luckily the 2lb fireline held and after a short fight I brought a 5.5lb silvery brown trout to the net. Not a bad fish to catch in ankle deep water. It swam away strongly.
About five minutes later, another strike striked from a very similiar location. This one was smaller, but fought even harder. In the net it weighed just over two lbs. It was rather silvery, so I suspect it has been spending a lot of time in the brackish water close to the sea.
By now the sun had started to set, and the temperature was dropping fast so I headed back to the car. All up a rather productive hour of fishing and the Yo-Zuri snap shad certainly proved itself.
Compared with other micro lures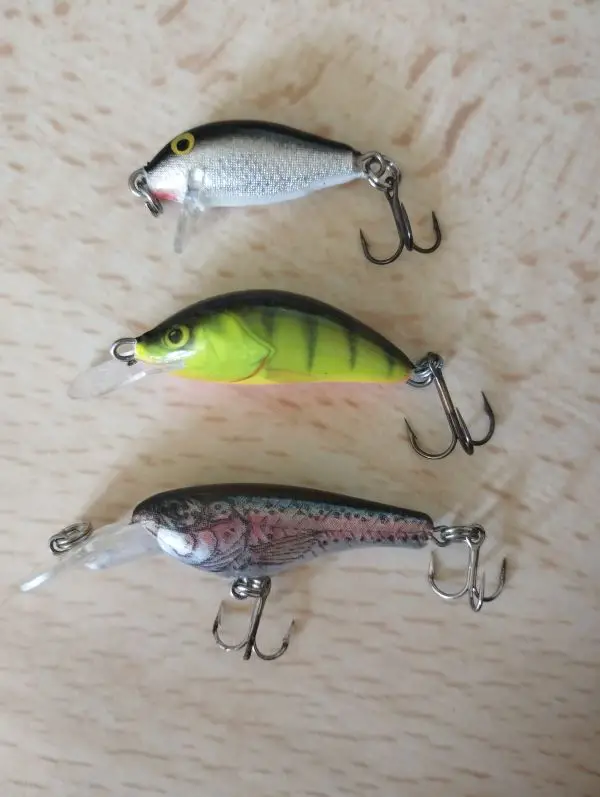 When compared with other small size jerkbait, I feel its fish catching ability is as good as any of the market. Although, it does not seem to cast quite as well as some.
I also feel, two sets of treble hooks is too many for a lure of this size. While it does a great job of hooking trout, trout are likely to try and swallow whole such a small bite making gill damage more likely. For this reason, a jerkbait such as the Rapala CD1 remains my preference.
Check here to find out what I consider to be the best jerkbaits for trout fishing.