Blue Fox Flash on the water review
Blue Fox Flash Spinner on the water test
I can tell a lot about spinners based on the blade they are designed around. The Blue Fox Flash spinner features a willow leaf blade.
In my books, this is not a positive when it comes to trout fishing because its strengths does not always outweigh its weaknesses.
Willow leaf blades spin best at speeds that are faster than ideal for trout fishing. They also rarely spin on the drop, meaning they are dead in the water until there s enough forward momentum to swing the blade into life.
Their main advantage is that they are very streamlined. This allows them to fly through the air with minimal resistance, and that same lack of resistance mean they drop through the water column quick.
This means, they reach the bottom fast. Making them an ideal option if you need to get deep fast, such as fishing a swiftly flowing gut or towards the head of the pool.
So how does the Blue Fox Flash spinner actually stack up?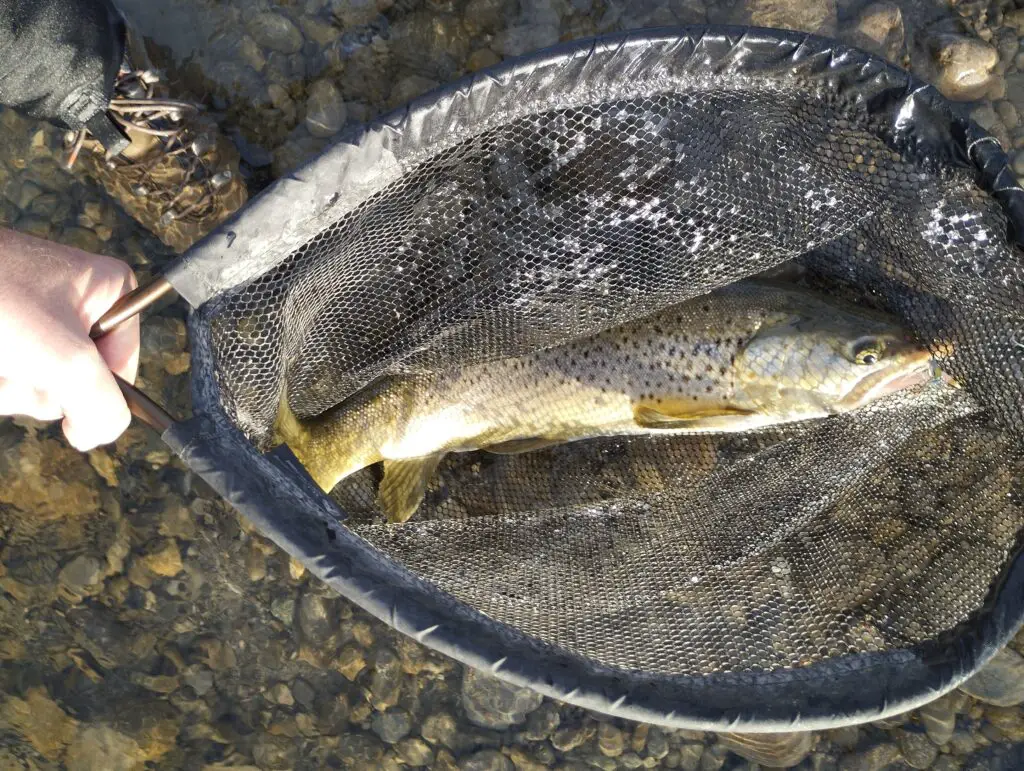 My assumptions were largely true, like the marketing claims this is not a shallow water spinner. It gets down deep fast, and in shallow section it catches every piece of slime it comes across which completely ruins its action.
So, I did the only sensible thing, and decided to test it in big, deep and fast water. I wanted to give it a fair test, and while I dislike willow leaf blades I love spinners and I love catching trout.
It is a very easy spinner to cast, it flies through the air like a bullet. The streamlined nature also makes accurate casts easy. It also sinks fast, and stays deep.
Like most spinners, I find it works best when I cast it upstream at about a 45 degree angle. Then I let it sink before kicking it into action with an initial burst of speed, then I can slow down slightly and the blade will not stop.
Then I will try and reel, slightly faster than the flow of the water until the spinner is just downstream where the current causes it to lift slightly and swing across. It performs well.
During my test fish, my head was in a pretty bad place. I do not like willow leaves, that was until I felt a solid hit on the lure, and my rod bent over. I knew I had a decent size fish on, that was before it started leaping from the water. Fight on.
The fight was hard, and the trout was cunning enough to use the current against me. Eventually I worked the trout into the shallow where I landed a brown trout that weighed in at just over 4lb. Based on its aerial displays and powerful runs, I initially assumed I had a rainbow.
This was not totally unexpected. Larger trout, like my 4lb jack often hug the bottom of the deep pools I was fishing, and most spinners swim too shallow to really trigger them. The Blue Fox Flash on the other hand is a deep-water specialist.
Build Quality.
The lure has a diecast and chrome plated main body and a brass stamped blade. They are painted with a holographic finish.
Like all other Blue Fox spinners I have tried it is well built. In the hand, it feels solid.
It held up well to the rigors of fishing. The wire is stiff enough meaning it is unlikely to bend. The paint job is slightly less durable, even after my first trip a large chunk of paint flacked off. Not really good enough, I have had Mepps Spinners last many trips without any damage.
So the lure itself is well made, but the finish is of dubious durability.
Basic specifications
The flash spinner is available in two blade sizes. Size 1 which weighs 1/8oz and size 2 that weighs 3/16oz.
It comes in 6 high visibility colors that offers plenty of flash. I found the bright orange, and the blue shad colors work particularly well.
How does it compare with other spinners?
Suppose I should compare it against the most famous Bluefox spinner the Vibrax. The Vibrax is a much louder lure, which gives off more vibrations, and generates more lift. In most trout fishing situations, I feel the Vibrax is a better lure, but when all you care about is getting deep fast then the Flash has an edge.
The holographic finish, also makes it slightly brighter and it certainly flashes more as it moves through the water. It certainly does live up to its name.
The spinner it is most similar to is the Roostertail from Yakima bait which also features a willow blade. They both work well, and in all honestly they are very similar spinners. If you like Roostertails, chances are you will also like the Flash.
The main difference, not that it matters much is the sharp of the body. The Flash is shorter and resembles a little fish. There is also a 3D eye which potentially acts as a trigger spot.
Summary – Would I recommend it?
For general trout fishing, I still feel there are better spinners out there. But the Blue Fox Flash is certainly a good option for fishing deep pools, or anywhere there is a lot of current.
I am a bit disappointed with how easy the coating chipped.
For a list of my favorite inline spinners check here.