On the water review of the Live Target Trout Jerkbait
Despite fishing them on and off for many years the trout Jerkbait from Live Target is a lure I have many mixed feelings about.
In this review, I will share my experience on how well it performs when targeting predominantly wild trout.
Overall I do not consider it a good jerkbait, but it can certainly catch good fish. Contradiction? I do not think so and I will explain why. Quite simply, it is a very inconsistent lure. Most trips I blank when I fish it, but the fish I do catch are usually larger than average. It has also caught a bigger trout than any other jerkbait for me.
So, given the right conditions it certainly does produce the goods, but for reasons I struggle to understand it does not seem to trigger many takes, but the trout which do take it are large.
Design and features
Size
The Live Target Trout Jerkbait comes in two lengths, 2" and 2 3/4". When targeting trout, I generally prefer the shorter size, but they both perform similiarly.
Material and durability
The Jerkbait itself is well made, but the coating seems a bit fragile and prone to scratches.
Weight and buoyancy
I find it sinks slightly faster than most jerkbaits.
Color and patterns
It only comes in three color options, all which work well on trout. The three options are rainbow trout, brown trout and brook trout. I personally would like a brighter, high visiblity option for fishing in cloudy water.
Overall, the paint job does look rather realistic, with prominent parr markings which does a decent job at representing juvenile trout. Overall, from a realism perspective I really like the patterns.
Hooks and rigging
The hooks are high quality and extremely sharp. Just ask my fingers. They are better quality than most other comparable price jerkbaits.
Performance
Action and swimming pattern
In still water the swimming action is fine, it wobbles nicely and has a decent wounded fish action.
In moving water, the action fails and the lure struggles to maintain depth. They keep wanting to return to the surface, and tangle hooks are a common result.
For this reason it is a difficult lure to fish rivers and streams with. Best suited for lakes, or stiller parts of pools.
Casting distance
For a sinking lure it has below average casting distance. In saying that, in most trout fishing situtations it should be possible to cast it far enough to get onto fish.
Real-world fishing results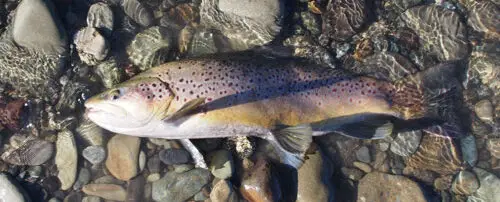 Like I mentioned in the introduction, this lure is not a consistent performer, and most of the time I fish with it I blanked.
While preparing for this this review, I went out and fished with it for a half a day. While I have had them in my tackle box for over a decade, I always like to fish a lure heavily prior to writing about it. Partly to refresh my memory, but also to give the lure a chance to change my mind.
Well, half a day of fishing and not even a touch. Every so often I changed over to a Salmo Minnow in rainbow pattern, a lure I plan to review next, and that was picking up the occasional fish. So the trout were certainly around.
With that said, I have caught a personal best trout on it. It was on a cold, gloomy winter day and I decided to take a quick break from driving and throw a few lures into the head of a deep pool. It almost immediately hooked up.
So, it has caught me a previous PB wild brown trout, but it has not done much else.
Conclusion
In conclusion, the Live Target Trout Jerkbait is a lure that have given me mixed results.
On one hand, it is very well built with a detailed pattern, and very sharp hooks.
However, fish have been few and far between, and while the action is decent in still water it really struggles to maintain depth when fishing moving water.
It is a lure I still occasionally fish, but I struggle to recommend it especially for moving water. When trout fishing with a sinking jerkbait I personally prefer Rapala Countdowns, or maybe even a Salmo Minnow a lure that I will review next week.
For more jerkbait recommendations check my guide here.