How to get sponsored for trout fishing
To get sponsorship as a trout fisherman. Requires a high profile in the local community, and skilled at both fishing and self-promotion.
Increase your profile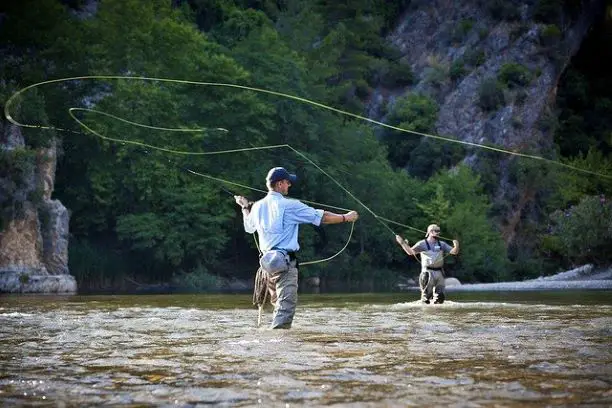 Industry representatives have approached me several times. They were offering sponsorship for using and promoting their products.
These companies approached me because I had a large online profile. I was a frequent contributor to several large and regionally important fishing forums. I was a very vocal and ever present part of the community.
My profile grew even more because I partook in all the local fishing competitions. Having the skills to consistently place among the prizes also helped.
Lastly, I was an active member in the local clubs. I attended the club meetings and events. My life revolved around all things fishing.
I offered endless advice and answered countless questions. At the time, I was fishing five or six times every week. I constantly experimented, and I trailed new ideas. Some days I went fishing more than once. Some days I blanked, other days I landed monsters. I continued to learn and to share; I posted frequent fishing reports and updates I was an open book of information for what worked and what didn't.
Where to build a profile?
While the popularity of fishing forums is on the decline, online fishing communities remain strong.
Facebook is now home to many fishing communities. Even the smallest rural centers often have dedicated groups. They can normally found by searching for your home area + fishing.
Other than Facebook, there is Instagram and other social media. I am a bit old fashioned and still prefer posting on forums. They have a longevity of information which is not present on the fast flowing social media feeds.
Look not only online. Seek and join local fishing clubs and partake in fishing competitions. Local fishing stores often have contact details. These clubs often organize and host competitions. They are a great place to meet other passionate fishermen and adapt their ideas. Stick around long enough, and chances are you will end up on the committee.
You can also offer to contribute to local fishing publications. While I never went down that route, a mate of mine has a monthly feature in a local paper.
Local fishing shop
Support and become a regular at the local fishing shops. Retail shop and their staff are the middlemen between us, the fishermen and the various representatives of the fishing brands. If you have a good relationship with the local retailers, the chance of getting an endorsement through one greatly increases. Whenever I have spare time in town, I make sure to drop into my local to catch up on the fishing news, play with new products and grab a few accessories.
Why do fishermen get sponsored?
Fishermen get sponsorship because the brands want to increase the exposure of their products. The greater the positive exposure you can offer, the more likely they are to approach you. Fishermen often buy products based on recommendations.
They will expect you to represent their products and to highlight their fish catching ability. If I were to use their rod, reel or bait to catch trophy fish, it would have driven business in their direction and shown what the rods were capable of.

Should amateur fishermen accept sponsorship?
There is some controversy about recreational fishermen getting access to pro-deals. Pro-deals are heavily discounted gear, which brands offer to fly fishing guides, retail staff and media influencers. The problem is when pro-deal holders decide to share their pro deals with their favorite clients. Fishing retailers get completely shut out of the picture. Couple of years back, Anglers Trade magazine wrote an interesting piece on it.
My position on this controversial is that sponsorship is different from sharing pro-deals. It is a form of advertisement for the manufacturer or distributor, and the exposure in theory should drive increased business to the retail operations.
Can I make a living?
No, Making a living is from sponsorship is very unlikely. The exception is getting employed directly by the industry. Trout fishing does not have the same level of televised exposure as the likes of the bass fishing tournament scene. Even there, with the raise of social media influencers the sponsorship budget is getting spread even thinner. Some pros are seeing their sponsorship cut.
Most professional fishermen making a living from trout fishing do so by providing other services such as guided trips or casting instructions. Many also work as sales representatives or as retail staff. Getting paid to go fishing is not a luxury many enjoy.
There are exceptions. If you successfully market yourself to a massive audience such as to a YouTube channel or television show, then the sponsorship amounts can be significant.
.
Why did I turn down sponsorship?
In my case, I always turned down the sponsorship. I did so for several reasons. My forefront decision at the time is to maintain my ability to speak my mind. To enjoy the freedom to bash or recommend any product without any potential bias.
I am a tackle collector, I own and fish with a large selection of gear. I like to experiment and trail as many different products as budget allowed. Fishing just one brand of rod, reel or lure would have been too limiting. I did not want to cover the branding on my gear because I caught the trophy trout on the 'wrong' rod.
Also factoring on my mind. While the products I got offered were good, and by respectable brands I did not consider them my first pick at the time. It would have been disingenuous to promote products which were not my first choice.
The final reason, while I had a massive online profile. I value my privacy, I photograph fish rather than myself. I kept the 'best locations' secret and I enjoy the solitude of fishing by myself. A increasing number of people were also approaching me on the water. Getting sponsorship would have increased my profile even further.