Why is fly fishing so expensive?
Many people see fly fishing as an elitist sport, popularized by the British nobility who drive their latest model land-rovers to their private chalk streams. This extravagant cost is far from reality even in England and certainly not in America.
The belief fly fishing is expensive is a common misconception. While it is certainly possible to spend thousands of dollars on premium gear and trips away in luxury lodges, it is possible to purchase the bare essential fly fishing equipment for under $300. While it is possible, there is little need to spend thousands on premium equipment.
Is fly fishing expensive?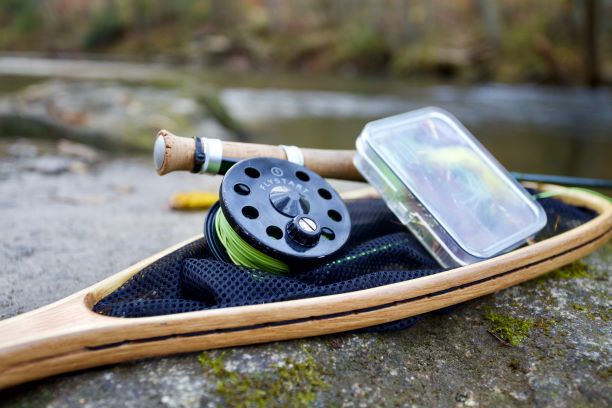 Fly fishing can be expensive, but it does not have to be. It is possible to spend thousands on expensive prestigious brands, guided trips, and nights in exclusive lodges. These costs will be eye watering for most people.
But, like all hobbies, fly fishing can be affordable. There are many cheap rods, reels, and fly fishing accessories. There is no need to employ the services of a guide or pay for the rights to fish in private water.
Is fly fishing more expensive than spin fishing?
I do not believe fly fishing is more expensive than other styles of fishing.
The biggest saving compared with spinning is probably in the price of the reel. Spinning reels are much more complicated, and a quality spinning reel will cost more than an equivalent fly reel.
Another saving is that the cost of flies is generally cheaper than spinning lures. I can often buy four or five flies for the price of a single jerkbait.
Other gear like waders, wading boots and polarized sunglasses are just as useful for both styles of fishing.
Fly fishing compared with other hobbies.

When compared with other hobbies, costs are not too dissimilar. Golf clubs and green fees do not come cheap.
A top-end road bike certainly costs more, and then there is extra expenses for lycra, helmets, bike carriers and repairs. The average cylist will spend more on gear than most fly fishermen.
Hunters can easily drop thousands on precision optics and quality rifles. Not to mention all of the other accessories.
As a kayaker, I could kit myself out with the finest of fly fishing gear for the price of a carbon fiber kayak.
Sticking with the fishing theme, boat ownership immediately blows all fly tackle expenses out of the water.
What basic items do I need to go fly fishing?
Below I listed the essential, recommended, and optional gear which is used for fly fishing. Besides it, I gave a rough price estimate for entry level gear. You can certainly find gear cheaper, but the guide I gave includes some cushioning and flexibility. It is possible to get fully kitted out with decent quality entry level gear for under $650.
On a tight budget, it is possible to get a kit containing only the essentials for under $200. The quality is not great, but it is a very cheap way to get on the water fly-fishing.
| Essential Fly fishing items | | Cheapest Price guide |
| --- | --- | --- |
| Fly Rod | Used to cast and control the line | $80 |
| Fly Reel | Used to hold the line | $30 |
| Fly Line | The fly line provides the weight used to load the road and cast the lure or fly. | $30 |
| backing | The backing is a thin braided line used to fill out a fly reel | $10 |
| Tapered Leader | A leader is a length of tapered nylon which is tied to the end of the fly line. | $8 (5 pack) |
| Tippet | Tippet is used as a sort of trace tied between the leader and the fly. Thin diameter tippet is hard for the trout to see, and allows for more delicate presentations. | $8 (per spool) |
| Fly | The fly is the bait that the trout eats. | $24 for a dozen |
| Freshwater license | | See below section |
| Total: | | $190 |
| Recommended Fly fishing items | | |
| --- | --- | --- |
| Sunglasses | Protects one's eyes, and aids in sighting fish. | $30 |
| Pliers | Makes releasing fish easier. | $10 |
| Nail clippers or scissors. | Allows you to cut lines without damaging your teeth. | $4 |
| Fly box | Container to hold flies | $10 |
| Floatant | Special chemicals to make flies water repellent allowing them to float. | $9 |
| Landing Net | A hand net to catch and land trout in. | $35 |
| Total: | | $98 |
| Optional fly fishing equipment | | |
| --- | --- | --- |
| Vest | Holds all of your fly fishing accessories | $40 |
| Waders | Keep you warm and dry when walking through water. | $80 |
| Wading boots | Special boots designed for stability in the water | $90 |
| Sinkants | Opposite to floatant, makes flies sink | $10 |
| Split shot | Small lead weight to make a fly sink faster | $14 |
| Indicator | Visible material which makes it easier to see your line. | $10 |
| Total: | | $244 |
Are premium fly fishing brands worth the money?
There are many long-established and prestigious names in fly fishing. Names such as Simms, Sage, Hardy, and Orvis have been making fly fishing gear for generations. These names carry a premium. These companies and others have done years of research and development which have resulted in gear that makes our hobby more efficient and enjoyable.
In most situations, I feel money is better spent on entry level gear from a proven manufacturer than saving a few bucks by buying the cheapest no-name. The main advantage gained by purchasing from a premium brand is the excellent warranty and support they offer. This level of service normally covers their entire range from the $1000 flagship to theirs.
For example, my first ever fly rod was a Sage launch. This Rod is over 15 years old now and is still the 6wt rod I reach for most often. I have broken and lost sections on several occasions and every time sage has repaired or replaced the missing section. If you spend the money on quality gear you will get years of use out of it. In that same amount of time, I have been through six spinning rods and have spent well in excess of what I paid for my launch. If there is one downside to buying quality, is that you might be stuck with it for more years. I find it hard to justify the purchase of a new fly rod when my existing ones still gets the job done.
It is not only fly rods, I have owned and fished with a Lamson reel for only a decade. It was machined with such precision and designed so well that even after so many years it is a delight to use.
How cheaply can someone start fly fishing?
Getting into fly fishing does not have to be expensive. It is possible to buy a rod, reel, and line for under $200. With some change to spend for leader, tippet, and flies.
There are some extremely cheap starter kits available on Amazon, one of the better ones being the Maxcatch Extreme Fly Fishing Combo Kit. The kit includes a rod, reel, fly line, fly box, and several accessories sold for under $90. All it seems to lack is leaders and tippets. Easy way to get fishing for under $100. I consider Maxcatch gear to be adequate, it gets the job done.
If you want to use entry level name brand gear, then a Redington Crosswater Fly Fishing combo retails for only $150. Throw in a cheap quality fly line such as the Scientific Anglers Air Cel Floating Lines for $30 and the other essential tackle on the list above and you could be on the river with some pretty nice gear for under $250.
How expensive are trout license fees?
[Editor: These figures are now likely out of date]
License fees differ quite significantly from state to state and country to country. In most of the new world, you do not have to pay to access most fishing beats. So the annual fishing license would be a one off cost.
There are too many countries and states to list. So I gave a few examples below. The prices are for an annual resident adult freshwater license in local currency.
| | |
| --- | --- |
| England | £82 |
| New Zealand | $133 |
| British Columbia | $55 |
| New South Wales | $35 |
| Montana | $32 |
| California | $53 |
| Maine | $25 |
How about beat or fees for fishing private water?'
Regarding fees for fishing private water, it varies depending on the location and the specific water body. However, I personally recommend seeking out rivers and streams on public land that can be fished free of charge.
In the United States, private water fees can range significantly. Some private fisheries charge a daily fee, while others may require membership or access fees. These fees can vary from affordable to quite expensive, depending on the exclusivity and quality of the fishing experience offered.
Fortunately, in most countries in the New World, private ownership of fishing is not as common. This means that the majority of rivers, lakes, and streams are open for fishing by anyone holding the necessary fishing license.
The story is different in the United Kingdom and most of Europe. In these areas, many of the best freshwater fishing spots are under private ownership or are accessible only through exclusive fishing clubs or syndicates.
For example, fishing an iconic chalk stream near London during the peak of the mayfly hatch can be quite expensive, with a day's fishing costing as much as £400. This represents an extreme case. On the other hand, there are numerous locations throughout the UK that offer free fishing opportunities. There are even areas within the city of London where chalk stream fishing is available free of charge.
Are expensive fly rods worth it?
No, you don't have to spend a small fortune to get a quality fly rod. As a member of an active fly fishing club, I've had the opportunity to try out rods from various big names in the industry during their casting days. I also have my own collection of fly rods and have borrowed and fished with many others.
While I wouldn't consider myself a top caster, I can confidently say that I can catch trout and generally place my fly where I want it. In my experience, each rod has its own characteristics and performs differently. Some are soft, allowing for slower and graceful presentations, while others are stiff and fast, useful for punching into a headwind or achieving longer casts. However, I personally haven't noticed a significant difference in catching trout between an $800 rod and a $100 one.
Some of my best fly fishing memories were actually with a Daiwa fly rod that I borrowed on a trip. Its softer action was perfect for the small stream I was fishing at the time, and I was pleasantly surprised by the quality despite not being familiar with Daiwa's fly fishing equipment.
In my club, there's a highly experienced angler who consistently fishes with entry to mid-range price rods. He simply goes to the local fly fishing store, tests a selection of available rods, and chooses the one that best suits his technique. It's never the flagship model.
Owning a $950 Sage or Hardy rod won't automatically make you a better fisherman. Years of practice and experience are what truly count. However, premier brands do offer some value. Their warranties and customer support are typically excellent. For instance, I've been able to replace sections on my Sage Launch rod, which I bought 15 years ago, for a small fee. Over time, these high-end rods can pay for themselves through their durability and long-term support.
Should I buy an expensive fly reel?
You don't need an expensive fly reel for trout fishing. The main purpose of a fly reel is to hold the line and prevent it from tangling. Unlike with spinning reels, you rarely rely on the drag to fight trout, as they don't pull enough line.
Line control is primarily done by hand, using techniques like gently palming the reel and stripping the line. The fly reel is mainly a container, and even inexpensive models work well enough.
While high-quality reels can be useful when dealing with big, powerful fish, such situations are more common in saltwater fishing. In most fly fishing scenarios, a high-end reel is a luxury rather than a necessity.
Are the cheap fly rods and reels on amazon any good?
Amazon and other online marketplaces have been swamped by countless brands of extremely cheap fishing equipment. These brands, often of dubious quality are usually sourced from China.
These brands normally appear out of nowhere, and they disappear just as quickly. They do not offer long-term support, and their warranty support is usually lacking. Many of these unknown products also use fake or brought reviews to increase their exposure.
I personally avoid these brands for my main fishing gear but they are adequate for spare gear that sees occasional use. The cheapest, entry level product from an established manufacturer is normally better built.
If you still want to save every cent, then going direct to Ali-Express is even cheaper than buying from Amazon. Of course, there is even less after sale service. Atleast the reviews on Ali-express seem more genuine.
Are expensive fly lines worth it?
I have always purchased and used premium fly lines. So, my experience it is well worth investing in high-quality fly lines within your budget. They are crucial for optimal performance, even more so than the rod and reel.
For budget-conscious anglers, consider purchasing an entry-level line from a reputable brand. A weight-forward line is recommended for easier rod loading.
It's worth noting that today's mid-priced and budget fly lines are comparable to premium lines from the past. For instance, the Cortland 444 used to be a top-tier product.
Affordable options include Rio Mainstream, Cortland 333, Scientific Anglers Air Cel, and Airflo Velocity.
How much to spend on backing, leader, and tippet
Backing is braided material that is used to extend the total length of the line. The backing is tied directly to the fly reel at one end, and to the base of the fly-line at the other. If I am totally honest, the quality of backing really does not matter. When trout fishing, it very rarely even touches the water. So just buy cheap backing.
Leader material is a tapered section of nylon or fluorocarbon which is tied to the end of the fly line. While it is technically possible to fish with only a leader, for cost reasons most fishermen tie on an additional line which is called the tippet. I have not used both cheap and expensive leaders, and in my opinion, the brand does not really matter. If money is tight, by the cheapest.
Tippet is used for extending the length of the leader. I personally feel, it is worthwhile spending a little more and buying decent quality leader. It is the weakest link to the fly fishing system so why take the risk. I personally use Rio or Cortland branded tippet material. Earlier in the year, I tested Max Catch tippet which is a budget option that is worth considering.
For more recommendations check my guide here.
Do I need waders?
Waders are optional in the warmer months. I actually prefer to wet wade in just quick-drying trousers or shorts. There is also plenty of fish that you can be cast to from the shore, no need to enter the water.
The winter months and early spring are when waders are much more important. Not only do they prevent you from getting wet, they also do an excellent job of trapping in the warmth and blocking the wind.
If you are wanting waders, it is often a case of getting what you pay for. Premium waders often outlast budget models. Although, all waders eventually leak. Click here for my wader recommendations.
Are wading boots worth buying?
For most rivers, there is little need to buy dedicated wading boots. Any reasonably grippy sports shoe or hiking shoe would be okay. In the summer, I often fish in Keen sandals, sometimes I even wear my old trail running shoes.
Where wading boots really come into their own is in rivers and streams with very slimy and slippery rocks. When the rocks are treacherous, the specialist soles on wading boots can be a game changer.
Another overlooked advantage of wading boots is that they dry a lot faster than other footwear options.
If you are interested in wading boots I have published a buyers guide comparing several top models.
How much to spend on flies?
When purchased from a retail store an individual fly can cost $2-3 each, which can quickly add up. A good alternative is to buy flies in bulk, buying flies a dozen at a time is significantly cheaper than individually. There are also combination packs, sometimes you can buy 50 flies for $50 or similar. This is an affordable way to try many different types and styles.
For fly fishing enthusiasts, there is also fly tying. If you are efficient, you can tie flies for less than 30c each and a few minutes of your time.
There are hundreds of fly variations available to buy, but 90% of fishing is done with only a few variations. Half a dozen models in a range of sizes is a good start.
If I were to recommend a core of six flies to start with, I will include something like below. Although, in some heavily pressured fisheries like Colorado even smaller flies are typically required.
Pheasant tail nymph (size 16)
Tungsten hares ear nymph (size 14)
Twilight Beauty (Size 16): The twilight beauty is a good imitation of tiny Mayflies, dads favorite is another good alternative.
Parachute Adams (size 12): The Parachute Adam is another mayfly imitation, the bright white wing makes it easier to spot while on the water. Likely to be found in most fly boxes across the globe.
Back Gnat (size 14): The black gnat imitates small terrestrial insects such as gnats or house flies.
Grey Ghost (Size 4): The Grey Ghost is an iconic streamer, which imitates among other things a small baitfish.
Are expensive sunglasses worth it?
If you plan on doing any sight fishing a pair of polarised sunglasses make a massive difference. They cut through the glare making it much easier to spot fish. The main difference between cheap and expensive glasses is durability. Cheap sunglasses are likely to end up scratched after a few outings. Expensive glasses, especially ones with glass lenses can last for years without a mark. I usually buy mid range glasses, I trend to lose them before destroying them.