How to release a hooked bird?
1) Stay calm. Do not cut the line.
2) If you have them, put on gloves, sunglasses and other protective equipment.
3) Be gentle when winding in the bird. Take it slow. Do not try to brute force it.
4) When the bird reaches the shore. Gently subdue it by holding the wings firmly against the body. Then grasp the bird's neck to prevent it from struggling and biting. Having three hands is helpful.
5) Once subdued, Locate the hook. If the bird is only tangled, cut the hook off before cutting the line free. A loose hook is still dangerous to both the bird and rescuer.
6) When hooked. Gently reverse the hook.
If the barb end is showing, It can be a good idea to cut the exposed barb off. This greatly reduces damage.
7) Cut and remove any tangled line. It is too stressful to try to unwrap it.
8) Before release, check again for other hooks or tangles.
9) If the bird is full of fight, position it facing towards the water and gently release it.
Useful gear for releasing birds
Cur resistant Gloves
Long sleeve shirt:
Towel to assist in subduing the bird
Sharp scissors for cutting braid and monofilament line.
Pliers or forceps
Wire cutters for cutting the hook.
What to do if a bird is badly injured or had swallowed a hook?
When a bird swallows a fishing hook. Take it to a suitable vet or wildlife rehabilitator to maximize its chance of survival. Do not cut the line short, this makes removing the swallowed hook more difficult. In the United States contact the Wildlife Conservation commission for further instructions 1-888-404-3922.
Canadians can find a list of wildlife rehabilitation centres here.
In the United Kingdom this RSPCA page provides details
Australian's contact details can be found here
New Zealand, contact the DOC Hotline 0800 362 468
Then immediately start cutting line. It is too stressful to untangle and you can cause more damage.
Do hooked birds bite?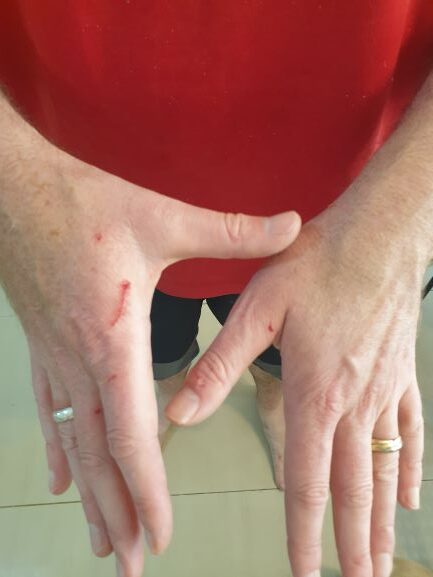 Trapped birds will bite, scratch, and flap their wings to try to defend themselves. Some birds have very sharp becks and can cause quite deep cuts and punctures. I have been bitten through nylon gloves. Others birds bite very gently. Beak design not size is the determing factor.
To minimize bites, wearing quality cut resistant gloves can greatly reduce the chance of injury. When available ask someone to gently hold the neck, which also prevents the bird from striking.
If a birds bites and scratches break the skin. It is wise to follow first aid guidelines to wash, disinfect and treat cuts and bites. Most importantly, make sure to wash your hands. If the wound is deep or you are concerned about infection, seek medical advice.
Always dispose of fishing tackle
Countless birds and marine mammals die needlessly due to abandoned fishing line and hooks. Take home and dispose of all fishing line and tackle properly. Fish in such a way to minimize the chance of breakoffs and lost line.
Birds can easily get themselves hooked or tangled in abandoned fishing tackle. As fishermen we need to play our part and do everything possible to retrieve our lost tackle That includes fishing in such a way to minimize the chance of break off. Casting beneath overhanging vegetation might be a productive strategy, but if doing so results in half a reel of line wrapped around willow branches, is it really worth it?
Which birds are most likely to be hooked?
Different style of fishing is likely to catch different species. Flying birds often get tangled rather than hooked.
Spinning. Spin fishermen are most likely to catch predatory birds such as kingfishers or gannets.
Bait fishermen. Bait fishermen are most likely to catch scavengers like gulls. When fishing in urban parks, tame ducks might grab at anything floating. I have seen gulls and Oystercatchers getting tangled.
Fly Fishermen. I have never caught a bird while fly fishing. Other fishermen have caught or tangled swallows, ducks, gulls, ibis. Bats are regularly caught in some parts of the Untied States.
I nearly caught an owl once. It was a dark moonlit night, I was fishing Westhaven Inlet located in a forgotten corner of New Zealand. As my large black fly flew behind on my backcast, a whoosh whoosh whoosh sound broke the silence. I turned my head just in time to glimpse an owl trying to snatch my wooly bugger mid cast.
How to avoid catching birds when fishing?
The best way to avoid catching birds when fishing is to avoid fishing around them. Try and fish baits and lures deep and out of bird sight.
Be observant.
When birds are feeding nearby, try to avoid casting into their flight path. Take care when fishing surface baits and lures near the surface, many birds are opportunistic feeders and will dive to eat it.
Think twice before casting into a group of bird. They might not eat the bait, but the chance to tangle one is high.
Use appropriate sinkers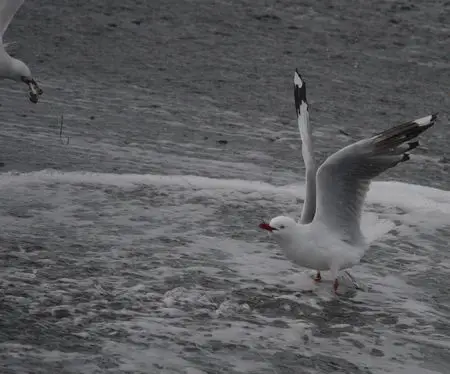 When bait fishing. Know where it is at all times.
One morning while scouting a river mouth for potential sea run trout fishing. The resident gulls started a loud commotion. I wandered over to snap a few photos. It was only after zooming in back home. That I realised they were fighting over baited fishing tackle.
The baited rig of an unobservant angler had washed ashore. The ever present gulls were fighting over it. One gull was hooked through its beak.
Bait can be prevented from washing ashore by using appropriate weight and style of sinkers. The fishermen in above were using reef sinkers. Not a good option in the strong currents and river mouth surf. They are cheap and relatively streamlined but lack holding power when fished from the shore.
The best sinker to use in strong current is the Breakout Sinker. They resemble a reef sinker, but with metal spikes. They do an excellent job at gripping onto the bottom. A budget option, suitable for muddy or sandy bottoms is the pyramid sinker. The design can really dig in.
Reduce the hook of by-catch when trolling.
It is very unlikely to hook birds while trolling, but it can happen. Birds have excellent eyesight, which reduces the chance of them taking artificial lures and flies.
During hundreds of hours of trolling, I have only tangled a single bird. While trolling a blue sardine Rapala X-rap out wide. A hungry gannet must've considered it an easy meal. I have never caught birds while trolling for trout or other freshwater fish.
When surface trolling near working birds, keep the lures close to the boat. Aggressive scavengers like gulls often follow boats closely, hoping for a free meal. Predatory birds like gannets normally keep their distance.
Deep trolling lures also reduces the chance of catching a bird. They simply can not see it from high above.
Slow trolling a live bait can be an extremely effective method to catch fish. It is also very effective at catching birds. If birds are feeding, I avoid trolling live baits.
Fishing around feeding frenzy.
Most experience large water anglers would have experienced it. Birds flocking and diving in a feeding frenzy. These birds are feasting upon baitfish being driven to the surface by predators below. This phenomenon has many names. Such as a feeding frenzy, boil up or workup.
Lots of activity occur on, under and above the water. Predator's head towards the feast. While sea fishing, I have seen dolphins and seals partaking. Fishermen are no exception. Feeding frenzies can provide some of the most action packed fishing around. Because there are so many birds working, take care to avoid hooking one.
Best Practice
– Avoid driving right through the middle. You might snag a bird, and the disturbance caused is often enough to disperse the feeding frenzy. Fish the edges and not the core. That is where the large fish wait, hoping to eat any strugglers.
– When casting, again concentrate around the edges, and keep the casts low and fast. The largest fish are often working the edges themselves.
– Do not fish bait near the surface. A hungry gull will happily snatch it up.
Use bright main line
Birds have keen eyesight, brightly visible line is easier for them to avoid. I spin fish with bright mainline most of the time. Bright line is easier for all animals to see. Birds are very agile they can turn on a dime in flight. A visible line can give them enough warning to change their course.
Some fishermen are concerned about bright line spooking fish. This is clear leader material is widely recommended and used.
How to stop shags, cormorants from stealing hooked fish?
The best way to prevent a shag from stealing hooked or released fish is to change locations. Shags are excellent swimmers with keen eyesight. They will continue to predate on any vulnerable fish.
If it is impossible to change locations. Then any fish must be released as close to the bottom as possible. Some anglers resort to sliding fish down a long section of PVC pipe.