Simm G4 vs Patagonia Swiftcurrent Expedition Waders: A Comprehensive Comparison

The Simm G4 and the Patagonia Swiftcurrent Expedition are two of the best premium waders on the market today.
Fishermen often have strong preferences towards either brand, and that is what they will wear. But for anyone on the fence it can be tough choosing between the options.
I have used both sets of waders for one whole winter fishing in New Zealand, and had the Simms with me while living in Korea where I wore them over the harshest winter I have personally fished.
My impression is that both sets of waders did an excellent job keeping me warm and reasonably dry.
I can not speak for others, even with frost on the ground, I sweat inside waders. So there is no such thing as perfectly dry waders for me. What matters more is that they do not leak and that they keep me warm.
While I can feel a little dampness inside both waders they certainly kept me a lot drier than my old Simms Freestone waders which likely had developed some microscopic holes over the year.
I am pretty confident neither developed any leaks in the time I had them. Quite impressive because all waders eventually leak.
Both waders share a lot of features in common, below I am going to discuss their similarities and differences in a head to head comparison.
Durability
The G4 Pro is the most durable wader in the Simms line-up. Many fishermen consider them the most durable breathable wader on the market.
I know fishermen who have owned G series waders for over a decade and over 1000 fishing days. Many fly fishing guides favor Simm G4 waders because of their durability and dependability.
Despite rough treatment, my Simm waders have never sprung a leak. My waders are still to new to judge long-term durability but early signs are promising.

Previous Patagonia models have struggled with durability. With the Swiftcurrent Patagonia made a concerted effort to design their most durable wader yet. The Patagonia Expedition waders have only been on the market for a year, so far feedback has been positive.
I have only worn my pair of Swiftcurrents for a little over 30 days of fishing. So far I have no complaints about the durability. Just looking at the seams, Simms did a thorough job reinforcing the crutch which is the site many waders initially leak.
When buying new waders, I feel it is a good idea to make sure there is a sufficient gap between the crutch and the wader, and the bottom of the pants. The friction caused by pants rubbing against the seams is one of the major causes of leaks. So, if in doubt, wear waders that are slightly on the long side.
A comment on breathability
While breathable fabrics do work, there is many variables that reduce the membrane's ability to breathe.
As the number of layers a garment has increased, its breathability decreases. 3 layer waders breathe better than 4 layers. There is simply less material in the way to block moisture transfer.
The first generation Gore-tex fabrics were amongst the most breathable, they had the membrane right next to the skin.
This membrane was very vulnerable to damage from the oils and salts from our skin. So Gore was forced to put the membrane between a laminate to protect it. This made for a much more durable product but at the expense of breathability.
Increasing number of layers, improves durability and reduces the risk of pinhole punctures. It is the membrane and the DWR which provide the bulk of waterproofness.
Does H2NO breath better than Gore-tex?
I could not find any research which directly compares the breathability of H2NO and Gore-tex in waders.
The very little data or experiments which is out there mostly concern hiking, ski or bike jackets. So, quite a different environment from wading, plus it is all several years old so could be outdated.
The short answer is that they both breath, but less so than what their marketing numbers suggest. Historically speaking, the Gore membrane is typically the most waterproof and durable but is one of the less air permeable and breathable materials available.
From my own experience, I do not notice much of a difference. But I sweat a lot, and breathable fabrics are less effective for heavy sweaters who quickly saturate the membranes.
The 3-layer torso fabric on the Gore-tex should allow it to breathe slightly better than the 4 layer used on the Patagonia… but the underlying membrane is by far the most important part when it comes to breathability.
Sorry for the non-conclusive answer, I simply do not have the testing equipment or knowledge to prove one way or the other.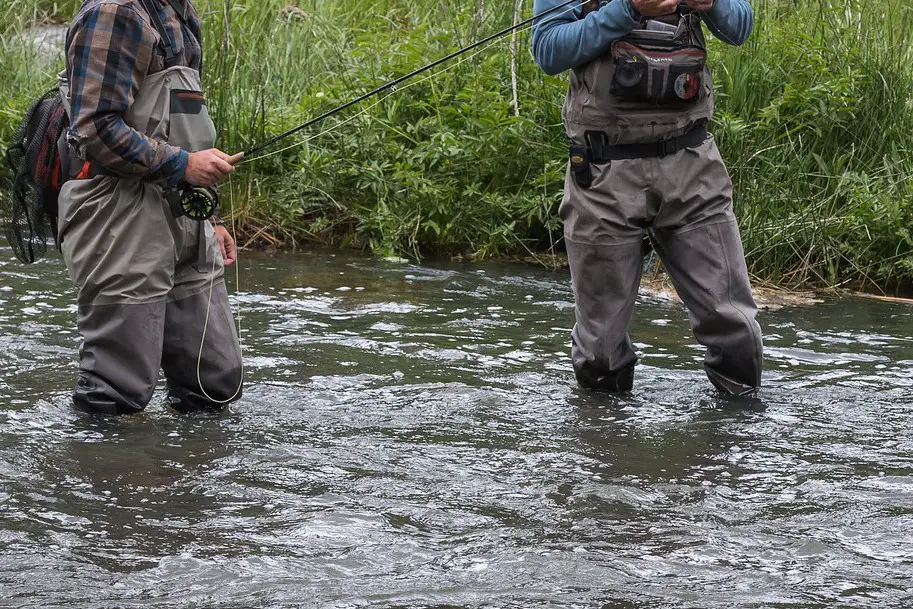 Material and Construction
Simms G4 waders are made from 4 layer Gore-tex Pro Shell in the legs, and 3 layer in the body. The legs use thicker materials because they receive more abuse so they benefit from thicker material which is less likely to be damaged. To me, this new material feels quite thick, but still flexible and comfortable to walk in. It is certainly a lot more comfortable than cheap PVC waders.
Simm claims their G4 is the most abrasion, puncture, and tear resistant waders ever made. Although Patagonia (and the Orvis Pro waders which I have not reviewed) both use thicker material which in theory should be more durable.
I know anglers who have over 1000 fishing days in Simm waders and they still hold up well, but I also heard stories of Simms waders leaking after only light use.
In my experience, if I treat Simm waders with respect, stay out of prickles and avoid stomping them into the ground they hold up well.
Patagonia uses thicker material than Simms. A propriety 4-layer fabric throughout. They double tape the seams and use extra reinforcement in high wear areas such as the knees and ankles.
Patagonia uses a spiral stem construction which reduces stem length by over 20%. I do not pretend to know what spiral stem construction is, but any reduction in stem length certainly reduces the chance of a leak. Most waders leak at the stems.
The fabric Patagonia uses is embedded with a Durable Water Repellent (DWR). DWR is a chemical layer manufacturer usually spray onto waterproof fabrics to repel water and get it to bead and flow off. In my experience, even the best DWR usually wears off within a couple of years and needs to be reapplied
By embedding the DWR into the fabric itself, Patagonia hopes that it will last the lifetime of the product. I have only worn my Patagonia waders for a little under a year, but the initial indications are positive. The DWR on my Swiftcurrent waders is holding up well.
Stocking foot
Stocking feet are stocking feet. They are all made out of neoprene and feel quite bulky to wear. Both companies have made attempts to improve upon them.
When buying stocking feet it is important not to buy a size too small. Overstretching the neoprene only increases the risk of a leak.
Both companies use so much marketing speak to explain the improvements. I personally notice little difference between the two. So far I have not worn a hole into either so that is a big positive. The material feels comfortable enough and the lining makes them easy to take on and off.
The Simms G4 comes with a fancy new compression molded stocking foot construction. Designed to provide a more comfortable fit while enhancing stability and warmth. Simms Stocking feet are available in sizes ranging from 7 to 13.
Patagonia comes with a low volume anatomically designed booty. Designed for a sock-like feel. The stocking size ranges from 6 to 14. For wearers of the Rio Gallegos waders, Patagonia has apparently shrunk the stocking size slightly. Many users now find them tighter.
Features
Both waders are feature rich. They both include fleece lined hand warmers and plenty of pockets, which are ideal to store tippets, indicators and other fly fishing accessories. There is also an integrated fly patch.
The Swiftcurrents are easy to convert to waist heights. The suspension system has a good design, it is simple to use when converting to waist waders.
It's also possible to wear the Simms as waist height by folding the top down to just above the wading belt. I personally feel the swift current implementation is better.
Sizing
Patagonia waders come in 19 different sizes, while Simms offers around 25 sizes. The overall feedback is that Patagonia waders best suit taller, more athletic builds. While Simm waders are more generous fitting.
I am over 6 foot tall and skinny, mostly legs and arms and I agree that the Patagonia waders are slightly better fitting but I have not gotten to try all the sizing variations.
Price
Both waders are expensive, but quality is never cheap. I just checked on Amazon, for the same money as a Simms G4 Pro I can afford seven sets of breathable 4-layer Frogg Toggs Hellbender waders, and still have enough money spare for several beers.
I personally feel the premium brands are worth their sky high cost. Or maybe I am just trying to convince myself that spending over $1500 on waders was justified.
Premium waders, If kept clean, and treated with a degree of respect should greatly outlive even multiple sets of budget waders. I have fished alongside people who have been fishing in the same pair of waders for over a decade.
The Simms G4 comes in two models. The basic stockingfoot G4 PRO comes in at just under $750. While the G4Z waders, featuring a front zipper, is $100 more expensive at $849.95.
The Patagonia Swiftcurrent Expedition wader is slightly cheaper, with the standard version costing $649 and the zipper version $749
Warranty
Simms replaced waders that leak in the first 60 days and repaired waders for free for the first year. Repairs outside the first year are charged a flat $60 fee. Simms attempts to repair waders within three weeks.
Patagonia back their waders with their Ironclad guarantee. If a purchaser is not satisfied, Patagonia will repair, replace or refund it. General feedback is that Patagonia replaces or fixes their waders no questions asked. It really is a very generous warranty.
Country of Origin
Simms 4G waders are made in Bozeman, Montana, America.
Patagonia Swiftcurrent waders are made in Vietnam
Looking for affordable waders?
These are currently the affordable waders I will seriously consider buying if I was in the market. I own too many waders, so no plans to purchase a pair for review. So far I only have Simm waders listed because their excellent warranty also covers entry level gear.
Simms Tributary Stockingfoot
Simms most affordable waders. About ten years back I used a pair for Kayak Fishing. The material held up surprisingly well to the harsh paddling conditions. I can not really comment on the current model. But these are the specs.
Under $200
Generic Polyester breathable fabric
Made in Asia
Thin wading belt and less comfortable suspenders
Fewer pockets
Fewer sizes available
Some warranty as the premium Simm waders.
Simms Freestone
When I think back several decades, my first pair of waders were Simms Freestones and back then they were still made in Bozeman, Montana. Unfourntaly, they are now made in the far east.
Around $300
Toray QuadraLam fabric (I have breathable climbing pants made from Toray fabric, and they have proven to be very durable. While I have not tested the current generation of freestones waders, I am confident that Toray Fabric is not a significant downgrade)
-Made in Asia
Comfortable-looking wading belt and straps.
Fewer Pockets, tippet pockets are sold separately.
Some warranty as the premium Simm waders.
Conclusion
Well, so far both waders have impressed me. Patagonia has done a good job fixing many of the criticisms surrounding their previous waders the Rio Gallegos. The G4 continues Simms's excellent reputation regarding the quality of their waders. Both models are still young, so only time well prove long term durability but early signs are positive.
If I have to pick just one, I do slightly prefer the Simms 4G, but if I were to wear them in the summer heat the ability to quickly drop down the Patagonia's to waist height is nice
Looking for wading boots? Check out my review of three top contenders here.