The Best Ultra Light Spinning Reels
Looking for a new ultralight spinning reel? A reel that is not only lightweight but durable with excellent line management. In this article, I hope to provide what I consider to be the best ultralight spinning reels.
For more comprehensive reviews covering many of these reels check my main spinning reel buyers guide.
What makes a good ultralight reel?
The four key features I look for in an ultralight reel are durability, weight, smooth drag, and most important of all excellent line management. Features I care less about are the number of ball bearings and maximum drag pressure.
Durability: An ultralight reel must be durable and well-built. There must be minimum flex, both at rest and under pressure. The frame should be rigid, and there should be minimal play in the handle. All parts of the reel need to be designed and manufactured to tight tolerances. Any sloppiness or movement within the mechanics or frame of the reel not only increases wear and tear but might eventually result in the reel seizing and maybe even a break off.
Weight: Ultralight reels need to be paired with ultralight rods, and they must balance each other. A heavy reel, can not balance a lightweight rod. It would make the combo base end heavy, making it more tiring to cast for hours on end.
Smooth Drag: There is not much margin of error when fishing with such lightweight lines. So the reel's drag must be smooth. Any seizing or jerkiness increases the chances of a break off.
There are two main types of drags, ones which use felt washers and carbon washers. Both technologies work fine for ultralight fishing. When fishing light lines, I actually prefer a well oiled felt washer because they are smoother. If fishing with braid, then the higher drag pressure of carbon washers can have some advantages. Carbon washers also tend to be somewhat more durable.
Line management: How the reel lays the line might just be the biggest differentiating factor between the reels. It is what separates an ordinary reel from a great reel. Reels with poor line lay results in more line memory which translates into more wind knots and tangles. It can also reduce casting distance. Broadly speaking Shimano has the best line management out of any brand, although Daiwa is not far behind and might even handle braid better. Some of the newer Penn models are very good. Okuma is a bit more hit-and-miss, but it is usually pretty good.
Below is how I rate the line lay/management between the different reels. I do not believe any ultralight reels deserve an A+ simply due to the relatively tiny size of the spool.
How I Rate the Line Management
| | | |
| --- | --- | --- |
| | Rating | Comment |
| Pflueger President | C+ | (Very tiny spool, and slow retrieve can be problematic, especially with braid. The larger sizes are closer to B-) |
| Okuma Ceymar | C+ | (Tiny spool on 500 size increases line twist, the C-20 size is a B-) |
| Shimano Sienna, Sedona, Nasci | B | (Including all Shimano reels without a worm drive) |
| Penn Battle III | B+ | (Improved over the Battle II and I) |
| Daiwa Regal / Fuego / Ballstic | B+ | (A when used with braid) |
| Shimano Stradic / Vanford | A | (Includes all high-end Shimanos with long-stroke spools and worm drive oscillation) |
How much should I pay for an ultralight reel?
Ultralight spinning reels range in price from a few dollars to nearly a thousand. Somewhere within that range is the sweet spot where the maximum value for money is achieved.
That sweet spot, at least for freshwater fishing. Is usually around $50-60, buying a reel cheaper than that is usually a series of compromises. This price range represents quite a step up in quality and performance. Less cheap feeling plastics are used in the frames, and the gearings are usually of a much higher standard. My personal favorite in that price range is the Daiwa Regal. I will explain why later in this article.
For saltwater use, I usually suggest spending around $100. That gives better corrosion protection and sealing. The Daiwa Fuego LT is a good option in that price section, if you want an Alumnlium body reel, rather than carbon then the best option is the Shimano Stardic which is around $200. If you do not mind slightly more weight, the Penn Battle III is a cheaper alternative to the Stardic.
Reels on the extreme budget end of this range, I struggle to recommend. Too many corners have been cut, most are very plastically and built cheaply. Those which are built to a higher standard are usually heavy. There are always compromises when buying cheap reels. If on an extremely tight budget, then the cheapest reel I will recommend is the Shimano Sienna (or its brother the FX), both of which retail for just under $30
Factors that influence the durability of spinning reels?
Feedback varies greatly on the longevity of reels. Some anglers use the same reels for decades, while others need to replace them every season. Why such a difference?
The amount of use is certainly a factor. My reels typically last many years, and I fish a lot. But, I fish with many different reels which spread the load across them. If someone were to fish only one reel all of the time I can see the reel suffering from wear and tear much faster.
There is also how they fish the reel. I use my ultralight reels, with ultralight gear and line. Nothing over about 6lb. I also set the drag to only a couple of lbs at most. So even when fighting large fish the internals are never put under a large amount of strain.
On the other hand, I know anglers who spool their ultralight reels with 15lb+ braid and brute force their fish in. Maybe they need to keep fish out of the weed or away from structure. But, applying such a large amount of pressure to a reel must shorten its life expectancy. When I fish around structures or weeds, I use larger reels which can better handle the heavier line and higher drag pressures.
Finally, there is the issue of maintenance. A well-serviced reel has to last longer than one which is neglected. I always rinse my reels after being used in saltwater and well strip them down for oil and grease at the end of each summer.
What is the most durable ultralight spinning reel?
This is a very hard question to answer because many variables come into play. I personally still use a Shimano Stardic and an Abu Garcia Cardinal which are close to 15 years old but have heard of other anglers who only get a few years out of reels before replacing them. What causes such large differences in durability? I can only speculate.
In my experience, and from the feedback I have received the mid and high end Shimano are usually the most durable. Daiwa reels can be durable, but they require more care and frequent servicing.
Penn does have a reputation for being tough, durable, and made for offshore fishing. In my opinion, this reputation only applies to Penns offshore heavy-duty reels like the International or Torque. Their ultralight offerings are nothing special when it comes to durability. I still like Penn reels, but they still need to be treated with respect to get the most out of them.
Abu Garcia and Pflueger are a mixed bag. Some of their reels like the President are actually quite durable, while others are lucky to last a season. I usually say, Abu's and Pflueger's are fine to use in the freshwater but I keep them away from the salt.
Finally, the less durable reels are typically the 'off brand' reels typically found on the likes of Amazon or Aliexpreess. They can feel fine when new, but often develop a rough feeling quite quickly with frequent use. For this reason, I am not going to recommend any such reel in this guide.
What is an ultralight spinning reel?
What is considered ultralight, might differ somewhat based on where you are fishing, and what you are targeting. But generally speaking, ultralight is usually considered to be fishing with gear rated for a breaking strain of less than 6lb. Some anglers even go as low as 2lb.
When talking reel sizes, it gets a bit complicated. Simply because there is no universal sizing for reels. So a 1000 size Shimano is often a different size than a 1000 size Penn or Daiwa. Even within a companies lineup, sizing is not always uniform.
But, generally speaking. The smaller the number the smaller the reel. A 500 size Shimano will be smaller than a 1000 size Shimano, and a 1000 size Penn will be smaller than a 2000 size.
In this article, I am mostly going to be focusing on the smallest reels in each company's line-up, but I personally considered any reel size smaller than 2500 can be considered ultralight.
Best Budget Ultralight Spinning Reel
| | | | |
| --- | --- | --- | --- |
| | weight | mono capacity | RETRIEVE PER CRANK (IN) |
| Shimano Sienna 500 | 6.3 |  4/100, 6/60 | 27 |
| Shimano Sienna 1000 | 7.2 | 4/140, 6/110 | 24 |
| Okuma Ceymar C-10 | 6 | 4/110, 6/70 | 23 |
| Okuma Ceymar C-20 | 6.8 |  4/140, 6/110 | 24 |
| Pflueger President 20 | 6.2 | 4/100, 6/80 | 20 |
| Pflueger President 25 | 7.5 | 4/110, 6/90 | 22 |
| Daiwa Regal 1000 | 6.7 | 4/250, 6/160 | 25.5 |
| Daiwa Regal 2000 | 6.7 | 4/340, 6/220 | 26.8 |
Best ultralight reels for around $30
Shimano Sienna – Best ultralight eeel under $30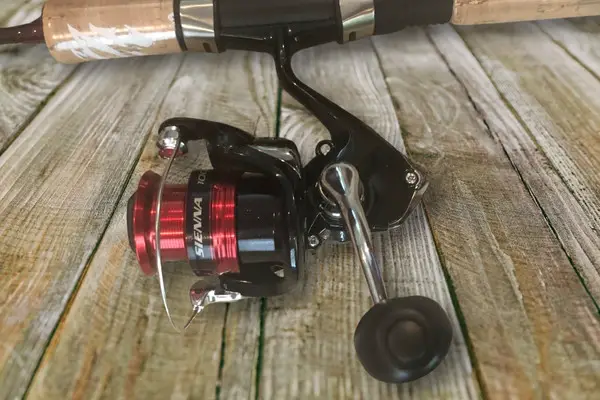 The Shimano Sienna is the most affordable reel on this list and one of the lightest spinning reels for under $30. The 500 size Sienna weighs in at only 6.3oz. It features a composite body which despite the low price does not feel too plasticky. It only has 2+1 Ball bearings, but the reel still feels smooth to operate. It has a fairly standard felt drag which is nice and smooth. Overall it is a good reel for the money.
The Sienna is not the lightest reel at this price, that honor probably belongs to Lews which makes several models which weigh under 6oz but they feel extremely cheap in the hand so I am not going to recommend them. Metal weighs heavier than plastic after all.
I feel the Sienna stands above the competition for several reasons but it mostly comes down to durability. I find Shimano's, even cheap ones like the Sienna are built to a higher standard than most other reels at the same price point.
The reason partly comes down to the fact that Shimano still manufactures their own reels in their own factories so they have complete control over the production line. The only other companies which still control their own production are Daiwa and Okuma which does give them an edge over the competition.
It offers a reasonable weight At this price point, the Shimano Sienna lower weight edges out the competing Daiwa Crossfire (7.8oz), while the Okuma Safino Pro is simply not that good of reel, or maybe Okuma lacks quality control at such a low price.
The Sienna is a good reel for anyone on a tight budget who wants a reel to balance an ultralight rod. It is better suited for freshwater use.
If you plan to fish heavier line than the reel is rated for, the more rigid Daiwa Crossfire is likely the better choice due to its more solid construction. In this article here, I do explain the differences between the crossfire and the Sienna in more detail.
Okuma Ceymar – Best ultralight reel under $50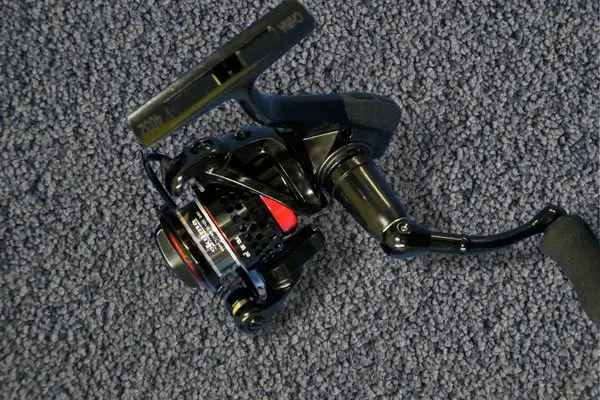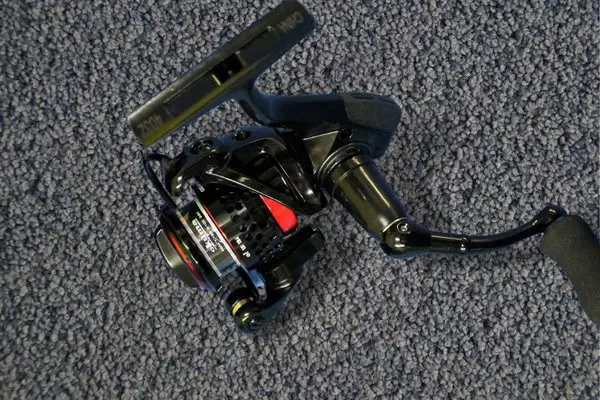 The Okuma Ceymar really steals the limelight at this price point. Weighing in at just 6oz the Ceymar is one of the lightest reels on this. It is a true ultralight reel. It features a composite body, 7 ball bearings, a felt drag and even a brass pinion gear for extra durability.
Let's compare it against the competition. Quite surprisingly, there is not much.
The offerings from Shimano are too heavy to be true ultralight reels.
Daiwa does make the Revros LT which does sell for under $50, It has the fundamentals of an excellent reel, but Daiwa forgot one essential ball bearing, so if the Revros does interest you. Spend a little more and get the Regal LT, it is a complete package.
Abu Garcia does make the Max STX which weighs in at 6.4oz. It is a decent enough reel, but in most regards, it is clearly outclassed by the Okuma Ceymar.
Pflueger makes the Trion, it is a decent reel but I have heard of a few quality control issues. If you get a good one they are certainly worthy of consideration.
Daiwa Regal LT – Best ultralight reel under $60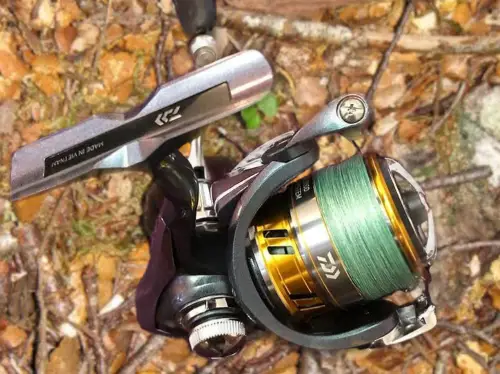 The competition is hot in this price bracket. With both Daiwa and Pflueger making excellent ultralight reels. Overall, I do have to give the win to the Daiwa Regal LT but there are some applications where the Pflueger President is better.
The Daiwa Regal LT weighs in at 6.7oz and has 10 ball bearings, a felt drag, and a composite body. It does feature an oversized spool, that means for its size it has more line capacity but it also does a good job at reducing line twists and memory. Overall, the Regal does have much better line management than the Pflueger and handles braid much better.
I also need to note that Daiwa makes a whole series of reels based around the same internals. So basically the Daiwa Revros, Regal, Exceller and Legalis are the same reel with very minor differences. The only one I suggest avoiding is the Revros because it is missing a very important pinion gear bearing.
Pflueger President – Excellent reel for slow presentations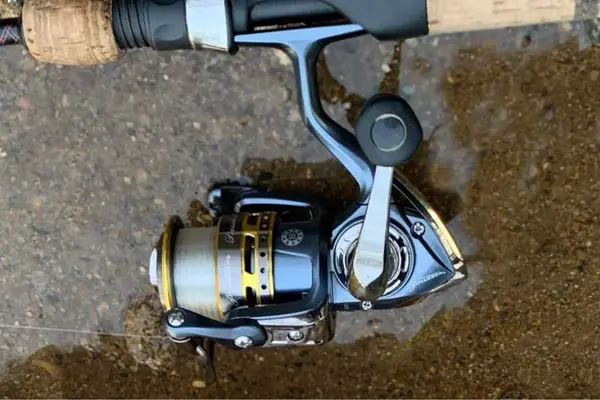 I will now give an overview of the President. It is extremely light weighing in at just 6.2oz and has plenty of ball bearings (7). Like most reels in this round-up, it comes with a felt drag which has never given me any issues. The President has a rather short handle, which gives it one of the slowest retrieval rates in the industry. For that reason, it is an extremely popular reel for species that require a slow retrieval rate.
Let's briefly cover the other contenders. Shimano makes the Sedona, Sahara etc, but they are heavy. Not ultralight reels. Most Penns in this price bracket are too heavy, and the Abus, and Mitchells in this price range are forgettable.
If you can find a heavily discounted Abu Garcia Revo they are certainly worth considering, but I will never pay the retail price for one.
Best Ultralight Reel Around $100
| | | | |
| --- | --- | --- | --- |
| | Weight | Mono capacity | RETRIEVE PER CRANK (IN) |
| Daiwa Fuego LT FGLT1000D | 6.7oz | 4/250, 6/160 | 25.5 |
| Penn Battle III 1000 | 7.8oz | 4/135, 6/105 | 22 |
| Penn Battle III 2000 | 9.4oz | 4/240, 6/180  | 30 |
| Shimano Nasci 500 | 6.2oz | 4/100, 6/60 | 27 |
| Shimano Nasci 1000 | 7.6oz | 4/140, 6/110 | 26 |
Best ultralight reel for around $100
At the $100 price point, things start to become interesting but there is still one clear winner. At this price, we also start to get ultralight reels that are saltwater rated. They usually come with extra sealing and special coatings to increase corrosion resistance. Although it remains best practice to wash and dry any spinning reel after use in the sea.
If you look at the table above, only one reel really meets the criteria of being truly ultralight. That is the Daiwa Fuego. It is lighter than the competition while offering much more line capacity. The Nasci 500 does weigh less, but it is a very tiny reel that is best suited for ice fishing.
Daiwa Fuego LT – Saltwater ready ultralight reel
The Daiwa Fuego is a saltwater-ready version of the Daiwa Regal and is my favorite inshore ultralight reel. Unlike the freshwater variations, it comes with more seals and the implementation of technologies to prevent corrosion.
Why do I rate the Fuego LT above the rest? Well, it has an excellent ratio between line capacity and weight. It is also extremely well built and refined. I like having extra line capacity when saltwater fishing because there is always the chance of hooking something big enough to pull a lot of string.
The Fuego also has the best line management at this price point. The other two contenders, the Penn Battle II and the Shimano Nasci are still good performers but the combination of a nice uniform line lay and oversized spool really gives the Fuego the edge.
It weighs in at 6.7oz and has 6+1 ball bearings. (It has three fewer bearings than the Regal but that does not matter). There is slightly more resistance when reeling compared with the regal, I suspect that is due to the seals.
If you want an ultralight spinning reel for inshore fishing, which has a composite body then the Fuego is a great choice. It is also an excellent option for kayak fishing.
The only area where the Fuego might be behind the other two is in drag technology. The Fuego still uses a felt drag which while smoother, is not quite as durable as carbon. So, if you are planning on fighting a lot of hard-pulling fish consider spending a couple of bucks and upgrading the washers to carbontex .
In this price category, I often see people suggest the Daiwa Bg. I am not going to because it is not an ultralight reel. It is too heavy, more medium weight. The smallest is the 3000 size but it is more comparable to a typical 4000 size reel. If you want a small size inshore reel, then it is a top choice, but technically it belongs to a different class of reels.
Penn Battle III – metal frame, saltwater capable ultralight reel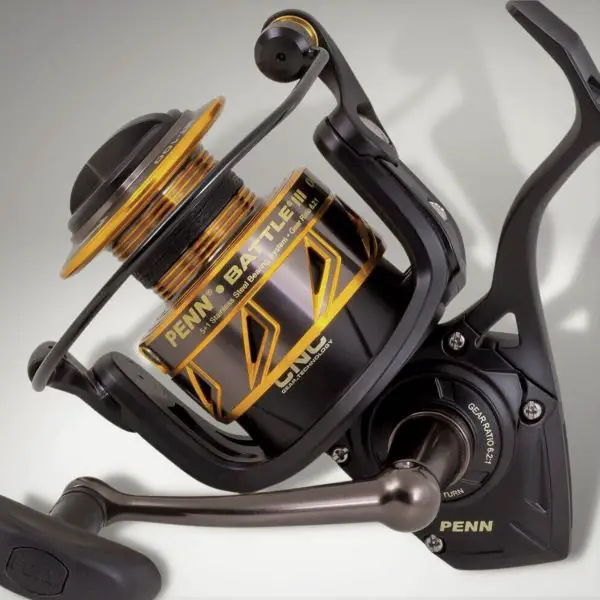 I want to include the 1000 size Penn Battle III, simply because it is one of the best 'ultralight' reels from Penn in a long time. It is also one of the cheapest reels with full metal construction.
That does translate to a rather heavy 7.8oz, so not a true 'ultralight' reel but I feel it is small enough to be overlooked. I like to say, that the Penn Battle III is a great alternative to the Shimano Stradic for anyone who can not afford a Stradic. It is not as good, but it is half the price.
The Battle III is also the cheapest reel on this list to have a carbon drag. That might be needed to control hard-fighting saltwater species which can pull a lot of string and cause heat build up which can degrade felt drag washers.
The Penn Battle III also has a lot more sealing than the reels lower on this list. It is a real workhorse of a reel.
Unlike older Penn's, it does a good job at line management even surpassing the Shimano Nasci and cheaper Shimano's. I happily fish with either braid or monofilament on mine. Due to the improvements in line lay, I highly advise getting the Battle III over the slightly cheaper Battle II.
Shimano Nasci – Good build quality, but a touch heavy for carbon
I will briefly cover the Shimano Nasci, which is a saltwater version of the Sedona or Sahara. They are good reels and well constructed.
But, for a carbon reel, they are quite a bit heavier than the Daiwa Fuego. I suppose, for anyone planning to fish heavy line, for pulling fish out of structure the stronger built reel might be a worthwhile compromise.
The Nasci also comes with a very refined carbon drag. The same technology as used in the Stradic. Great for dealing with heat build-up from hard fighting saltwater pelagics.



Best Ultralight Reel Around $200
We have three champions in this price range. The Shimano Stradic FL, its carbon cousin the Shimano Vanford, and the highly competitive Daiwa Ballistic.
At $200 no other reel manufacturer can really compete with the precision and machining of Shimano or Daiwa. This should go without saying, but all reels in this price range are excellent. They do the basics very well and are well built.
So how do these three reels differ?
| | | | |
| --- | --- | --- | --- |
| | weight | Mono capacity | RETRIEVE PER CRANK (IN) |
| Shimano Stradic 1000 | 6.5oz | 4/160, 6/110 | 30 |
| Shimano Vanford 500 | 4.9oz | 4/100, 6/60 | 27 |
| Shimano Vanford 2000 | 5.3oz | 6/165, | 32 |
| Daiwa Ballistic 1000D | 6.0oz | 4/250, 6/160 | 32.5 |
Best ultra light reel for around $200
Shimano Vanford vs Daiwa Ballistic (Two excellent carbon frame options)
The Vanford and Ballistic are made from an advanced carbon material which allows for a very light, rigid frame. The Ballistic, like all Daiwas on this list, has a much larger spool relative to the size of the reel. This large spool not only increases line capacity but reduces the chance of line memory from developing.
These two reels are very light. The 1000 size Daiwa weighs in at 6.0 oz. While the 2000 size Vanford, with nearly equal line capacity weighs in at 5.3oz. Both are very light, but the Vanford gets lighter still with the tiny 500 size weighing in at just 4.9oz.
So the Shimano Vanford is lighter than the Ballistic.
The drags on both reels are superb with the Daiwa being more powerful.
Both reels offer excellent line lay and line management. Top class. I would say that the Vanford does a slightly better job at handling monofilaments, it lays the line more parallel allowing for a cleaner cast. While the Ballistic, has a crisscross line lay, which works extremely well with braid but does reduce the casting distance especially with thick monofilament lines.
So I will make this claim. The Vanford is the better reel for fishing monofilament or fluorocarbon lines, while the Ballistic is the better reel for fishing braid. I think I have covered all of the key differences which can not be read from the spec sheet.
Shimano Stradic – Ultralight reel with aluminum body
I nearly forgot to mention the Shimano Stradic. The Stradic is one of my favorite ultralight reels. It might just be the lightest reel with full metal construction. The 1000 size weighs in at just 6.5oz, that is lighter than some composite reels of the same size.
The Stradic and Vanford are like twins, they are very similar reels. The main difference is frame material. The Vanford is carbon, while the Stradic is Aluminium.
The Stradic does has a slightly faster retrieve and higher gear ratio which might be desirable in some fishing situations.
Any other options?
Well, both Shimano and Daiwa make even more premium reels (The Stella and Exist). They are better and are probably the best reels ultralight reels ever made. But they are not better enough to really justify the huge difference in price.
With regard to the competition. Abu and Pflueger have some nice looking models in this price range, usually made of exotic materials such as titanium or magnesium but mechanically, they are not much of an improvement over their more affordable offerings.
They are not bad reels, and I have owned a few but they are simply not as nice as the more premium models from Daiwa or Shimano. If you are a true fan of Abu or Pflueger then do not let me discourage you from giving them a try.