Does Penn make any good trout reels? (Saltwater reels in the fresh)
Penn is one of the biggest names in offshore reels, they built their reputation on classics like the Senator, International, and the Spinfisher. These are all heavy duty reels designed for catching powerful fighting fish in the salt.
So whether you are a Penn loyalist, or just want to try something a little different, what ultralight reels from the Penn stable are actually any good, and out of these which ones will be suitable for trout fishing?
If you are in a rush. The Penn Battle III and the Penn Fierce III in 1000 size are the two most suitable Penns for trout fishing, both reels are nearly identical. For trout, I will go for the cheapest of the two.
Is Penn worth considering?
Penns reputation was built around solid, durable, and powerful American made reels.
Many will consider Penns glory days are long gone, and now face stiff competition from the likes of Shimnao and Daiwa in all aspects of their business.
The brand's reputation took a further hit when it was sold in 2003, before changing hands several times before finally settling as part of the tackle conglomerate Pure Fishing.
There are two main types of reels sold under the Penn brand, the more premium reels that are designed in house, and the more 'budget' models that just have Penn's brand thrown on it. These Penn labled reels, I am mostly going to ignore. They are nothing special and similar models are found throughout the industry.
How durable are Penn reels?
This might be controversial, but in my opinion, out of the major manufacturers Penns own reels are the second most durable reel on the market, beaten only by Shimano's that seems to be able to work magic with their metallurgy.
I consider Penns durability even surpasses the likes of Daiwa and the other pure fishing brands. While I believe Daiwa makes many nicer, and overall better performing reels, Daiwa's have never been that reliable for me. With little issues often ruining otherwise very nicely designed reels.
In contrast, Penns are more workhorses. They are built strong and often over-engineered. This means their reels tend to last. I have never had a gear mechanism failure on a Penn. The most common problem I have on my Penn is broken handles after years of abuse in both salt and freshwater fishing.
If used only in freshwater, I am sure most Penn reels will last a very long time.
The best Penn ultralight reel for trout fishing is the Battle III or the Fierce III
I will start by discussing the Penn Battle III. But first I want to make clear that the Fierce III is a very similar reel sharing most of the same parts. For low-corrosive trout fishing, they are basically identical.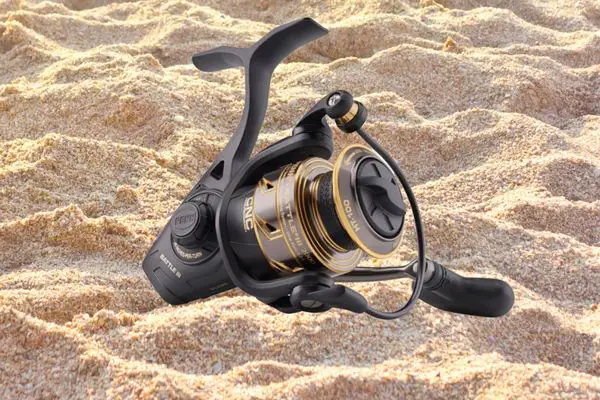 If there is one Penn ultralight reel I have little difficulty recommending it is the Penn Battle III. When using it for trout fishing, go for the 1000 size. If you are using it to target steelhead or salmon, then the 2000 size might also be appropriate.
The Battle III features full metal construction, excellent sealing to keep water out of the mechanism, and a rather powerful carbon fiber drag system. The internal gearing is most zinc alloy, which is fine for trout fishing. Many more expensive reels also use zinc gearing.
Value
The Penn Battle III retails for around $100, sometimes over, sometimes under. Really depends on the specials that are currently running. Considering the features, I do consider it a reasonable price for a reel of this quality.
It does face stiff competition from the likes of the Daiwa BG, which is another bullet proof design. Although, its anti-reverse is a frequent source of failure.
Shimano also has the Nasci for similar money, but the Nasci does not have a full metal body. It plays in a slightly different class.
There is also the slightly more expensive Penn Battle III DX. It is a better reel, that uses a higher quality brass main gear, but it does not come in trout sizes. Plus, trout do not fight hard enough to really justify brass.
Reputation
Do not just take my word for it, the Penn Battle III has been well received in both the press and by anglers in general. For example, Tackle Advisor on youtube praises the Battle III in this tear down., or read some discussion regarding all sizes of battle III in this striperonline forum thread.
Ball bearings and smoothness
The Battle III is a decently smooth reel, the seals do add a little resistance but it really does not take away from what the reel offers.
Fishermen and marketing departments love ball bearings, I personally feel they are a bit overrated but the Battle III comes with 5+1 which is plenty for a reel in this price category, They are also stainless steel, which will make them more durable if used in the salt.
Drag
Penn uses their HT-100 carbon fiber drag system, they use this drag in many of their reels and it is very good.
It is a little overkill for ultralight fishing, for example, trout. Unlike some cheap carbon dragons, the Ht-100 In my testing can be dialed down low enough not to risk breaking very light breaking strain line.
Line Lay
I will never keep a reel with poor line lay, luckily the Battle III has among the best line lay of any Penn spinning reel.
Older models of the Battle did have poor line lay, but the Battle III has fixed this problem and it is now competitive with the best on the market including Daiwa or Shimano.
Sizes and specifications
The battle III comes in two sizes suitable for trout fishing, the 1000 and 2000 sizes.
For a full metal frame, the Battle III 1000 size weight is decent.
| | | | |
| --- | --- | --- | --- |
| | weight | capacity | Drag |
| Battle III 1000 | 7.8oz | 105yd/6lb | 9lb |
| Battle III 2000 | 9.4oz | 180yd/6lb | 10lb |
| Daiwa BG1500 | 8.5oz | 100yd/6lb | 4.4lb |
| Shimano Nasci 100fc | 7.2 | 110/6lb | 7lb |
Penn Fierce III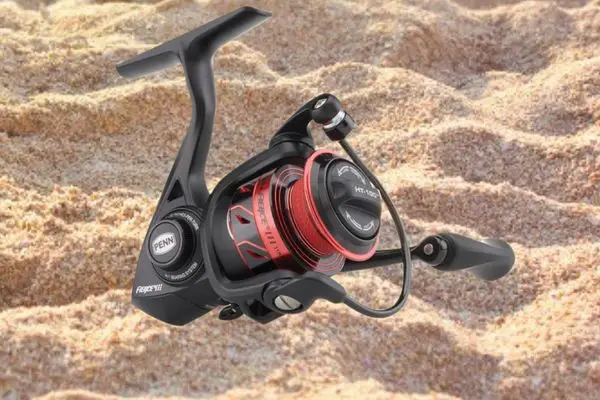 The fierce III is a budget version of the Battle III. These two reels are nearly identical, and they share a lot in common.
The frame, side plate appears to be almost identical. The drag is identical and their weight, line capacity, and ratio are the same.
The main difference is in the styling, the Fierce has red highlights and slashes in the spool while the Battle has gold highlights and holes in the spool.
The next most obvious difference is to do with the ball bearings.
The fierce has three shielded and one sealed ball bearing. While the Battle has 5 sealed.
One final, and minor difference is that the fierce lacks titanium nitrate coating on its roller. So slightly less durable.
Penn Clash
I have to start with a disclaimer, I do not actually own a current generation Penn Clash. So can only provide an overview based on feedback I have received from others and based on specifications. The reason I do not own one is quite simple, its retail price is more expensive than a Shimano Stradic which is just a legendary reel.
The Clash is one of Penn's premier reels, and it is their most expensive reel available in sizes suitable for trout fishing. The Battle III and Clash share a lot in common, such as the HT-100 drag
I will start by saying, the Clash has quite a large spool capacity, although that is not necessarily a bad thing. It just means it will swallow more line.
By most accounts, the clash is a very nice reel and an improvement over the Battle III. The biggest difference is in weight, with the 1000 size clash weighing in at only 7oz, the line capacity and drag is the same as on the Battle III.
So for about an extra $100 you will get a lighter, nicer reel with more ball bearings. In practice, it is a slight upgrade to Battle III.
I want to make my position clear. I consider the Penn battle III, or even the Fierce III to be much better value for money. Also for this sort of money, I personally will go for a Shimano Stradic instead.
Useful links